Getting soft diet chapati is always a nightmare till I learned this technique. To get soft chapathi some tips like addition of Milk or Yogurt or Butter or lukewarm Water to the dough makes it soft. Usually when it comes to chapati I mostly prefer zero oil and zero butter version. When I use flour with Ads like "soft chapatis guaranteed" then it remains soft when its served immediately later they turn crisp, also for stone ground flours again after few minutes of cooking they turn crisp and hard. So I found a technique where adding mild hot water to flour makes easy to roll, non sticky and when cooked it remains soft for long time (i mean when i pack for lunch) even when you reheat they don't turn crisp. This technique works well for me to get soft diet chapati and practicing more than a year so thought of sharing here today. Usually Indian Atta/Chapati flour is less in gluten and more in protein, so for making flat breads this hot water technique works well, especially for stone ground flours.
Ingredients for Soft Diet Chapati Recipe
Wheat Flour/Atta – 2 Cups
Water – 1 Cup (You can go for whey water)
Salt – As Needed
Yields – 8- 10 Medium Chapati
Method
Add flour and salt in a wide bowl.
Heat the water when you see small bubbles inside the water, that is it's temperature should be more than lukewarm and not too hot (well boiled).
Just remove from heat and carefully add to the flour in batches.
Stir using wooden spatula/ladle while adding water.
At one stage the chapati dough looks like shown in picture 2.
The dough should be stiff enough (Pic 2) becoz when its cools, later you get more moisture.
At one stage you can use your hands to knead it.
You can keep kneading till it completely cools out or on and off knead the dough for another 10 minutes to cool them completely, if not taking care the dough forms a hard outer layer.
No need to rest the dough once it cooled down divide the dough in to equal lemon size balls (Pic 3).
You may not need dry flour while rolling the chapati if dough has moisture then sprinkle so.
So roll the chapatis to medium thin, neither too thick nor too thin (Pic 3).
Heat the dosa pan/tawa and the pan should heat well in high temperature.
Once done add the rolled chapathi, it puffs up well(Pic 4 and 6) flip it so the other side also cooks as well.
If your chapati is not puffing up that might becoz of the thickness you rolled out, nothing to worry when you see golden spots then you can flip it over.
Repeat the above process till you done with all dough.
Once thing you have to note is, fold the cooked chapatis (Pic 6) when its out from hot griddle then you can pack it in air tight containers/tupper ware for lunch.
You can apply some butter (optional) over cooked chapatis when you pack those for long trips but it's not necessary.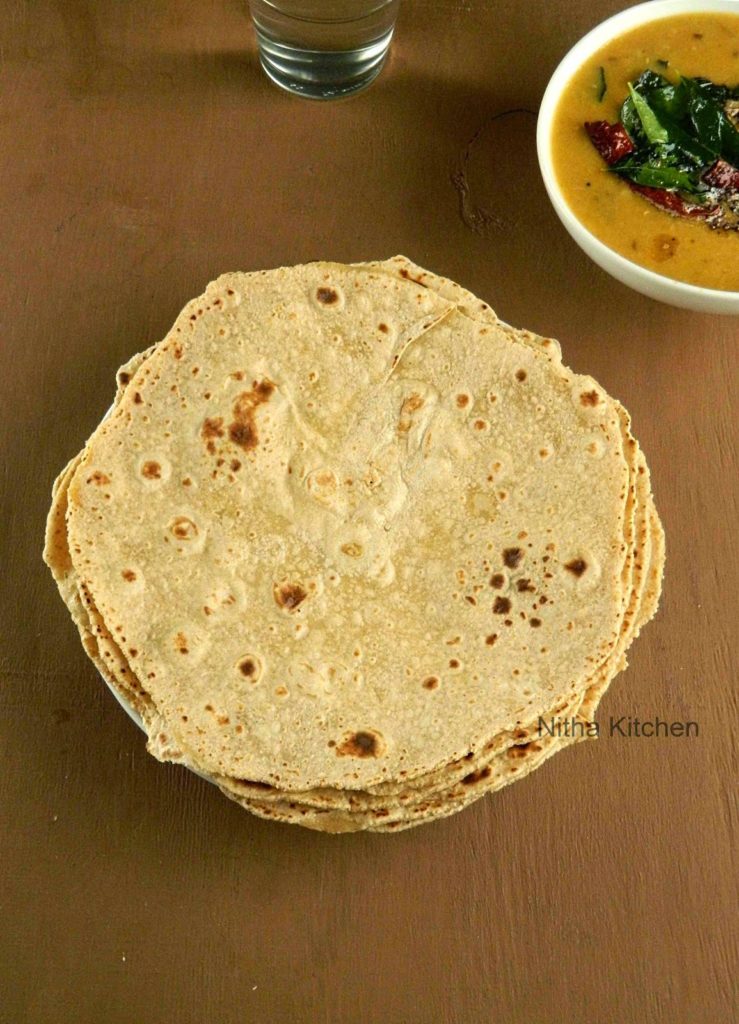 Here the chapatis are served with Dal Tadka, hope you remember that post….