Wish You ALL a Very Happy NEW YEAR!!!
Hope everyone is busy with family/ friends n eagerly waiting
to welcome the New Year 2013. This year I had an unexpected entry in to blogosphere,
just thought n started in a couple of months. In 2013 I am making a trip to
my
motherland, so absolutely it's going to be a fun filled with family…How abt
u? Do u have any resolution, I never keep any but I wish I'd get more time to
spend in this blogger worldJ.
Now coming to today's recipe, let us begin the New Year with delicious cupcakes 🙂
These cupcakes are from natural flavor, pomegranate juice and happens to be
eggless…
Ingredients
APF/Maida – 1 n 1/2 Cups
Butter – 6 Tbsp
Fat free Sweetened Condensed Milk – 1/4 Cup (Replace with Oil+Sugar)
Cooking Oil – 1/4 Cup
Fresh Pomegranate Juice/Store bought/Molasses – 3/4th Cup (I used fresh juice n recipe follows in detail)
Powdered Regular + Dark Brown Sugar – 1/2 Cup or more
Baking Powder – 1tsp
Baking Soda – 1/2tsp
Salt – 1/4tsp
Milk – 2 Tbsp or more to attain batter consistency
Method
Mix the flour n all dry ingredients in a separate bowl.

Extract the fresh pomegranate juice as shown in Pic 1 without adding water (I used Indian Mixie/Mixer to extract the juice).

Cream butter (@room temp) n sugar well in another bowl (Pic 2).

Add fresh juice n condensed milk to the butter mixture n beat well.

Now slowly add the flour mixture in batches (pic 3) if needed add milk for dropping consistency.

Preheat the oven and line the muffin pan with paper liners.

Drop the spoonful of batter till 3/4th in each cup as shown in Pic 4.

Bake at 350° F for 10-12mins or toothpick inserted at center comes out clean.
Frosting
Cream Cheese – 3 Tbsp
Butter – 5 Tbsp
Powdered Sugar – 1/2 Cup
Pomegranate Juice – 2 Tbsp
Few Pomegranate seeds/kernels to garnish
Keep butter at room temp n beat all together (Pic 2) till it attains smooth consistency (Pic 3).
If you like can add few drops of vanilla extract too.
For thick frosting you can replace cream cheese with butter.
Increase sugar as you need.
Use any tool tip n apply frosting, finally garnish with pomegranate kernels (Pic 4).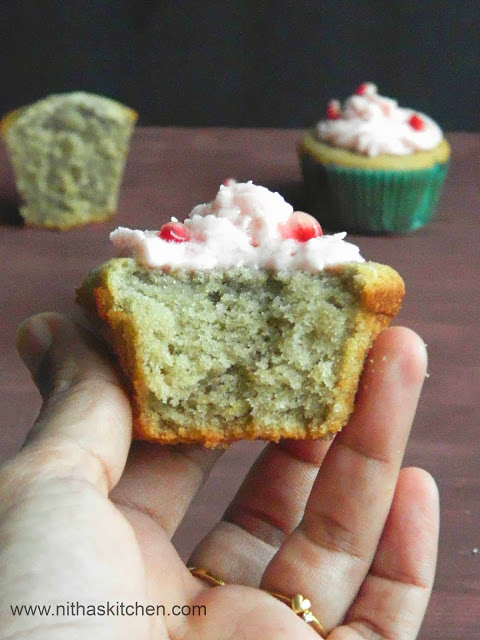 Note:
I have not added any food color, if you wish u can add red/pink food color in the cake batter/frosting.
Due to kids tantrum, I left the cakes in oven for couple more mins, so I got brown coat over the edges apart from that the remaining were super moist as shown in abpve picture.
Can replace Pomegranate with Orange juice for Orange Cup cakes.
Also instead of fresh juice can use store bought juice/pomegranate molasses.