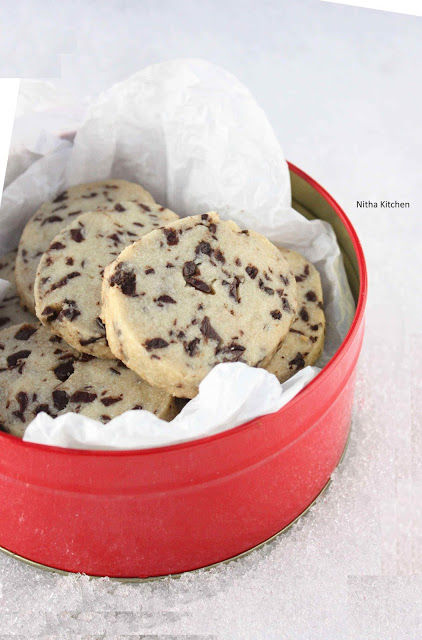 An eggless Chocolate chip shortbread cookies are a perfect snack with a cup of coffee or tea, can be sandwiched with cream and serve it as after school snack for the kiddos. These Chocolate cookies are slightly crisp and taste is just out of the world. They are very easy to make as well, Just roll the dough as a log, cut in to even slices, if the slices are reasonable thin as mine ( ¼ inches ) you will get perfect lightly crispy cookies. If they are thick like 1/3 inch then they are moist and so soft. This is one among the several cookies I made for cookie exchange event (refer below pic for the collection of cookies i made), among all this cookie is my personal favorite 🙂
. Also you will get a handful of cookies in just 30 minutes, make this holiday so special by trying out this yummy cookies!
To look out my cookie recipe, check HERE.
Yields: 26 Cookies
Ingredients
All Purpose Flour/Maida – 320 grams (2 ½ Cups)
Unsalted Butter – 226 grams (1 Cup) (room temperature, for this winter you must keep it out several hours before making the dough)
Light Brown Sugar – 100 grams (½ Cup unpacked)
Granulated or Regular Sugar – 50 grams (½ Cup)
Any Chocolate – I used mix of Hersheys and Bakers Baking Chcoolate – 3oz / ½ Cup chopped/slivered
Vanilla Extract – ½ tsp (Teaspoon )
Kosher Salt – ½ tsp
How to silver Chocolates
When the butter is out for creaming, do keep ready with chocolates you use.
Using sharp knife do start chopping side ways.
Using the sifter or sieve with big holes do remove the powdered, small bits of chocolates.
Do keep them ready as shown in picture below.
Method
In the bowl of a stand mixer fitted with the paddle attachment or using hand mixer, cream the butter and sugars until lightened and fully combined.
Add the vanilla extract to combine.
Add the flour and salt separately in a bowl, mix together then add it to the creamed butter on low speed until combined, scraping down the sides of the bowl as necessary.
At one stage you no need the mixer and do start working with hands.
Add the silvered chocolate and mix with the spatula just only to distribute the chocolate.
Scoop batter onto parchment paper and roll into a log or two as per your convenient as shown in picture 2 but make sure the diameter is about 3 inches .
Wrap with cling wrapper and do refrigerate overnight.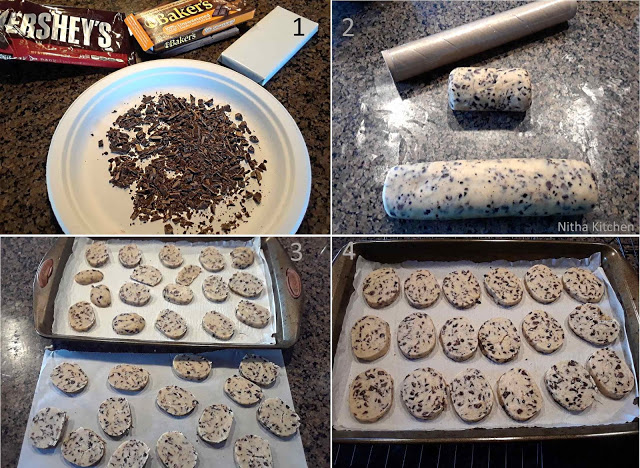 Preheat oven to 350°F.
Slice log into ¼ inch slices (tend to slightly crispy) even ⅓ inch (will tend to soft and moist cookies) also works but not more than that.
Place 1 inch apart on a parchment lined baking sheet and bake in preheated oven for 10-12 minutes or until the edges begin to brown and the centers are matte and no longer doughy.
Cool completely on a wire rack.
Store at room temperature in an airtight container for 7 days.
Tips
The unbaked cookie dough can be stored in the refrigerator for 7 days.
You can add mini chocolate chips instead of silvered chocolates.
Also my wish to click pictures in snow got fulfilled 🙂