French Macaroon needs more perfection so it is considered as a very challenging recipe in baking world. Last year I tried this French Macaron recipe for Baking Partners Challenge, my first try was miserable failure. I had several reasons for the failure like my oven gaskets were damaged, I don't have sieve to sift the flour and also I was busy in packing things for vacation. After 3 months of vacation we shifted to new apartment n held with many household works. Till last month I had many sleepless nights thinking about the
macarons… Yaay I succeeded in my second try 🙂 n thanks for Home Bakers Group for pulling me to try again…A Special thanks to Priya sis and Siri…Here I have recorded the mistakes I done in my first attempt and also given few external links for troubleshooting it…First watch the video of demonstration, from my side I have given few step wise pictures without fail 🙂
Recipe Source :- JoyofBaking
Ingredients
Ground blanched almonds or almond meal/flour – 100 grams
* Confectioner (powdered or icing) sugar – 180 grams
** "Aged" Egg Whites, at room temperature – 100 grams (3 Large egg whites does)
Cream of tartar (Optional) – 1/4 teaspoon
Superfine or Castor White Sugar – 35 grams (Just blend regular sugar in food processor)
Yields :- 30 Macarons (I made a bit big macarons so i got only 24)
Few Important Tips :-
Weigh measurements in grams, I bought a new digital scale particularly to make it :-).
Volume measurement like cup is not recommended.
* Better to go with store bought powdered sugar that contains cornstarch (corn flour).
** Separate eggs at least 24 hours before using (or up to five days). Cover with cling wrap, prick here and there with toothpick and place in the refrigerator. Bring to room temperature before using.
Shifting the flour, sugar mixture is must; otherwise you get cracked, non-smooth macaroons.
Start beating egg whites in low to medium speed later increase to medium high speed.
Beginners better to try macaroons without any food color, if liking to add then go for gel or powder type of food colors.
Add the flour mixture in 3 additions and while mixing it with meringue count the turns,strikes and don't exceed 35 strokes.
I usually make almond meal at home, I have explained it in detail below.
Also Oven temperature is very important you get cracks over top of macaroons when temp is too high, so prefer 285-315° F and use double parchment paper if using non-stick baking sheets.
When batter is under mixed you get —> a) Top Cracked Macaroons  b) Stiff Point on Top  c) Inside Hollow.
When batter is over mixed you  —> a) Batter will be runny b) Don't get feet/foot  c) Uneven shapes.
After all use plain round tip (1/2 inch approx) or just the piping bag without any tip to pipe the macaroons.
Never pipe with any small decorating tips, doing so removes more air in the batter and hard to get feet as well as it cracks on top.
Leave in room temperature for another 40-60 minutes for the macaroon to dry completely, this step is very important for feet formation.
If you have only one baking tray, pipe the first parchment sheet fitted in that baking pan then continue piping with remaining sheets just place them over kitchen counter top undisturbed till it get in to the oven.
Once first batch has done remove the baked goodies with parchment and gently (by lifting 2 sides) place the next batch of dried macaroon in that same baking sheet then start baking (Bake the first piped macaroons first ).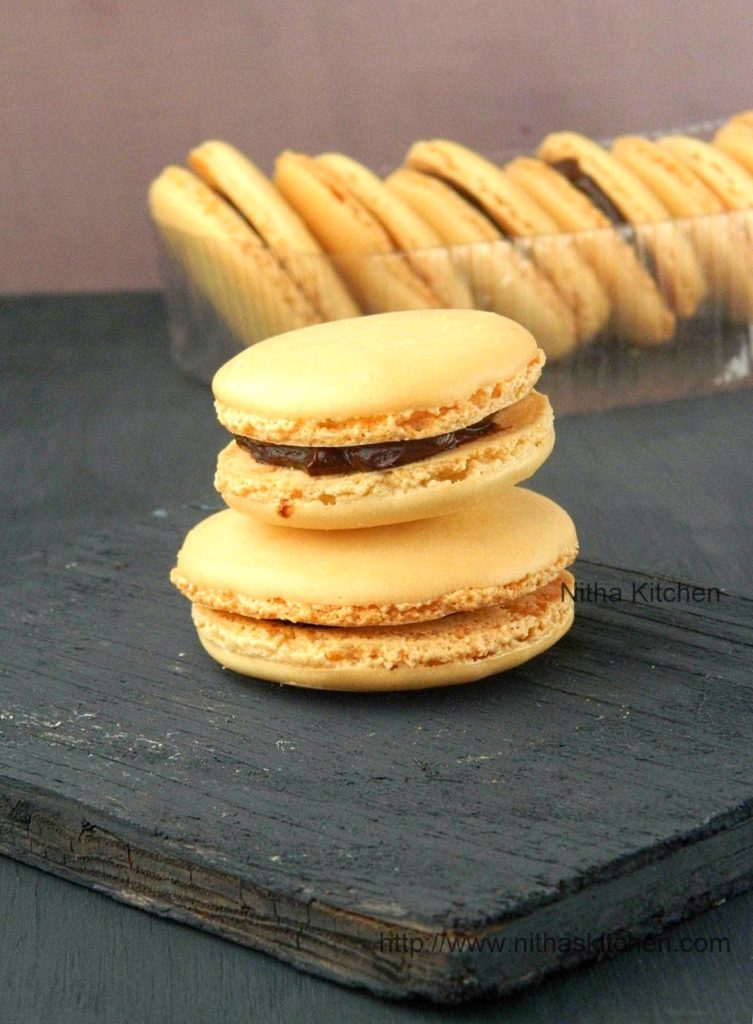 Method to get Almond Meal at home
Soak almonds in well boiled water for 2-4mins Pic 1.
After that blanch/peel the skin and pat dry for at least 30 minutes.
For quick process spread in baking sheet n put it in oven under 200 F for few minutes or u can dry over well heated dosa pan or kadai for few minutes to get rid of moisture(Pic 2) but don't over heat, oil comes out of almonds in that case.
When u feel the almonds are dry enough, powder it with atsp of sugar/corn starch using blender Pic 3.
Don't blend when the almonds are hot, allow to cool completely before grinding.
Sieve it (Pic 4) and powder the leftover/strained coarse almonds again.
If using store bought almond meal/powder skip the above process and move on to next step.
Macaroon Preparation
Place the ground almonds and confectioner sugar in a food processor and process until finely ground (about 1 – 2 minutes) then sift the mixture to remove any lumps.
Have ready three baking sheets (make sure they have flat bottoms (no warping)) lined with parchment paper, piping bag placed over a mug/glass for easy pour, spatula to mix the batter and powdered/sifted Almond meal sugar mixture.
To make all the Macaroons the same size, I like to make a template. Take a piece of parchment paper and draw 20 – 1 to 1n1/2 inch (3-4 cm) circles, spacing the circles about 2 inches (5 cm) apart.
Place the template under your parchment paper so you can use it as a guide.
In the bowl of your electric mixer, fitted with the whisk attachment (can use a hand mixer), beat the egg whites and cream of tartar, if using, on medium speed until foamy.
Gradually add the sugar, and continue to beat, on medium-high speed, until the meringue just holds stiff peaks (Pic 1, when you slowly raise the whisk the meringue is straight up, no drooping, called a 'beak') (but do not over mix the meringue or it will 'break').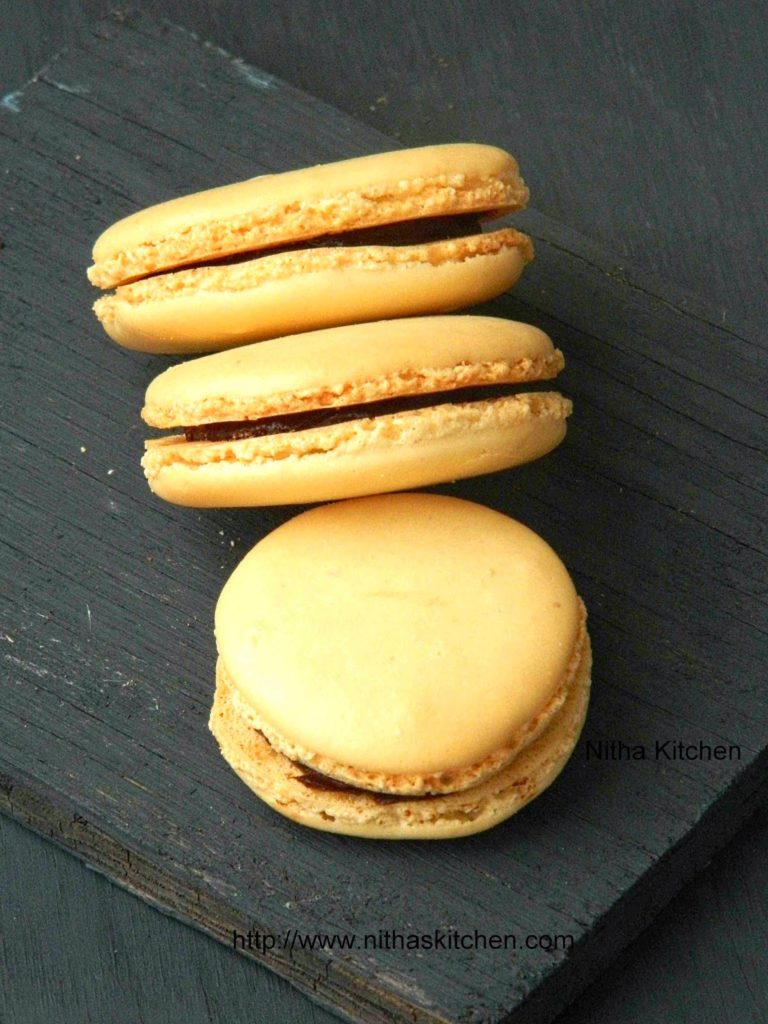 Then, in three additions, sift the ground almond/sugar mixture over the meringue(Pic 2). When folding, cut through the meringue and then fold up and over, making sure to scrape the bottom and sides of the bowl.
Once the almond mixture is completely folded (called macaronage) into the meringue (the batter will fall back into the bowl in a thick ribbon, Pic 3) it is time to pipe the Macaroons.
Fill a pastry bag, fitted with 1/2 inch (1 cm) tip, with about half the batter. Pipe about 1 – 1 1/2 inch (3 – 4 cm) rounds onto the parchment paper, using the template as a guide.
Then gently tap the baking sheet on the counter to break any air bubbles (can also break air bubbles with the end of a toothpick).
Let the Macaroons sit at room temperature for about 30-60 minutes (depending on the temperature and humidity of your kitchen) or until the tops of the Macaroons are no longer tacky.
Baking Process
Meanwhile preheat your oven to 325 ° F (160°C) with the oven racks in the top and bottom third of the oven.
Bake the cookies (two sheets at a time) for about 14 -16 minutes, rotating the pans top to bottom, front to back, about halfway through baking.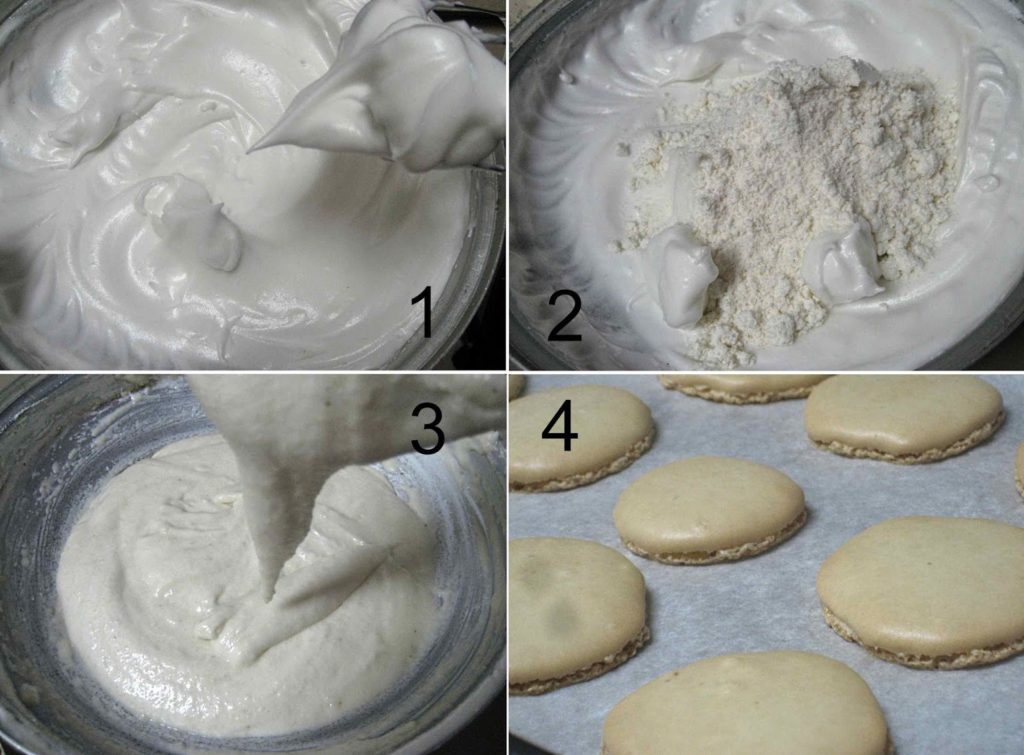 The Macaroons are done(Pic 4) when you can just barely separate the cookies from the parchment paper (there will be some browning of the cookies). (If you find that the bottoms of the cookies brown too much, double sheet your baking pans.)
 Remove from oven and let the Macarons cool completely on the baking sheet placed on a wire rack. To assemble the Macarons, take two cookies and sandwich them together with your filling (place filling on flat side of cookie).
Popular choices are a Swiss buttercream frosting, lemon curd, chocolate ganache (recipe here) or jam. While you can serve the Macarons the day they are made, these cookies really need to mature for a day or two in the refrigerator (I did so).
They are best served at room temperature.