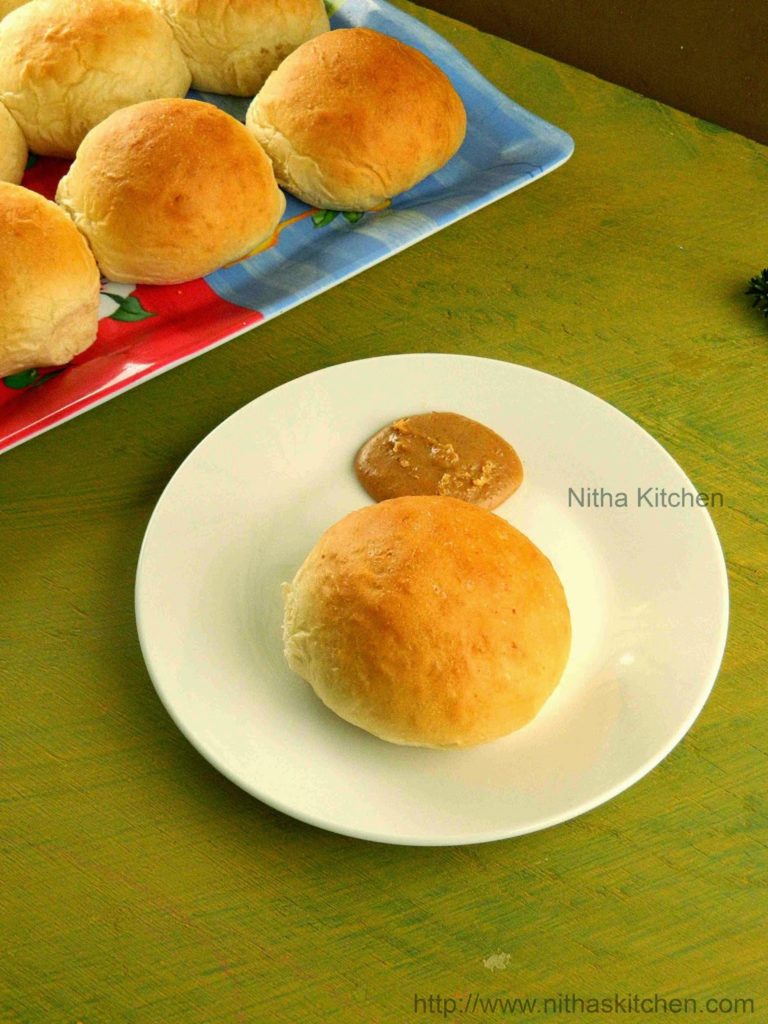 Buns are quite addictive snack among my kids. As previously mentioned I don't buy breads at stores regularly, once in a while I go for store bought and most probably I would bake the bread or buns to kid's needs and taste buds. When Niloufer Riyaz suggested several good Malaysian bakes for this month Priya sis Home Bakers Challenge, I preferred these Kopitiam buns without any second option. Kopi means "Coffee" in Malay and "tiam" means "Shop", such a classic and popular buns they are. Also this recipe is quite interesting with a part of dough(sponge) kneaded and fermented for more than 5 hours or overnight and later mixed with some more flour and yeast, then allowed for second fermentation. Also this dough goes for 3 proofing so after such process the outcome is truly delectable ie very soft and sponge buns. Try this mildly sweetened buns you must really love it, also as usual I use my hands to knead the dough you can go with various options!!! This buns are served with kaya (rich food spread basically  made of coconut milk, sugar and egg), i have given few options for that in the following recipe.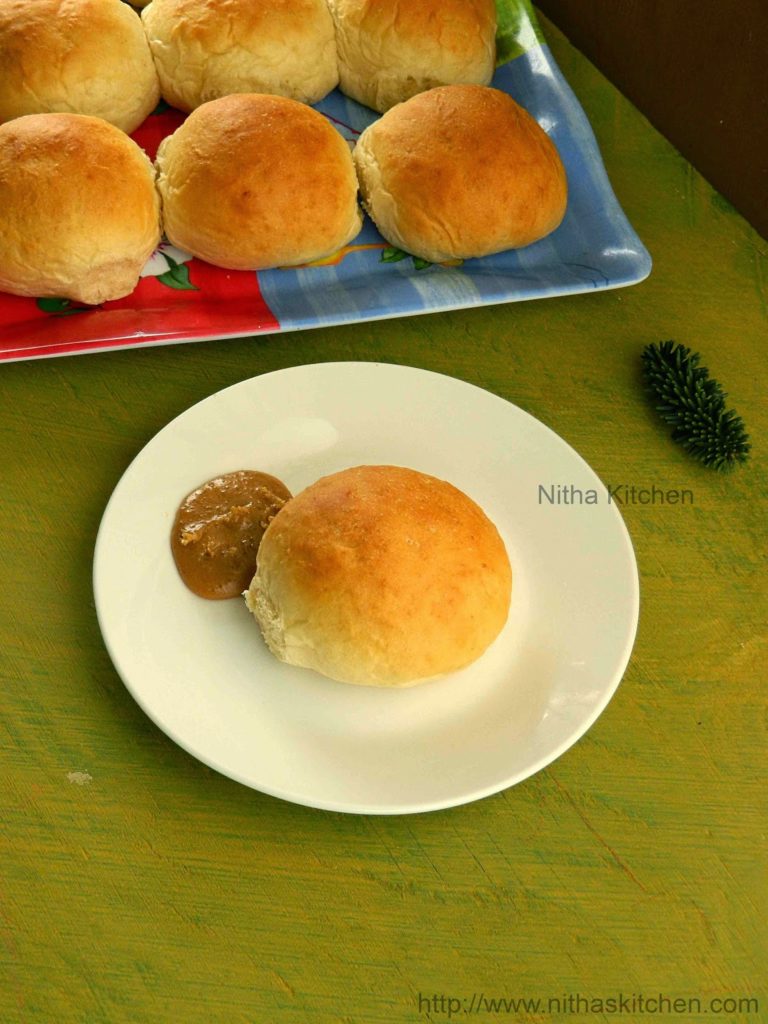 Recipe Source: Adapted for Here
Ingredients for Kopitiam Milk Buns
A : Sponge
215g bread flour (replace with APF or Maida)
125ml water (you may need more water to make bit sticky dough)
20g milk powder
1/2 tsp instant yeast
B: Dough
95g bread flour (replace with APF or Maida)
1 tbsp water (you may need more water to make soft dough)
1 1/2 tsp instant yeast
5g salt
50g sugar
15g milk powder
50g butter, softened
Method
Using a bread maker, an electric mixer or by hand, mix and knead ingredient A for about 10-15 mins(Pic 1).
Allow the sponge dough to prove at least 4-5 hrs in room temperature or 12-16 hrs / overnight in a fridge.
The sponge should be little sticky.
Using a bread maker or an electric mixer, mix and knead both sponge dough (Pic 2 ) and all ingredient B (Pic 3, adding butter last) together to form an elastic dough. Allow the dough to prove for 1 hr or until double its size (Pic 4).
Divide dough equally into 9-10 portions. Shape each portions into balls and place them into a lightly greased 20 cm square baking tin. Allow dough to prove for 1 hr or until their size doubled (Pic 5).
Pre-heat oven at 160°C or 320°F and bake for 15 mins or until golden brown (Pic 6).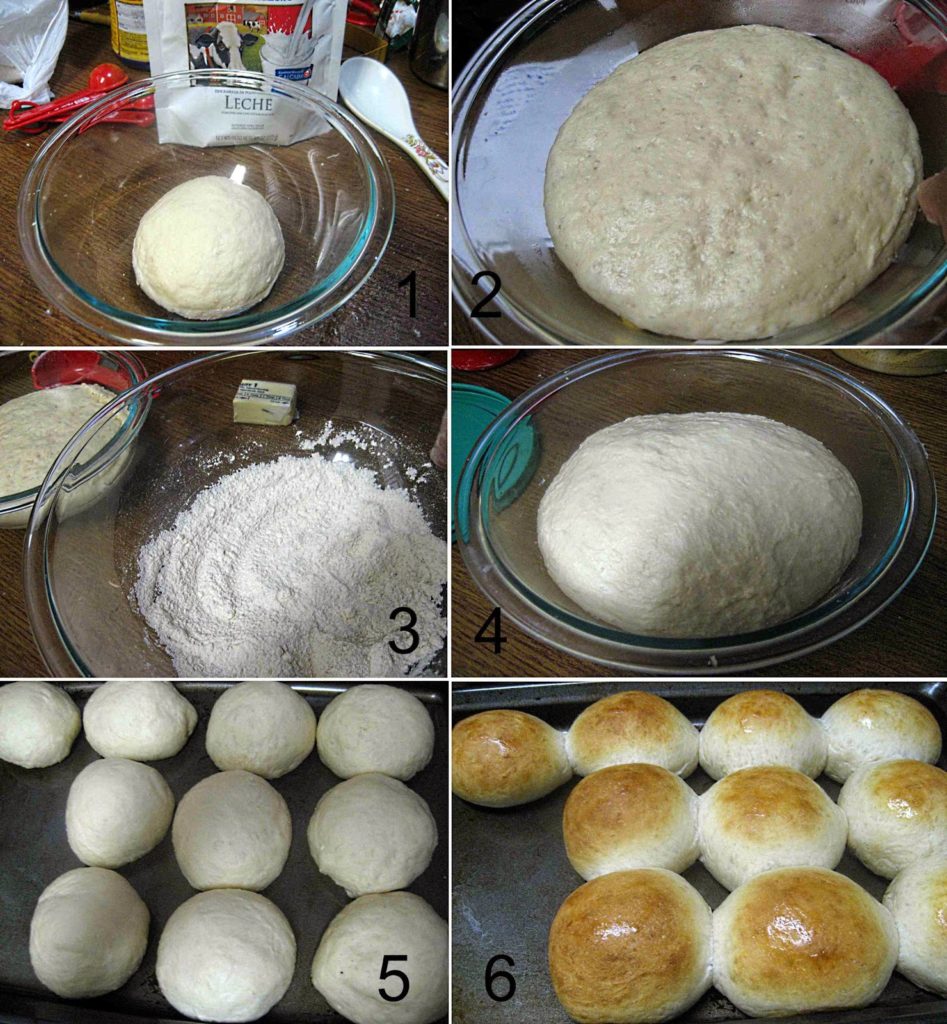 You can apply some butter hot buns immediately out form oven then allow buns to cool completely on wire rack before serving.
I am not sure whether you get Pandan leaves at your place even i didn't get here, so i went for simple kaya made of milk powder, coconut milk and brown sugar that gave the same thick and heavenly spread. Tough i have provided the Caramel Kaya recipe here.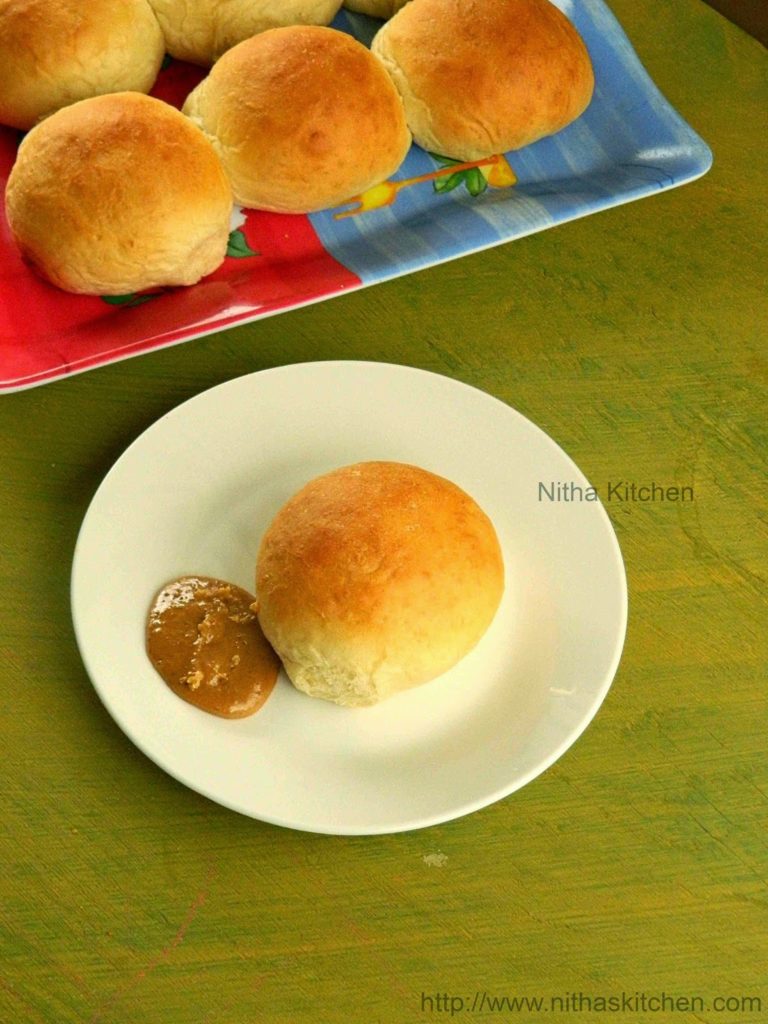 Express Caramel Kaya
Makes about 100ml
1 large eggs, lightly beaten
50g brown sugar
30g caster sugar
125ml coconut milk
(I used Ayam brand light coconut milk)
4 pandan leaves, slightly bruised, shredded lengthwise and knotted
Method
Dissolve brown sugar in 1 tbsp of boiling water. Allow mixture to cool slightly.
Mix caster sugar with coconut milk in a microwavable bowl, whisk until sugar dissolves slightly.
Microwave coconut milk mixture for 1 min with high power. Remove and stir. Repeat this microwave step for 1 min with high power, remove and stir until sugar has completely dissolved. The mixture should be hot but not boiling. Then, add brown sugar mixture and pandan into the coconut milk mixture.
In a separate bowl, beat the eggs until well-mixed. Pour through egg mixture through a sieve to remove bubbles and also make sure that the egg yolk and white are properly combined.
While the coconut milk mixture is hot, stir with a whisk while pouring in the egg mixture in a stream. The mixture will thicken slightly.
Microwave the mixture again on medium power for 30 secs. Remove and stir. Repeat until kaya develop a slightly translucent texture with a deeper color and the mixture become relatively thick.
Discard pandan leaves once they are cooked. Repeat microwaving and stirring step until kaya reaches its ideal smooth and creamy texture.
Cool completely before store in a clear jar and keep in the fridge.