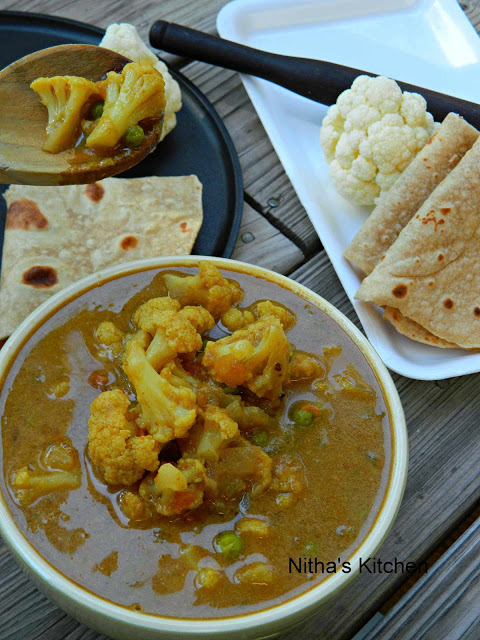 Cauliflower Kurma with chapati, learn to make delicious cauliflower kuruma and tips to get soft zero oil chapati.
Cauliflower Kurma
To roast and grind
Chana Dhal – 1 TbspToor Dhal – 1 Tbsp
Urad Dhal – 1 Tbsp
Whole Red Chilis – 2 Number
Coriander Powder – 1 n ½ Tbsp
Whole garam masala (Cloves/Cinnamom) – Each 2 Number
Fennel seeds  – 1tsp
Shallot – 3 Number
Oil – 2Tbsp
Other Ingredients
Garlic – 5 Numbers
Ginger equivalent to garlic
Cauliflower – Medium size
Peas – 1/2 Cup
Onion – 1 Number (Large)
Tomato – 2 Medium size
Shredded Coconut/Coconut Milk – ½ Cup
Garam masala powder – 2tsp
Red Chili Powder – Optional
Method
Roast the ingredients given under to grind with 1-2tbsp of oil.
Allow to cool (Pic 1) and grind to smooth powder (Pic 2).
Make ginger and garlic paste separately.
Heat oil in the same pan and add chopped onions.
Add ginger garlic paste n saute till nice aroma attains.
Now add chopped tomato and cook till tomato mashes well.
Then add ground paste, cauliflower, peas necessary water (Pic 3) and cook till vegetabls turns tender.
Now add garam masala powder, red chili powder, coconut milk (Pic 4) and cook till gravy gets thicken and oil floats on top.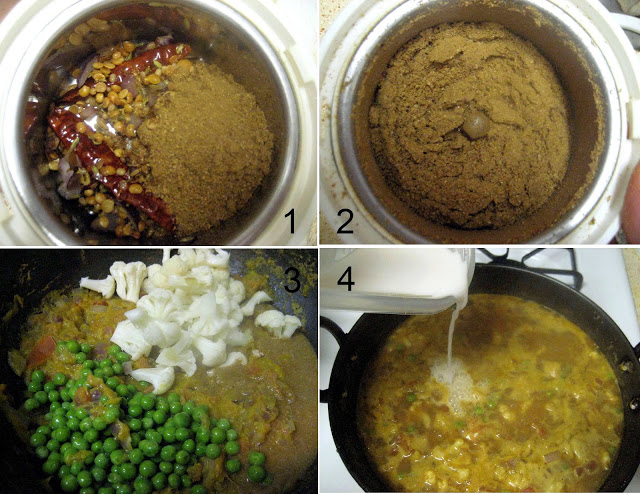 Serve with hot chapati (Recipe follows) pulka.
Zero oil Chapati
Whole Wheat Flour/Multi Grain Flour (I used Multi grain flour) – 3 Cups
Warm Reduced Fat Milk – 1 Cup
Water and Salt – As needed
Method
Mix all the ingredients except water.
Now sprinkle water and make soft pliable dough Pic 5.
Rest it for at least 30mins before rolling.
After 30mins make lemon/equal size balls.
I have not used dry flour while rolling the chapati, I used 2 ziploc bags and in between I rolled it Pic 6.
So roll one at a time and stack it using butter paper.
Now heat the dosa pan/tawa to high temp and cook the chapatis by flipping both sides.
Cook till getting golden spots all over.