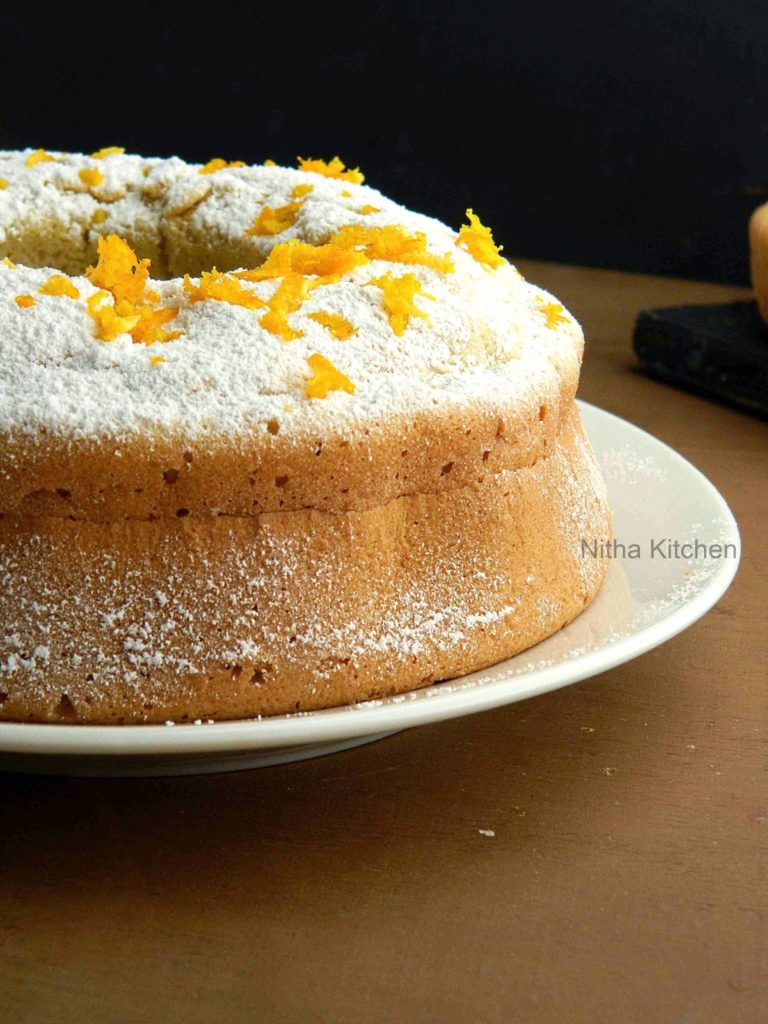 For this month baking partners challenge, Humi suggested Russian Honey Cake and Saraswathi suggested Orange Glow Chiffon Cake recipe. As my H doesn't like cream in the cakes, I
preferred this chiffon cake for his Birthday. I made this cake and dusted with sugar and sprinkled some zest over it. This is the perfect cake for cream dis likers, it's a very soft and moist sponge
cake with Orange/Lemon, the only technique to follow here is beating egg whites. I provided several links to beat egg whites in hand/electric blender and tips and techniques. Thanks Swathi for giving new and new opportunities. I
am glad to be a part of this group. Recently this wonderful group turned 1 year, my hearty wishes to the whole team and expecting many more challenges in future :-).
Wet Ingredients
Egg yolks (Large) – 3 Numbers / 130g
Canola oil / Sunflower oil – ½ cup / 108g
Water – 2/3 cup / 156g @ Room temperature
Orange/Lemon juice – 2 Tbsp/ 30g
Vanilla Essence – 1tsp
Dry Ingredients
Cake flour – 2 1/4 cups (8 ounces) / 225g
Or (Replace with All Purpose Flour, I used 2 Cups minus 1 Tbsp APF/Maida + 4 Tbsp Corn Starch)
Caster sugar -1 1/2 cups + 2 Tbsp / 300g
Baking soda – 1/2 tsp
Orange/Lemon zest – 1 ~ 2 Tbsp (I used 2 Tbsp)
Salt – 1/2 tsp / 3.5g
For Meringue
Egg whites (Large) –  7 No / 300g
Cream of tartar –  1 ¼ tsp / 4g
Powdered Sugar – 2 Tbsp / 30 g For Orange glow Chiffon cake use Orange Juice and Orange Zest, I have given an easy trick to grate the Orange zest here.
You can check whipping egg whites with hand whisk here.
I also found this link very useful for beginners in whipping egg whites.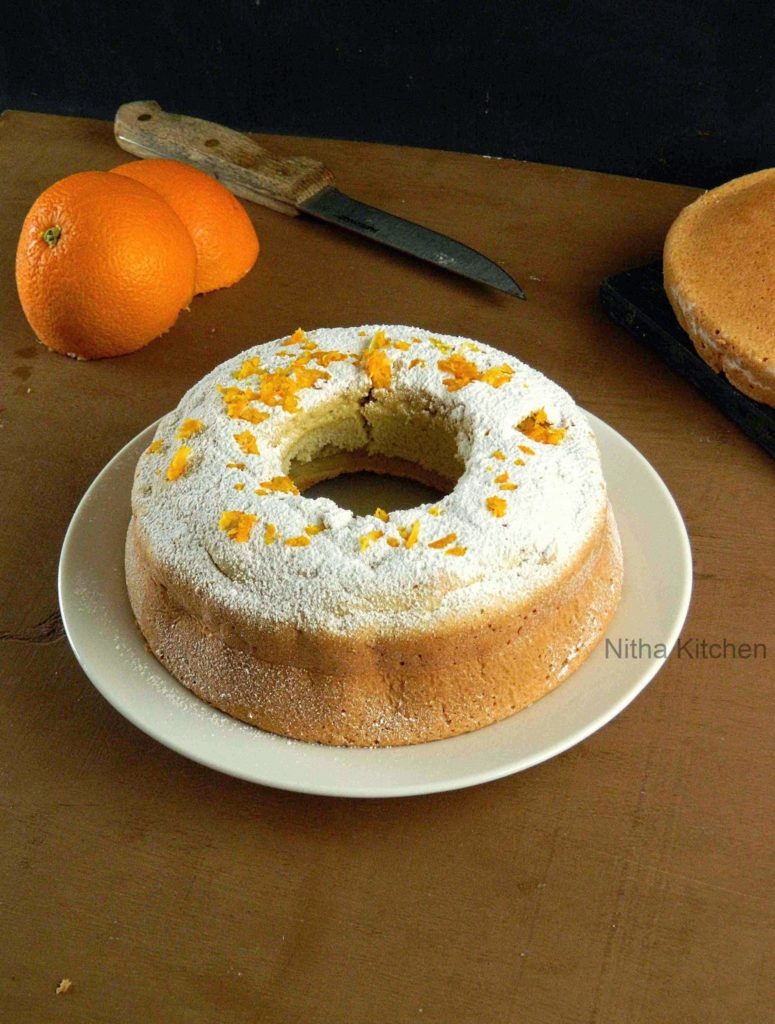 Orange Glow Chiffon Cake Preparation
Preheat your oven to 325°F/155°C.
For grating zest, first squeeze out the fresh juice from oranges (Pic 1 below), then freeze it at least 1 hour before gating the zest.
Use the vegetable grater and grate the top most layer, leaving the white layer as it is (Pic 2).
Separate the egg whites and yolks.
Grab all the necessary ingredients (Pic 3)
Grab your 10-inch tube pan with a detachable bottom, but do not grease it as the batter needs to climb up the sides
OR
Line two 9 inch baking pan with parchment paper (I used one 8″ glass bowl and one non stick 10″ pan).
Do not grease the pans, also i covered bottom of pans with foil not to burn the cake much (Pic 6).
Place Oven safe ramekins/bowl/Stainless Steel Tumbler in middle of the pan.
I used Tumbler and placed top down as shown in pic, while baking to keep the stainless steel tumbler at one place what did is I packed few dry beans (Rajma/Soy) in a aluminum foil and kept inside the tumbler not to move here and there while baking.
Add the cake flour, baking soda and salt in a separate bowl.
In a large mixing bowl, combine 1 1/2 cups of the sugar and the lemon zest.
With your fingertips, work the zest and sugar together until the sugar is grainy and very aromatic.
Then add remaining dry ingredients/flour mixture to it.
Use stand mixer(low speed)/hand whisk beat until the ingredients are well incorporated.
Make a well in the center of the ingredients then add wet ingredients like oil, egg yolks,
water, Orange/lemon juice and Vanilla.
Mix for about one minute on medium speed until the batter is smooth and there are no lumps.In a second large mixing bowl, beat the egg whites until they are foamy.
Add the cream of tartar (Pic 1 below) and continue to beat on medium speed until they reach soft peak stage (Pic 2).
You will know your egg whites have reached this stage when the beaters start to leave a trail or when the peaks fall over when the beaters are raised (Pic 3).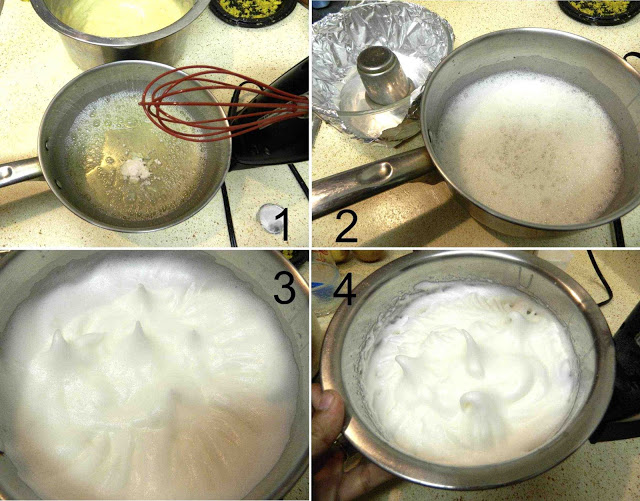 Add the remaining 2 Tbsp of sugar and continue to beat the egg whites until they form stiff peaks (Pic 4) when the beaters are raised.
Using a slotted spoon/spatula or balloon whisk, add 1/3 of egg whites to your cake batter (Pic 4 above the egg whites whipping picture)and gently stir them until they are incorporated.
Add the remaining egg whites to the batter (Pic 5) and very gently fold them into the batter until they are incorporated and no traces of egg whites remain.
Pour the batter into the un-greased pan (Pic 6) and run a small metal spatula or knife through the batter to prevent air pockets.
Bake for 35 to 55 minutes (depends on quantity/mode of pan used) and or until the cake bounces back when lightly pressed in the center (Pic 7 and 8).
Once baked, take the cake out of the oven and immediately turn it upside down over a bottle (Pic 9) or similar to it until it is completely cool, which can take up to 20 -40 minutes.
Care should be taken when using non stick pan, as it starts falling after 15-20 minutes of time, after that you can cool the cake in up right position.
Using an up and down motion, use a palette knife to loosen the sides of the cake away from the tin.
Pull out the tumbler and use the palette knife around the bottom of the cake to release it from the base.
Turn it over so that the base becomes the top and sprinkle with a dusting of icing sugar/lemon zest to serve.
Old post updated with recent pictures Note:
You can add tutti frutti to this cake.