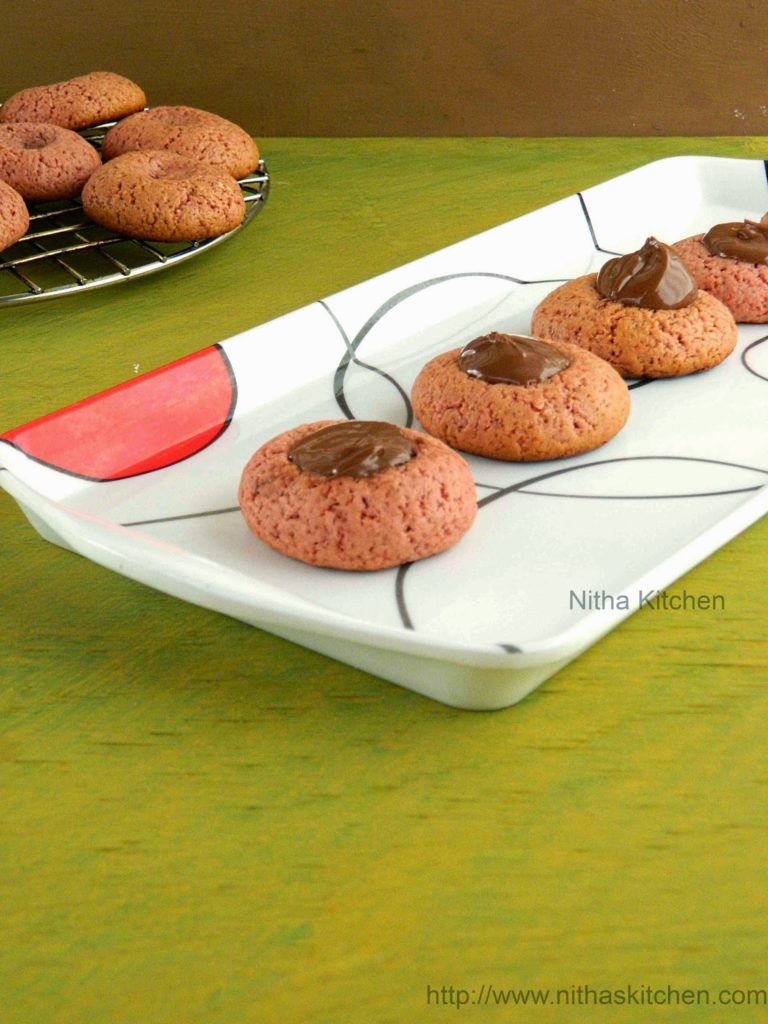 This is my first challenge for the home bakers challenge group. Thanks
Priya
sis and
Viji
for this wonderful challenge and thanks again for adding me in this group. To know more about this challenge click
HERE
.
Recipe Source – Adapted fro here
Ingredients
All purpose flour – 1 ½ Cup
Unsalted butter – 4 Tbsp (Room Temperature)
Fresh Strawberries/Crushed – 5-7 Numbers/3 Tbsp (The quantity may vary depending on consistency)
Granulated white sugar – 7 Tbsp
Baking powder – ½tsp
Salt – A pinch
Vanilla essence – 1tsp
Dark Chocolate/Nutella – for filling
Red/Pink Food Color – Optional
Method
Whisk the dry ingredients like flour,salt and baking powder together in a mixing bowl and sift it.
Crush the strawberries in a bowl using potato masher/dhal masher, it should not be runny n watery (Pic 1).
In another bowl, cream the softened butter and sugar using a hand whisk or electric blender for about 4 mins (Pic 2).
Add the vanilla essence and crushed strawberry to the bowl and combine well with the butter mixture using a whisk.
Fold in the flour mixture with the butter mixture gently to form dough (Pic 3).
The dough will be soft and a little sticky but not loose (Pic 4).
Don't give over pressure to dough (don't over mix).
Once combined, cover the dough with plastic wrap/cling film and refrigerate for 1/2-1 hour.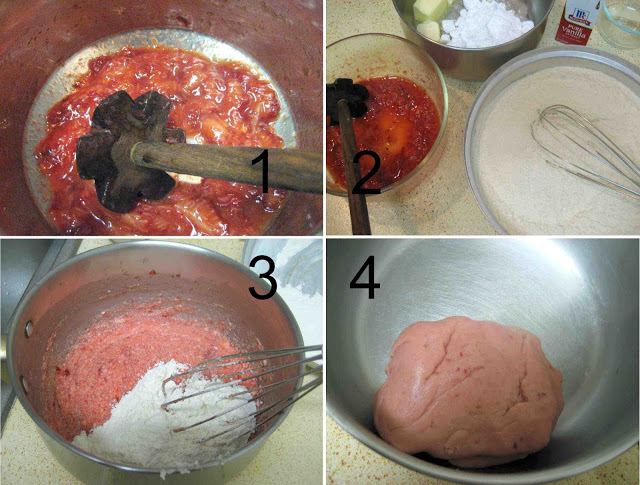 Preheat the oven to 350° F and grease the cookie sheet with parchment paper(Mine is non stick pan so i didn't do so)
Take out the refrigerated dough, lightly oil your palms and make even small balls with it.(I used 1 Tbsp for even measurement Pic 5)
Put the balls on the cookies sheet and press down slightly to flatten out (Pic 5).
With the help of your thumb or back of a tea-spoon/rolling pin make a small hole in the middle of the cookies to fill after baking (Pic 5).
Bake the cookies in the oven for about 8-12 minutes or until the bottom starts turning brown (Pic 6).
Do not bake too long, these will continue to cook after you take them out of the oven.
Take out the cookies from the oven and again using the teaspoon press out the hole in the cookies.
Press it when cookies are hot, you will not able to do this after the cookies have cooled.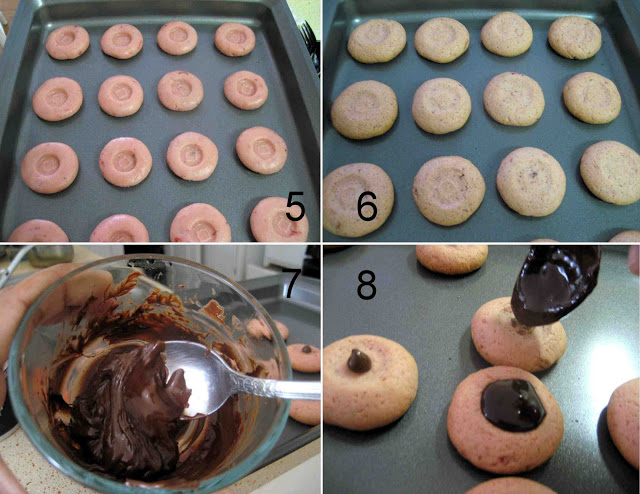 For Filling
You have many options like nutella/instant fruit jams to fill the cookies.
Also you can melt the chocolates using double broiler (Pic 7) and filled the cookies (Pic 8).
You can add few chocolate chips when the cookies are hot i.e immediately out of oven, it makes it melt and fill the cookies perfectly (Pic 8).