Today I am here with a popular Kongunadu recipe, Sweet Methu Vada உளுந்து கச்சாயம் sweet urad dhal vada or inippu ulunthu kachayam. Here I have shown the stone grinding method, you can use electric wet grinder to do the same. I have uploaded a short video how to grind using ancient stone mortar and pestle (aatangal) and to make holes for vada, so take a look before trying this recipe. Amma took the grinding part and Selvi our neighbor helped in frying it. I just did clicking and recording this recipe (also tasting part :-). The basket/koodai in display picture is the one i am preserving it from my childhood. I used it to sow seeds when parents worked in farm and was equally worked/tried what they did. I am keeping the basket safe as a treasure from my childhood days 🙂
Ingredients For Sweet Methu Vada உளுந்து கச்சாயம்
Whole Urad Dhal – 1 Cup
Raw Rice – 1 Tbsp
Granulated Sugar ( not fine powder) – 3/4th Cup – 1 Cup
Oil – To Fry
How to make Sweet Methu Vada உளுந்து கச்சாயம்
Soak dhal and rice for 1 hour.
Drain the excess water and blend it (Pic 1).
When half mashed add sugar in 3 proportions (Pic 2) and continue grinding.
Don't add water through the entire grinding process, if needed you can sprinkle some.
For right consistency, the dhal should blend well (no coarse texture), it should be soft and fluffy.
You can check by dropping a spoonful of batter in water, it should immediately float on top (Pic 3).
Heat oil and wet your hand before making hole and drop it carefully (check my video too).
Cook in medium heat otherwise the vadas burn quickly and turn dark brown becoz of sugar in it.
Drain excess oil using paper towel (Pic 4).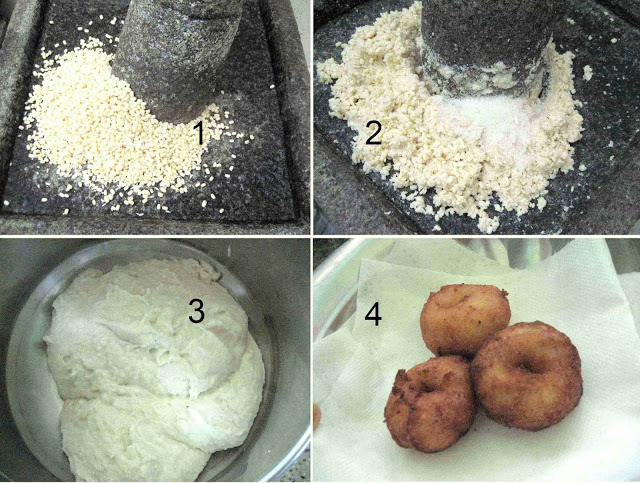 I strongly recommend tasting the vadas after 2-3 hours, however the hot Vada ppl can't wait so.
We especially like to mash sweet vada with banana and eat.
Note:
While grinding you can wet your hands and if needed sprinkle some water
Don't add too much water while grinding the dough and also add sugar in intervals.
Once it attained the right consistency, fry it as soon as possible and don't refrigerate the batter, otherwise it absorbs lot of oil while frying.
You can make Sweet Methu Vada உளுந்து கச்சாயம் without holes too.