Strawberries are on season and I am sharing today how to clean and store strawberries fresh for a week or more than that. Several cleaning tips and storing tips are provided from my experience. When you follow these great tips then the strawberries never goes bad quickly. Initially i was worried to
eat fresh fruits because of the pandemic. But after thorough cleaning and handling I gained confidence, now buying several boxes of Strawberries using up daily or freezing it for later use. Those experiences made me to share this post with you all. Also I am going to come up with other video post how to clean and store other fruits and veggies for few weeks and keep fresh in refrigerator especially mushroom , spinach kind of veggies in a separate video post soon.
How to Clean and Store Strawberries
Since Strawberry is a delicate fruit and gets mushy very soon, wash only when needed ie wash before you use. While it is tempting to wash strawberries as soon as you get them home, please resist the urge.
How to handle the Strawberry package
Once you buy from store wipe the box completely before opening the box.
Don't wash the box with berries inside, water gets into it and berries soak up in the dirty water.
Later open up the box, transfer the strawberries to other clean dried box.
I do recommend using the original container/box given by the store by washing and drying it properly. I clean and save previous order boxes (started doing it after this pandemic).
If you have more than one box spread as single layer in each box this way prevents berries turning mushy.
When you purchased and tend to be in hot place, after reaching home pack strawberries loosely in an open container
Or wide pan lined with paper towels to help wick water away from the delicate berries and keep in refrigerator.
When and How to wash Strawberries
Stems should be left intact until the strawberry is ready to be eaten to protect from molds.
And also getting wet inside because of exposure.
So take as much you need in a glass bowl filled with normal water.
Add Salt or Baking soda or Vinegar or Veggie Wash according to the availability.
Stir them well and leave it as it is for 8-10 minutes.
For cleaning do use normal water should not be warm or hot or too cold.
Strawberries will soak up the water so don't soak them for a long time.
While cleaning soak just 8-10 minutes depends on its freshness and rinse couple of times.
Wash in running cold water one to three berries at a time.
When you see any damaged berries do discard immediately before soaking other berries.
Do soak any bruised berries in ice bath for 20 minutes, this way it looks good and fresh (refer video).
Moisture is an enemy for the fresh strawberries. So once washed pat dry over paper towel and when completely dried you can store (tips follows).
How to Store Strawberries
I never recommend keeping strawberries in room temperature for a longer time.
If you freshly picked strawberries, can keep in air conditioned room for couple of hours.
And use it same day because Strawberries won't last longer than a few hours without refrigeration.
You immediately transferring to cleaned box from original package then line the container with paper towel and store in refrigerator.
This is good to use for a week or more than that.
Washed berries can be stored in refrigerator in paper towel lined partially closed container for two days.
If you use vinegar for washing then it stays good for more than 2 days and up to a week in refrigerator.
Don't store them in airtight containers,strawberries will rot more quickly when the moisture is trapped inside.
Can use zip lock to store for small quantity of whole strawberries but pierce holes for air flow.
To store in freezer , do hull and dry them completely, you can store whole hulled berries or cut by halve.
Place over paper towel lined large tray, freeze for 30 minutes then store in zip lock or air tight container.
If you washed the berries and can't use them up immediately do dry over paper towel and gently rub all over to remove excess moisture.
Now place them in a colander or open-weave basket to allow good airflow, refrigerate till use.
Never ever store strawberries in refrigerator with moisture, it damages the berries soon.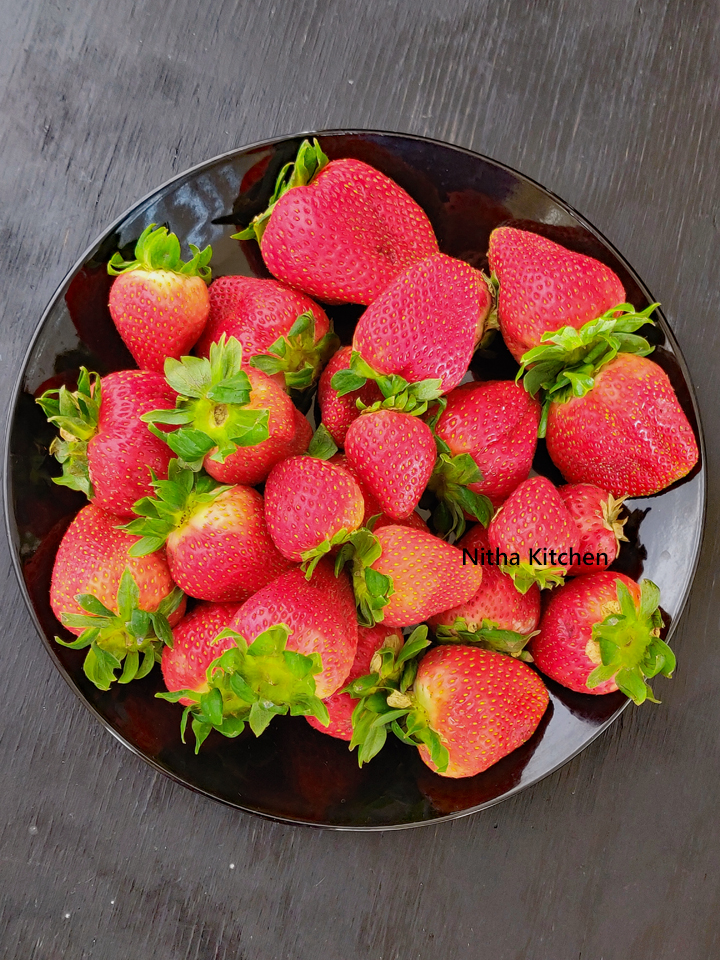 Unlike whole berries, once strawberries have been cut or hulled, they should be stored in an airtight container to protect the exposed flesh from mold and bacterial development, significantly reducing shelf life.
Do keep checking day by day and it looks dull or bruised start planning to use immediately or store in freezer for later use.
If any strawberry gets mold or sunken , not appealing good do discard it immediately otherwise other berries will get damaged by it.
How to Clean and Store Strawberries a Recap
Coming to storage containers or box, i am here with few examples to explain when to use partially closed and when to use air tight containers.

Just got the berries then unpack, store unwashed whole strawberries in paper towel lined partially closed container.

You soaked in vinegar plus water, washed the strawberries with stem and dried completely then this has to be stored in paper towel lined original container (partially closed for air flow).
Just washed the berries, dried and removed the stem (hulled) then this has to be stored as single layer (not to get mushy) in air tight container lined with paper towel and to be used soon.
If you can't use hulled berries soon, spread on a paper towel lined tray until it gets firm then store in air tight container but without paper towel into the freezer.

You cut the berries into halve can't use up immediately then this has to be placed in freezer to firm and store in air tight container for later use.
Also halved berries can be placed by mixing with sugar in freezer for longer shelf life.
How to Clean and Store Strawberries Video Explanation
I wiped the original package before opening and transferred the berries to partially closed container with paper towel lined to store in refrigerator.
I have arranged in the video with only one container keeping the partially ripen strawberries at the bottom layer and well ripen over that.
So you can use ripen first and this way prevents berries getting mushy.
When needed soak up in Salt or Soda or Vinegar or Veggie Wash with necessary water for less than 10 minutes.
Later wash them thoroughly and pat dry over paper towel to remove excess moisture.
Now hull the berries and use it as recipe calls.
After a week I saw little dull but most of the berries were in good condition. A very few berries have bruised so gave ice bath for 15-20 minutes and used them accordingly.
Instead of placing Strawberries in freezer tray and firming up , I directly pureed the fresh cleaned and hulled berries and used in the recipe calls.
Remaining I poured in air tight container and stored in freezer for later use.
Strawberry Related Recipes Coming Soon From Nitha Kitchen are
Strawberry based Popular Egg Free Recipes in NK
Eggless Strawberry Yogurt Cupcakes
Eggfree Strawberry Thumbprint Cookies
No Bake Low or Reduced Fat Strawberry Cheesecake

Eggless Strawberry Waffle
Egg Based Bakes in NK
Joans Cake

Jungle Theme Cake

Strawberry Cupcakes with Strawberry Buttercream Icing
Strawberry Custard Ice Cream