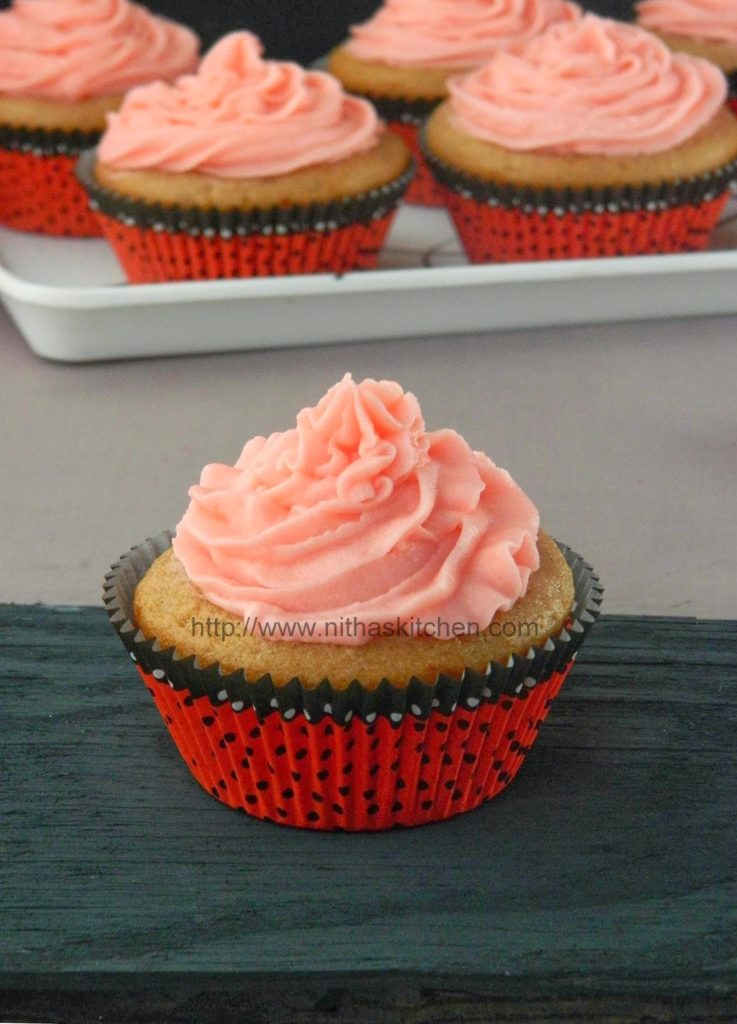 I am happy and proud being a woman and wishing you all my women readers and friends a very happy Women's day.  85% of Nitha Kitchen fans are women and I am feeling great in posting an eggless Strawberry cupcake recipe on International Women's Day today, March 8..I baked these eggless strawberry yogurt cupcakes today and was waiting for the sunlight. The Sun was playing hide and seek, finally I got a chance to click to my satisfaction 🙂
Yields – 10-12 Cup Cakes
Recipe Source :- Egg and Butter Free Strawberry Cake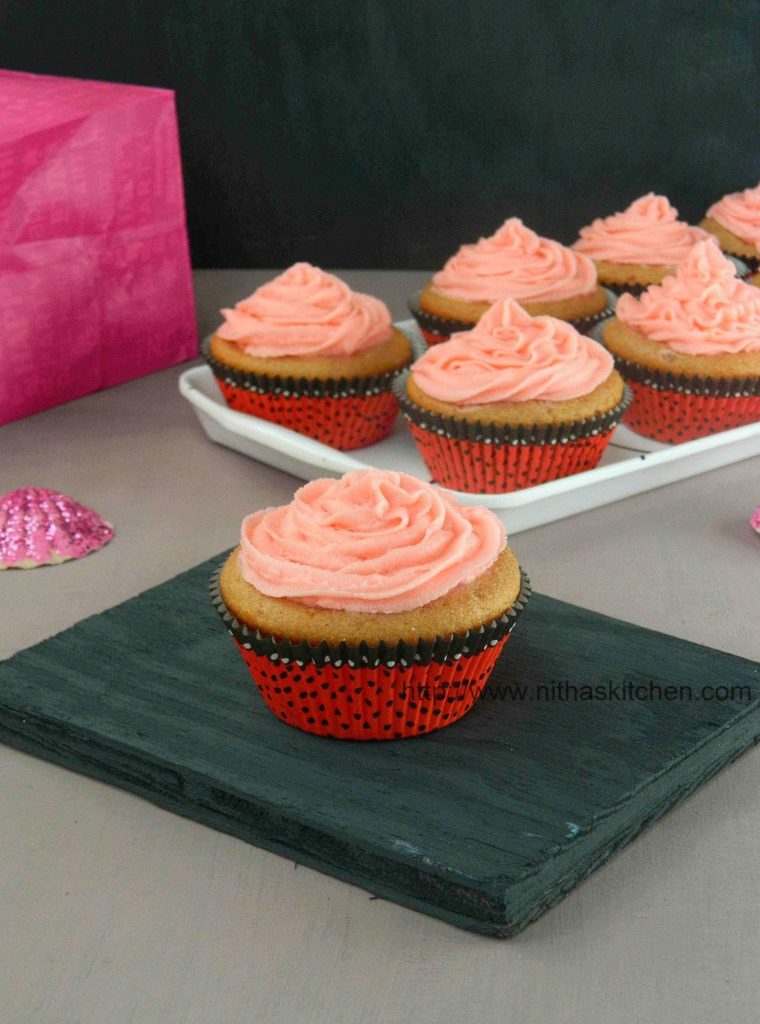 Ingredients
APF/Maida – 1 and 1/2 Cups
Thick Homemade or Greek Yogurt – 3/4 th Cup (Mine is a homemade with 2 % reduced milk, so taken hung curd)
Fresh Strawberry Puree – 3/4th Cup (Puree from almost 15 strawberries)
Sugar – 1/2 – 3/4th Cup (Optional to add 2-3 tbsps of brown sugar to get light brown texture)
Unsalted Butter – 4 Tbsp
Baking Powder – 1and1/2tsp
Baking Soda – 1/2tsp
Lemon Juice – 2tsp
Vanilla Essence – 1tsp
Optional Milk –  2 Tbsp or More – To attain batter consistency, it varies with your yogurt texture
Eggless Strawberry Yogurt Cupcakes Preparation
Mix all dry ingredients like flour, baking soda, baking powder in a separate bowl.
Cream butter and sugar(Pic 1) if needed add few drops of strawberry puree while blending(Pic 2).
Once done add yogurt(Pic 2) and blend to smooth and creamy.
Now add strawberry puree(Pic 3), lemon juice and vanilla essence, mix all together well.
Gradually add flour mixture(Pic 4) and keep mixing to a smooth and fluffy batter.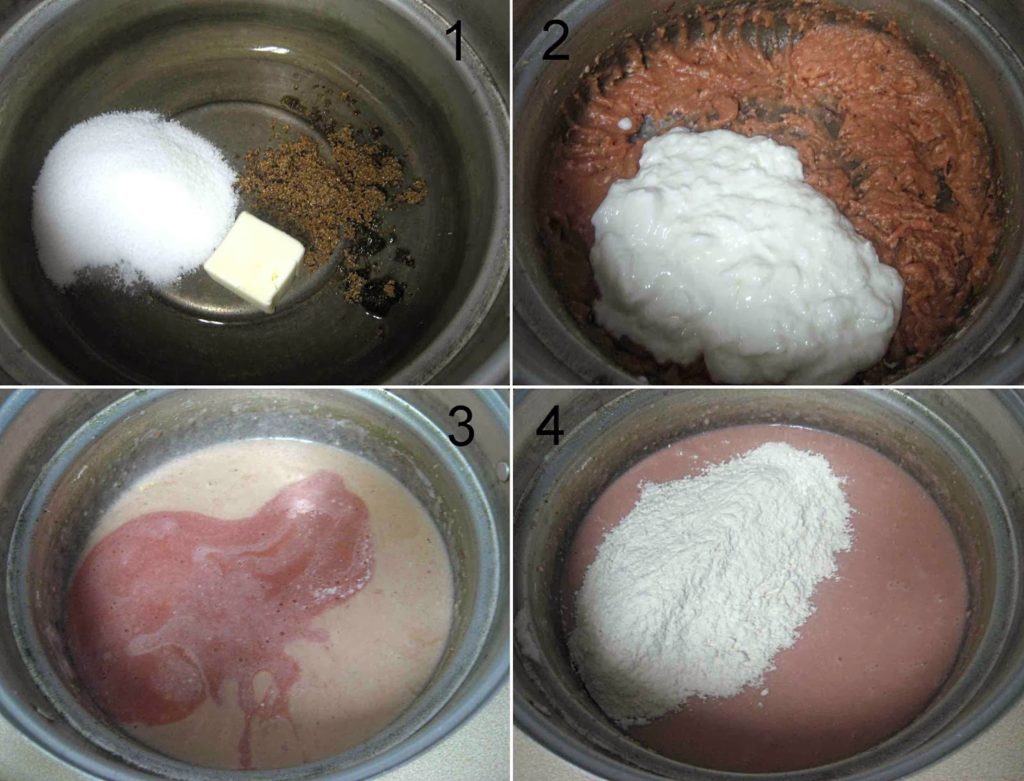 If needed add teaspoons of milk for batter consistency (Pic 5).
Use a 1/4 cup to drop batter in cup cake pan(Pic 6), I baked directly as it is non stick, you can use baking liners/cups or other alternates to bake.
Bake in preheated oven at 350°F for 12-15 minutes (Pic 7) or cake tester inserted at center comes out clean.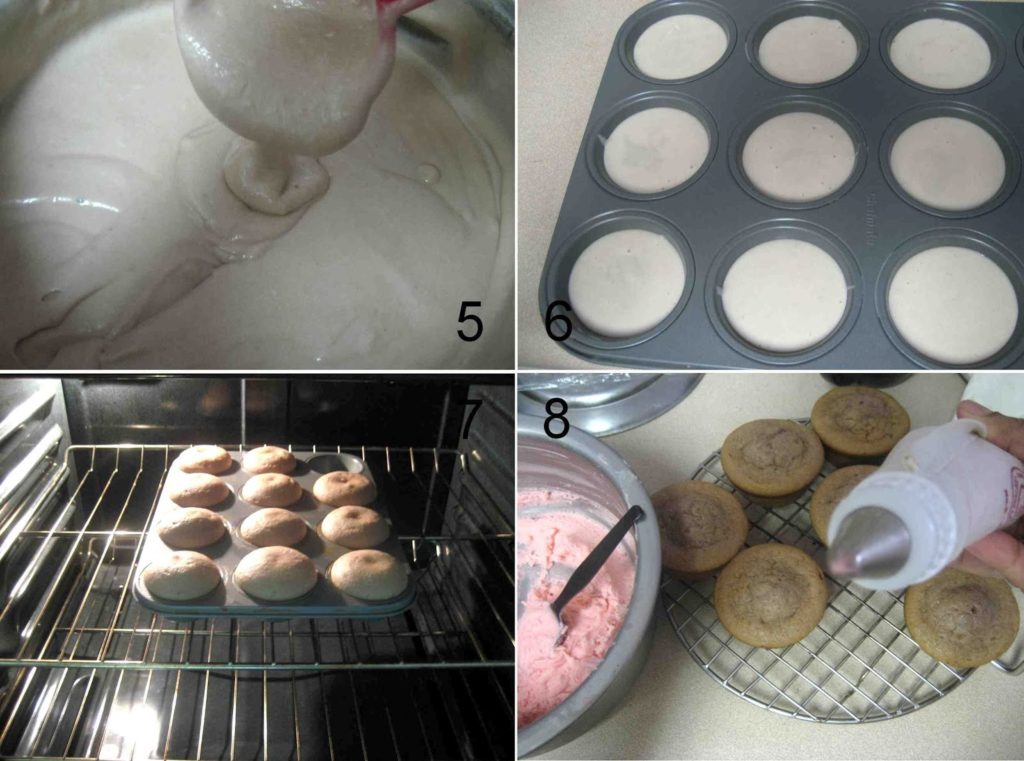 Allow to cool completely before frosting (Pic 8), also the frosting is optional.
For photo purpose I used baking liners, thats it 🙂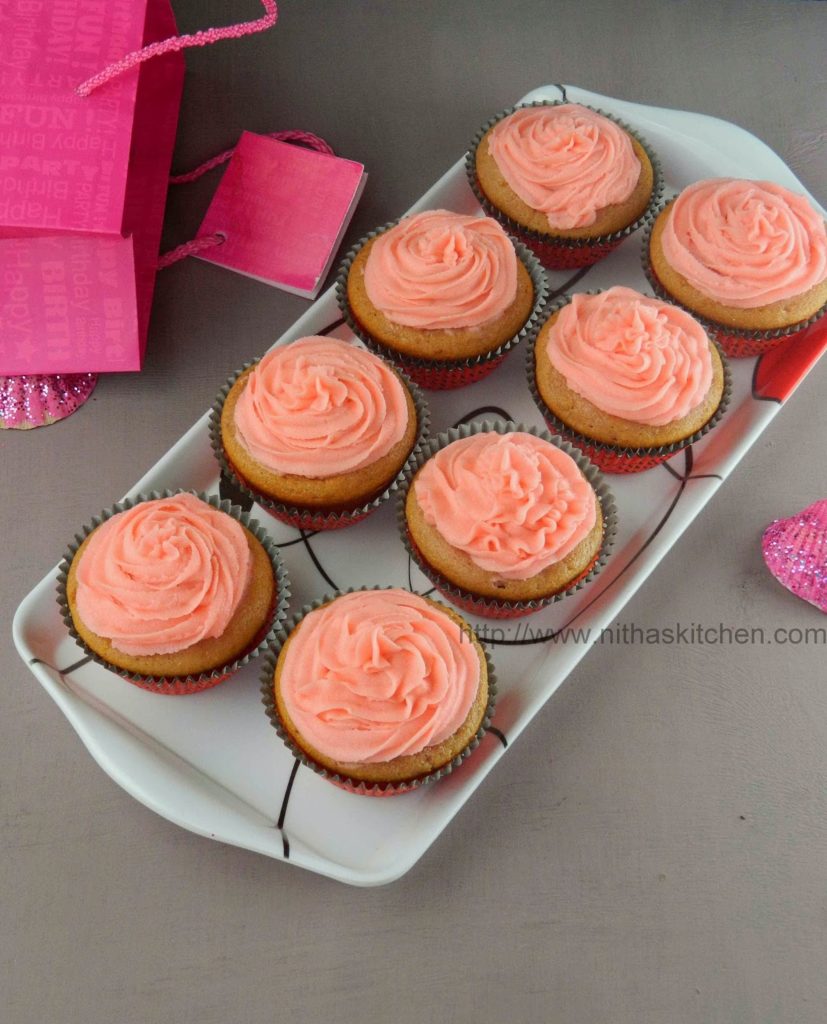 Butter Cream Frosting (12-14 Cup Cakes)
Ingredients
Softened Cream Cheese – 4 Oz (8 Tbsp)
Softened Unsalted Butter – 8 Tbsp
Confec.Sugar or Powdered Sugar – 2-3 Cups (If using regular sugar then powder it with 1 Tbsp of corn starch for each cup and sieve twice, again blend it for few seconds)
Vanilla Essence – 1tsp
Red or Pink Food Color – Few Drops
Corn Starch – 1 Tbsp
Optional Milk – 1 Tbsp
Method
Beat cream cheese first for few seconds then add butter, vanilla essence, food color and beat for 2-3 minutes, till all incorporate well.
Gradually add sugar, corn starch and keep beating till fluffy and shiny.
If needed add tsps of milk and if you feel it is watery add more sugar and bring to right consistency.
Also refrigerate for at least 1 hour before decorating the cupcakes.
Bring it to room temperature like 5-8 minutes then add in to the piping bag with Star/Rose tool tip.
Pipe it gently over cupcakes, serve it immediately or refrigerate till use.
Sending this to Viji's Show Your Style Event, as I randomly choose a number and the secret ingredient listed for that number was "Strawberry", Yay finally completed the challenge by posting a recipe using strawberry as main ingredient 🙂