Fish fingers are one among my daughter's most favorite starter. I usually make homemade seasoned bread crumbs (recipe follows) with whole grain bread which has traces of whole grains in it. This fish fingers tastes and flavors great with this homemade seasoned bread crumbs. Whenever I make these fingers they quickly disappear before the next batch gets ready, so hardly I clicked this picture 3 months back n still I didn't get chance to click better one :-(. Though the pictures are not perfect don't underestimate the taste :-). Do give a try this weekend which doesn't require fancy ingredients too.
For Seasoned bread crumbs
Bread – 4 Number
Pepper Powder – 1/2tsp
Red Chilli flakes/Red Chili Powder – 1tsp (Or as needed)
Oregano – 1tsp (Optional use any herbs you have)
Basil Leaves – 1tsp  (Optional use any herbs you have)
Salt – 1/4tsp
Method
Plain toast the breads without spreading butter (Pic 1).

Make them in to few pieces and microwave it for 30-60secs to get even crisp (Pic 2).

Now add all the ingredients (Pic 3) and powder it coarse (Pic 4).

Coarse crumbs gives very crisp fries and I love it so.
Ingredients for Fish Fingers
Boneless Fish – 2 fish Fillets or around 1 lb (I used frozen vacuum sealed boneless/skinless Tilapia fish fillets)
Thick Milk – 2 Tbsp
All Purpose Flour (APF)/ Maida – 3 Tbsp
Large Egg – 1 Number
Pepper powder – 1tsp
Lemon Juice – 1tsp
Salt
Method
Clean and cut the fish in to small finger like pieces (Pic 1).
Wipe the excess water/moisture from the fish.
Mix it with lemon juice, 1/4tsp Pepper and salt, let it sit for 15mins at least (Pic 2).
Beat the egg well and add 1tsp of Pepper powder, Milk and salt to it and keep aside.
Take the Maida/APF in separate bowl.
Take the Seasoned bread Crumbs in separate bowl.
Now take one fish piece at a time, press it in APF/maida and coat it well (Pic 2).
Then dip it egg mixture, use fork otherwise the raw stuffs stick in your fingers (Pic 3).
Now gently coat it with bread crumbs (Pic 3).
Repeat one more time by dipping in egg mixture and then bread crumbs, to get a fine dense coat/outer covering.
Do the same for all fish pieces and keep it ready (Pic 4).
Now heat oil in a pan to fry these fingers and fry it till golden brown (Pic 4).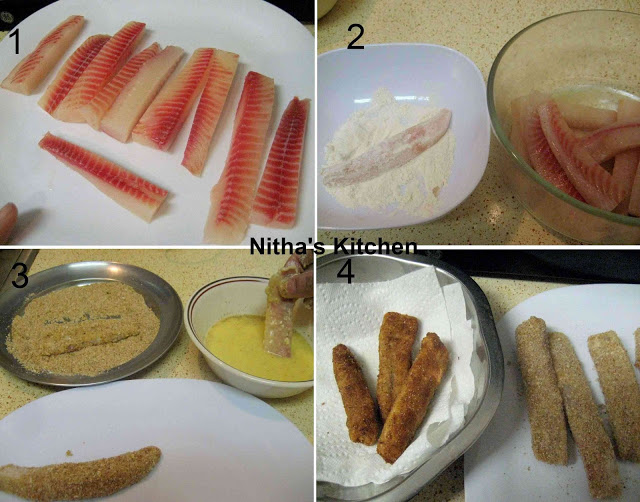 Using this whole grain bread crumbs gives nice color to your fish sticks too.
Serve it with Tomato ketch up/Ranch/Mustard sauce.
Here comes the Indoor picture…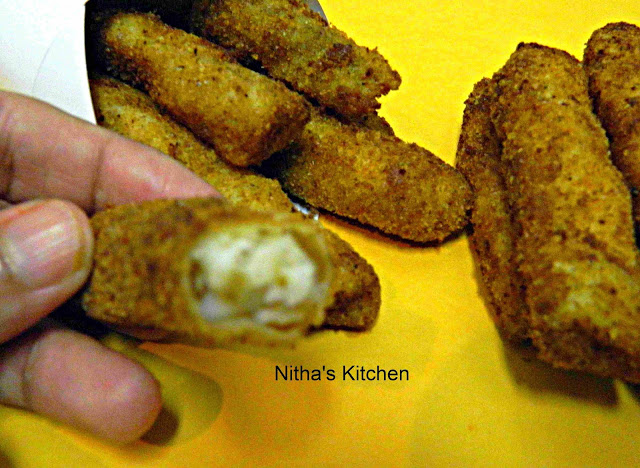 Notes:
You can do the same with white breads too.
Make sure to add less salt in egg mixture as bread crumbs also contains salt.
An another day click from outdoor.