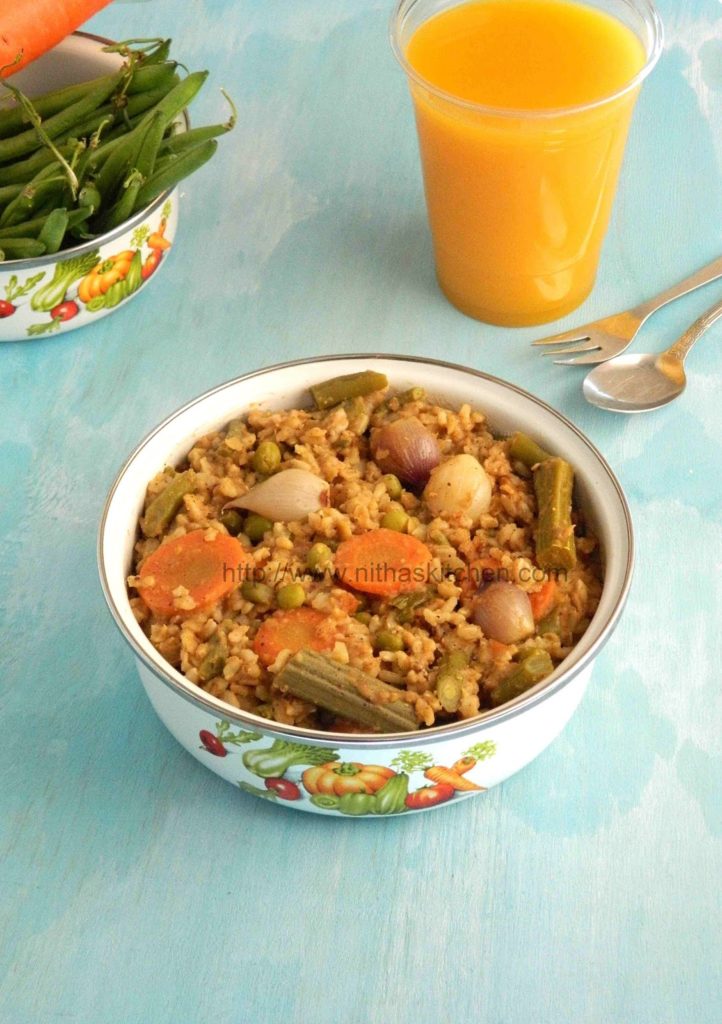 The classic bisibelath was my second blog post, due to bad pictures I reverted to draft a long time back…Though I posted the same step wise pictures now, only final presentation varies…Nowadays due to health concerns brown rice/Quinoa and Oats are dominating much in our kitchen. Making healthy meals is
essential n I always prefer Brown Rice and Oats when I make this kadhamba sadham ( I already have Venn Pongal, Sweet Pongal, Idli Dosa Batter using brown rice).It's a perfect healthy one pot meal ie diet and diabetic friendly, also try to use carrot/beans/broccoli/green veggies as much as possible in your regular diet. I pack it for lunch as it has loads of vitamins and minerals from veggies, starch/carb from rice and protein from dhal.
Republishing my good old post
To Roast and Grind
Cloves – 2 numbers
Cinnamon stick – 2 numbers
Fenugreek – 1 tsp
Red chilli – 3 numbers or more
Chana dhal – 2 tsp
Poppy seeds – 1 tsp
Urad dhal – 2 tsp
Coriander seeds – 1 Tbsp
Coconut (Shredded/Pieces) – 1 Tbsp or Small Piece
Other Ingredients
Brown Rice – 1 Cup (Alternate with any regular rice, refer note)
Oats – 1/3 Cup
Toor dhal – 1/2 Cup
Carrot/Beans/Drumstick/Green Peas/Potato/Brinjal/Cauliflower/Broccoli – 2 Cups
Onion – 1 (Large size) or Shallot – 10 Numbers
Tomato – 1 No (Large size)
Capsicum or Green Chili – Optional
Tamarind – Lemon Size
Turmeric powder, Asafoetida powder (Hing) – 1/2tsp each
Oil Or Ghee – 2 Tbsp (I used Olive Oil)
Salt  As Needed
Curry leaves  – Few
Coriander leaves (for garnishing)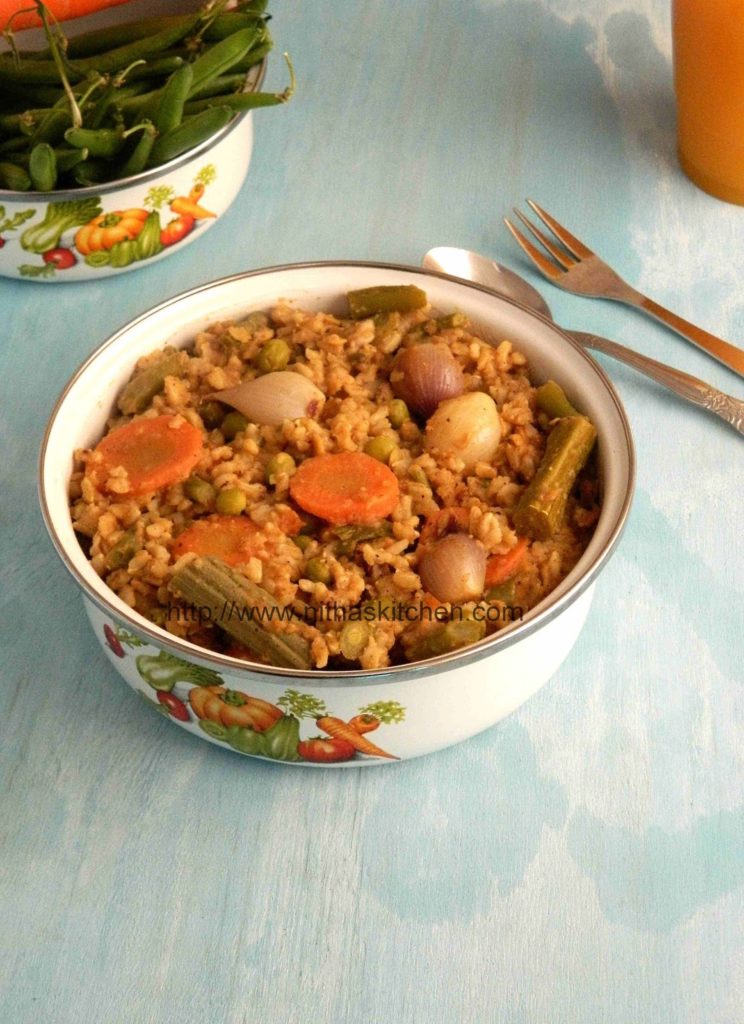 Method
Soak brown rice and dhal for 30 minutes at least and pressure cook it for 3 whistles.
Meanwhile cut the assorted veggies lengthwise and keep aside (Pic 1).
Heat 1 tsp of oil in a pan and saute all the ingredients one by one mentioned in grinding list(Pic 2) finally add coconut switch off the flame.
The masala powder can be prepared before and refrigerate till use.
Allow the mixture to cool and grind them to a fine paste by adding little water.
Soak tamarind in hot water and extract the juice.
Heat Ghee/Oil in the same pan tamper with bay leaf and curry leaves for a minute.
Then add chopped onions and fry until they turn to golden brown color.
Now add chopped tomatoes(Pic 3),turmeric powder,salt, asafoetida, cook till tomato mashes well then add assorted vegetables and ground spices sort them for a while, like 2-3 minutes(Pic 4).
Finally add tamarind juice mix well then switch off the flame(Pic 5).
Mix this masala stuff with already cooked rice and dhal mixture in the cooker with oats, required water(1-1 and 1/2 cups) and salt.
Adjust spice with red chili powder, also add extra tamarind juice if you need at this point.
Rice and dhal are already cooked so allow another 2 hisses and let them cool.
Add chopped coriander leaves and mix well before serving.
Notes:
Also add fried cashew nuts and ghee before serving (Optional).
Potato chips/Pickle/Raw chopped Onion are best combinations for this recipe.
If the rice is watery cook in the same pressure cooker with lid open for few more minutes.
If using any regular rice instead of brown rice then no need to pre cook, just mix all together and allow 3 hisses.
I will upload recent step wise pictures if i make it again…