Look at the picture; can you believe these slices are not baked? Thought of experimenting a no bake Low Fat Strawberry Cheesecake and came out very well in my very first attempt (Done 3 times before posting here). It took lot of time for me to give a suitable title :). All the ingredients are usual stocks in our kitchen pantry except Gelatin/Pectin. I prepared the cake with two layers, Base layered with powdered biscuit and topped with Creamy Strawberry layer. My son enjoyed this dessert very much…
First we prepare Jelly, so it takes time to set.
Ingredients For Strawberry Syrup
Strawberry – 20 – 25 Numbers
Sugar – 1/3 Cup
Strawberry Syrup Preparation
 In a sauce pan add water, sugar and chopped berries.
 Cook in medium flame for 15-20 mins or the strawberry syrup is thick and sticky.
 Now pour the syrup in juice extractor, don't blend, right now keep the pure strawberry syrup separately.
Blend the remaining strawberry content, make 2 or 3 extracts.

The below preparation is for adding chopped bits of strawberry jello in the cake, you can skip it though or add some chopped strawberries or cherries to make the cheesecake fancy.
For the Jello Bites to mix with cheesecake (Optional)
Gelatin/Pectin – 2 tsp
Mix gelatin in 1 Tbsp of cold water mix well with water and you can see gets bloomed in few minutes.
Take 2 tbsp of the pure syrup (Reserve remaining for  the cake preparation)  + 2 Tbsp thick strawberry extract (Reserve remaining for cake preparation), mix well with gelatin.(Since the strawberry syrup is warm, I directly added with gelatin).
In case of pectin directly add to the syrup, boil few seconds make sure the syrup has enough sugar since pectin needs it to set.
Refrigerate for at least 1-2 hours to set. Refer below stepwise picture 2 and 3, how it turned out.
You can use 8 or 6 inch cake pan or bowl for this.

Low Fat Strawberry Cheesecake Ingredients
Parle G Biscuit/ Oreo or Any Digestive biscuits /
Graham Crackers
– 1.5 cups or Around 20 Numbers of mini biscuits
Condensed Milk – 1/2 Cup (you can skip and add Icing/Powdered sugar)
Gelatin/Pectin – 1 Tbsp (3tsp)
Fat free Cream Cheese / Soft Paneer  – 3/4 Cup (6oz)
Hung Curd/Yogurt or Sour Cream – 1 /2 Cup (I used homemade thick curd, you can skip curd and use 1 cup of cream cheese (8 oz) on the whole)
Reserved Strawberry Puree – 1/2 Cup (mix of all the first, second and third extract, just keep the remaining for the top layer)
Whipping/Heavy Cream – 1/2 Cup (Optional, Refer note)
Oil/Melted Butter or Ghee – 2 Tbsp or as needed
Vanilla Extract – 1tsp
Cardamom Powder – 1tsp (Optional)
Once the above prepared jello sets may be it takes 1 to 2 hrs ,start preparing the no bake cake.
 Coarsely powder the biscuits, Heat Oil/Ghee or melt the butter add the biscuit powder and mix it well, the coarse cake base has to look moist.
 Allow to cool and place this mixture evenly in the butter paper or foil or cling wrap placed bowl.
Grab all the other stuffs to make cheesecake (Stepwise Pic 2)
You can hang extra to pull the cake out once it is done.
Even plain glass bowl greased with little oil works without any paper refer below pictures.
 Refrigerate at least for 15mins by covering the bowl with plastic wrap.

 Mix all the reserved/left over strawberry extracts (Pic 2, the puree should be thick and not watery refer stepwise picture 2).

 Add 2 tbsp cold water and gelatin as we did before.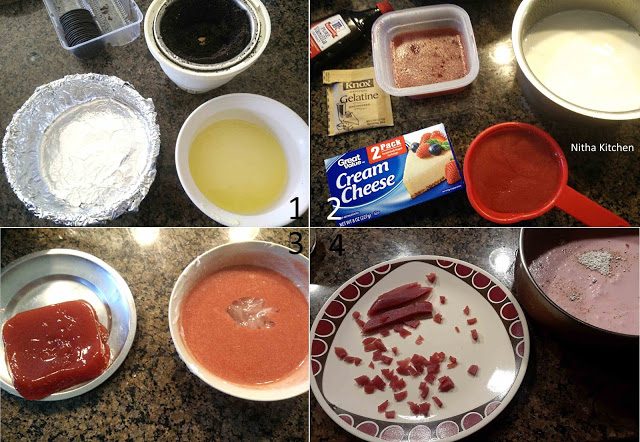 After 5 mins, warm the strawberry extract (not so hot just lukewarm), mix bloomed gelatin (Stepwise Picture 3 above) and condensed milk.
 Beat curd/Cream separately and add to the strawberry mixture (Pic 4).
Add cardamom powder, vanilla extract right now (Pic 4).
Chop the already set strawberry jelly (Pic 4) and add it to yogurt strawberry mixture(stepwise Pic 5).
 Pour this cheesecake mixture over the biscuit layer, you can see how the biscuit layer set in Picture 5.
 Again refrigerate for 2-3 hours, take it out when you shake you can feel whether it is set or not.
Top Jello Layer
Take the remaining strawberry syrup and puree, warm it, mix with 2 tsp gelatin (already bloomed, Pic 6) and pour it over cheesecake as shown in picture 7.
Allow them to set for 1 hour again.
Once done serve with sliced strawberries.
For unmold do check few pictures below.
You have to flip over a plate when made in the glass bowl without any greased papers, for that using knife or butter knife loosen the sides to fall off.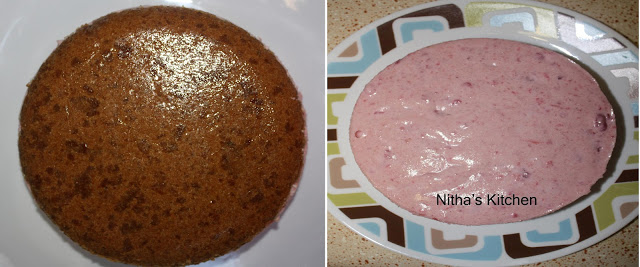 If using foil or wrap then pull it off and peel it.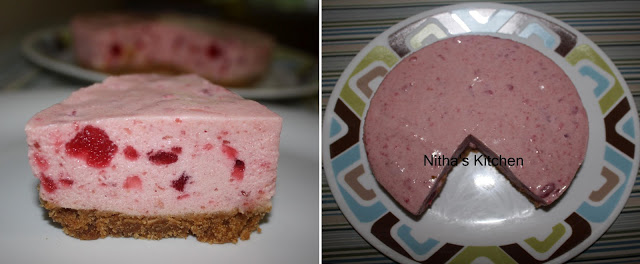 1. You can substitute any fruit, even fresh or canned Mango pulp works well.
2. Can substitute Tutti frutti instead of preparing the strawberry jelly (tiny bits).
3. If doing so skip Jelly preparation and follow only the cake preparation.
4. Sugar is not necessary, natural strawberry and artificial condensed milk has enough sugar.
5. Also use more quantity of whipping cream, If using you can decrease the gelatin quantity or totally skip it…I had some leftover so made some mini cheesecakes using baking paper, hope you got several ideas to make no bake cheesecake without using special mold. Thanks for visiting.