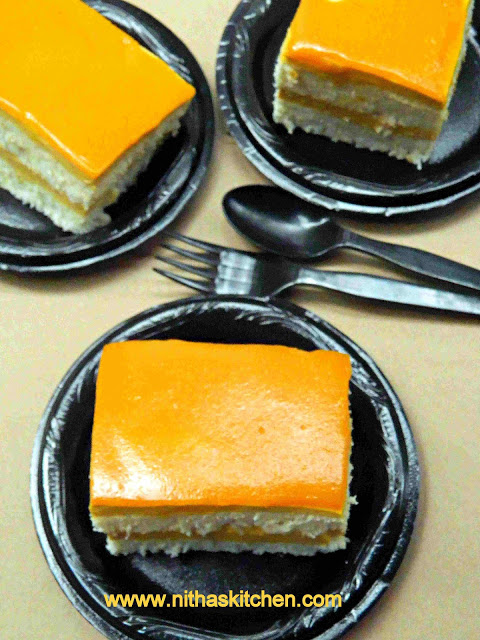 Eggless Mango Mousse Cake with Mango Glaze , Two weeks ago, I made this mousse cake for a party, everyone liked it especially my little one so i made it again recently for him. I baked the cake in aluminum foil and added mango mouse and glaze over the same foil…So this eggless mango mousse cake doesn't need any special cake ring or spring foam pan to prepare and for the shiny mango glaze I have used plant based gelatin (Pectin) and please feel free to replace with agar agar powder or any veg options available, here comes the post in detail…
Ingredients for Double Layered Eggless Mango Mousse Cake with Mango Glaze
Mango Puree – 2 cups
Heavy Whipping Cream/Heavy Cream – 1 and 1/2 cups
Icing/Powdered Sugar – 1/2 Cup or more (depends on the sweetness of mangoes)
Unflavored Gelatin/Agar-Agar (China Grass)/Pectin – 1 .5 Tbsp
Mango or Vanilla Essence – Few Drops (Optional)
Cold Water – 3 Tbsp
Chopped Mango/Strawberry/Any fruits – (Optional)
Mango Glaze topping:
Mango Puree – 2 Cups
Gelatin/Pectin/Agar Agar – 3/4th Tbsp
Cold Water – 1 and 1/2 Tbsp
Vanilla Cake
I have few eggless and egg based vanilla cake recipes in my space, you can make it either using square or round cake pans, links given below…
Egg less Butterless Vanilla Cake Recipe
3-In-One Eggless Sponge Cake Batter Video Recipe
Cardamom Flavored Pressure Cooker Cake
Basic Sponge Birthday Cake
Princess Cake Recipe
For more eggless cakes do check HERE
How to make Mango mousse
Divide the cake in to two layers horizontally.
Puree the fresh mangoes (Pic 2).
In a small bowl, dissolve gelatin powder in cold water, Leave it as it is for 5 mins (Pic 2).
Meanwhile whip the cream (Pic 2).
Chill the bowl and beater before use and use ice cubes underneath if whipping by hand.
Add sugar in halfway and you can add essence right now.
Refrigerate the whipped cream till you use.
When the gelatin powder is fully dissolved, warm it 15 seconds in microwave and add to mango puree (Pic 3).
Add the mango mixture to whipped cream (Pic 3), mix well till incorporated.
Use Aluminum foil or cake pans or air tight containers, place a layer of cake and pour in mango mousse.
Even the top layer of the cake (I trimmed the center of the cake Pic 4)
Spread it evenly (Pic 4) n allow to set slightly for about 15 minutes in the fridge.
Lay another cake layer and pour the remaining mousse.
Let it set for 30-45 minutes in the fridge (Pic 5).
How to make Mango Glaze
Meanwhile prepare the glaze for final topping.
Dissolve gelatin in cold water let it sit for 5 minutes.
Warm the dissolved gelatin to lukewarm temperature using microwave or double broiler method.
Mix with mango puree, add sugar according to your taste.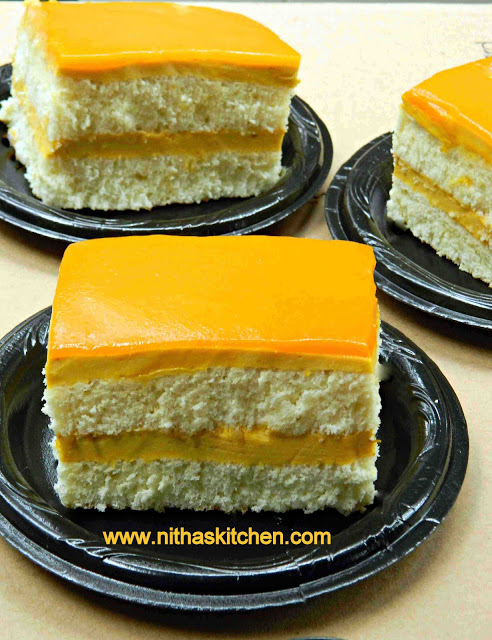 Final Cake Decoration
Wait till the mousse is set and the topping is cooled, arrange cubed mangoes on the top layer (if desired) and pour in the topping carefully.
Arrange other fruits like sliced strawberries and blueberries if any.
Let the cake chill again for at least 2 hours.
Now make a rectangle cut all through the container/foil by leaving 1/2 inch gap for all over sides.
Make equal squares like we cut for brownies/burfi etc.
Remove the 1/2 inch layers over the edges first, now you can get perfect square slices by lifting the cake using 2 spatulas 🙂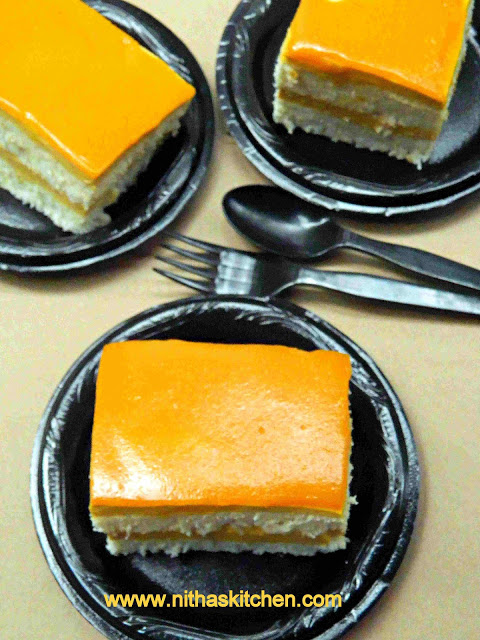 Here is all set to cut the layered Eggless Mango Mousse Cake with Mango Glaze , make sure the cake is cool while slicing it.