Today you can learn Whipped Cream Using Hand Whisk a very clear post and I tried to explain to my best when to add sugar, different stages of whipping cream like Soft Peaks , Medium Peaks and Hard or Stiff Peaks and the recipe uses. Those were the days
I was a newbie in baking. Was thinking a lot about baking supplies, explore a lot and sometimes in dilemma to choose the right one. So before purchasing an electric beater in 2008 i tried my hands to whip the cream using hand whisk. Eggless Carrot Cake made for H birthday with Whipped Cream was my first cake with WC frosting. I do have the same hand whisk now :-). I had an old short video clip and it was not clear so I removed it a few years back. Everyday when visitors read this post i feel guilty, so today I updated the post with clear written information and also with a very detailed video tutorial (please check at the end of the post).
Among all the Icing / Frosting my family favorite is Whipped Cream , which is soft in texture and melts with sponge cakes 😊. By the way it is not sugary and also we prefer it's natural color ie no food color. In my regular grocery purchase I never forget to buy cream since I use not only for cakes but use more often to make fruit based ice creams with natural flavor and natural color yes yes homemade is best (will talk in detail in another post) and once in a while in mousse.
So today let's learn how to whip the cream using hand whisk. I tried my best to explain all the stages of whipping cream with it's usage hope you like it.
Method
Chill the bowl and hand whisk for 30 minutes at least.
To the chilled bowl pour the heavy cream or whipping cream.
Beat the cream and when it breaks your hand do change to other.
Do refer Tips section for more trouble shooting tips.
When you beat the cream the air bubbles incorporates into it and make it stiff and holds the structure at one stage.
So each and every minute the cream gets thick and shiny.
When you see tracks in your cream then soon it will reach the soft peaks stage.
Refer video tutorial at 5:53 minutes so at that stage do add powdered sugar and vanilla extract or any flavor.
As shown in picture and video when cream forms a lump, may or may not hold shape and it doesn't have any pointed tip/peak then it attained the soft peak stage.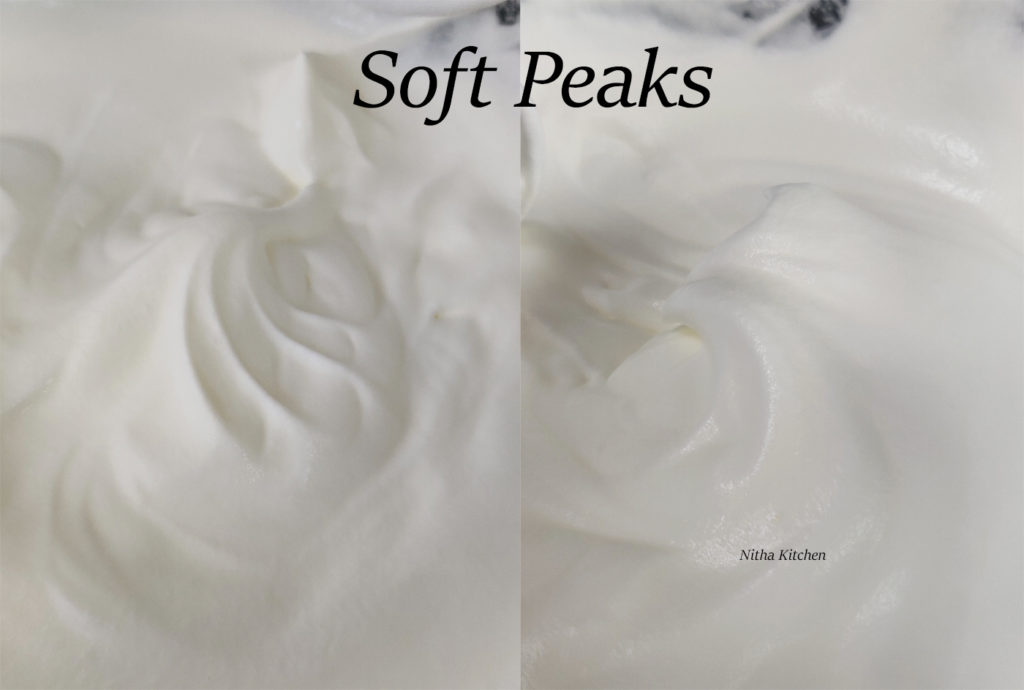 This soft peak whipped cream can be enjoyed as a dollop over fresh fruits or over Shortcakes.
Continue whipping at any stage the soft peak cream turns to medium peak whipped cream.
Now it holds the shape, but the tip of the peak bends as shown in the below picture and video.
This medium peak whipped cream can be used as a filling between cake layers and cookies.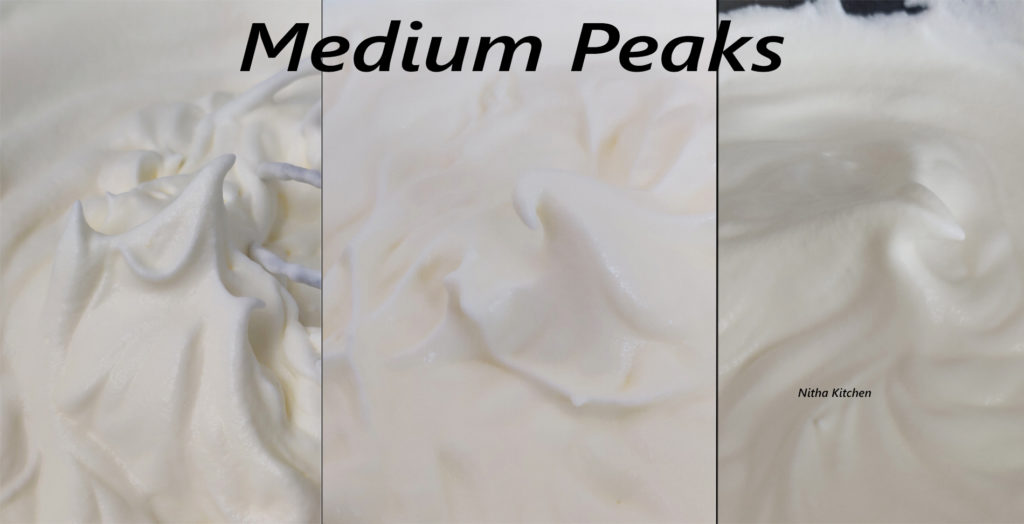 Gently make gentle swirls don't whip the cream so fast.
With few whips the cream attains the hard or stiff peaks as shown.
The cream structure holds its shape and when you invert the bowl the cream shouldn't move.
So that is Hard or stiff consistency whipped cream and use for cake decorating or icing over the cake as shown below.
If you over whipped do check the troubleshooting tips mentioned below.
Can be stored in the refrigerator for same day use.
Otherwise do store in freezer.
Check out my Top 10 Whipped Cream Recipes and will post many in near future.
Troubleshooting Tips
Stop at Soft or medium or stiff peaks as the recipe calls.
While whipping using hand you can take a short break when your hand hurts.
Meanwhile do refrigerate the cream till you resume whipping.
If over whipped do refrigerate the cream for at least 30 minutes and then add 1/3 cup fresh cream to it then start whipping to attain the desired peak.
The over whipped cream looks grainy so by the above tip it comes to shiny perfect whipped cream.
You can whip the cream using hand blender and follow the same process. You can check detailed video for that HERE.
For the same day or next day use cover the whipped cream and store in refrigerator.
Also for the prolonged period do freeze the whipped cream in freezer.
If the weather is hot can use ice bath while whipping ie placing the bowl over ice cubes and whip.
You can stabilize the whipping cream for long room temperature situation like shown in below cake.
Work in air conditioned room and do refrigerate the cake once done with icing.
Also use 36% or more fat based dairy cream.
If taking outdoor do use stabilizer.
People asking queries with runny whipping cream even after crossing 30 minutes of continuous whisking.
Please in that refrigerate or freeze it for a while and try to whip it again.
Use more powdered sugar or cornstarch or gelatin or some melted milk powder or custard powder or cooled butter to the cream, chill it and continue whipping.
In no ways it attain stiff peaks do use the cream for Mousse and ice creams, soft thick consistency cream is enough for those recipes.
Please watch the video and it gives you clear idea how to whip the cream from scratch.
Whipped Cream Using Hand Whisk Video Tutorial