Couple of months I haven't tried any of the baking partners challenge. Even this month I completed this chocolate Éclairs recipe at last minute. Now before going to recipe in detail let me explain about éclairs and what I did here. An éclair is a long French pastry made from choux dough, filled with custard/whipped cream and finally dipped in chocolate syrup/fondant icing. The most popular éclair recipe is probably the chocolate éclair, so today's recipe is none other than that, here I made choux pastry, basic custard cream for filling, chocolate glaze for dipping the éclairs and finally topped with whipped cream. Thanks Swathi for this wonderful challenge, we all liked this éclairs to core, especially my kids :-).
Ingredients for Filling
Whole or 2% reduced fat or 1% fat milk – 1 n 1/4 Cups
Egg yolks – 3 Number
Sugar – 6 Tbsp
Cornstarch – 2 Tbsp
Unsalted butter – 1 Tbsp
Vanilla bean – 1/2 split lengthwise (Replace with Vanilla Extract)
For Éclair's Pastry
Unsalted butter – 1 Stick (8 Tbsp)
All-purpose flour/Maida – 1 Cup
Water – 1 Cup
Eggs- 3 plus 1 extra (I used 4)
Salt – 1/2tsp
Sugar – 1 n 1/2tsp
For Egg Wash
Egg – 1
Water – 1 and ½tsp
For Chocolate Glaze
Semisweet chocolate/Chocolate Chips – 2oz, coarsely chopped
Heavy cream/Whipping Cream – 1/4 Cup
Chocolate Éclairs Recipe Preparation
Method

First prepare the filling and refrigerate for couple of hours before use.
In a medium saucepan, heat the milk and vanilla bean (if using vanilla extract add at later stage) to a boil over medium heat.
Meanwhile in another bowl, whisk the egg yolks and sugar until light and fluffy Pic 1.
Add the cornstarch and whisk vigorously until no lumps Pic 2.
Now add 1/4 cup of the hot milk mixture to the egg yolk mixture until incorporated Pic 3.
Whisk in the remaining hot milk mixture now.
Strain n Pour the mixture back into the same saucepan Pic 4.
Cook over medium-high heat, whisking constantly, until thickened and slowly boiling Pic 5.
Remove from the heat and stir in the butter and vanilla extract at this time.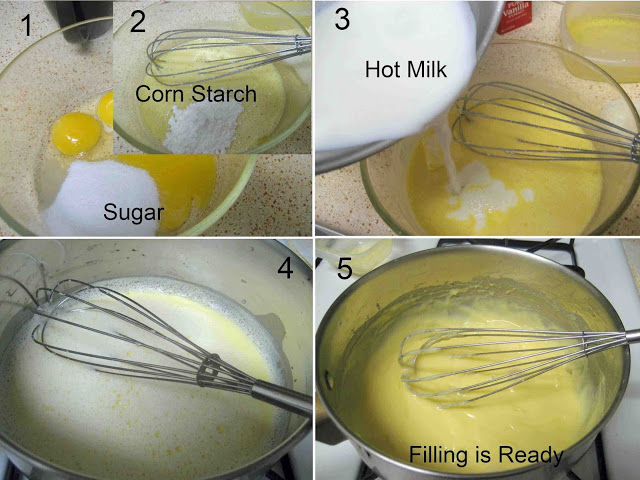 Allow to cool slightly and cover with plastic wrap, lightly pressing the plastic against the surface to prevent a skin from forming on top.
Chill at least 2 hours or until ready to serve.
Refrigerate until 1 hour before using and whisk it before filling the pastry.
How to make Éclairs Pastry
 In a separate bowl add flour, salt and sugar, mix well.
In a large saucepan, bring the water n butter to a rolling boil over medium-high heat.
When it boils, immediately take the pan off the heat.
Immediately add flour mixture, stirring continuously with wooden spatula Pic 1, will take 30 to 60 seconds.
Return to the heat and cook, keep stirring for another 30 seconds Pic 2.
Using hand mixer/stand mixture, in medium speed scrape the mixture till the heat goes off.
When it is lukewarm add 1 egg at a time (Pic 3), add 3 eggs.
Scrape down the sides of the bowl after each egg addition.
Mix until the dough is smooth and glossy and the eggs are completely incorporated.
The dough should be thick, but should fall slowly and steadily from the beaters when you lift them out of the bowl Pic 4.
If the dough is still clinging/sticking to the beaters, add the remaining 1 egg and mix until incorporated.
I added the remaining 1 egg right now.
Preheat the oven to 425° F degrees.
Line a sheet pan with parchment paper, you can draw lines over parchment paper for perfect piping as well.
Use a pastry bag fitted with a large plain tip, pipe fat lengths of dough (about the size and shape of a jumbo hot dog) onto the lined baking sheet, leaving 2 inches of space between them.
You should have 8 to 10 lengths (But I piped small Pic 5).
In a bowl, whisk the egg and water together.
Brush the surface of each éclair with the egg wash.
Use your fingers to smooth out any bumps of points of dough that remain on the surface.
Bake 15 minutes in 425° F, then reduce the heat to 375° F degrees and bake until puffed up and light golden brown, about 20-25 minutes more (Pic 6).
Let cool on the baking sheet. For filling you can either divide the pastry in to two (Pic 7) and fill the custard or using piping bag/plain pastry tip make a hole in the end of each éclair and fill the cream custard (don't stuff them full).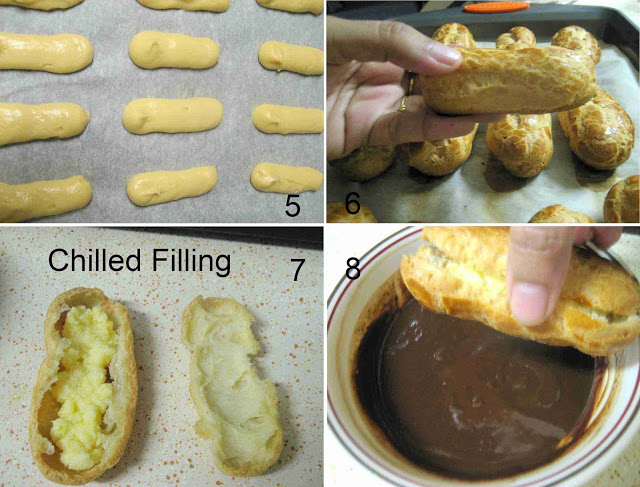 Glaze and other decoration
In a saucepan, heat the cream over medium heat just until it boils.
Immediately turn off the heat.
Put the chocolate in a medium bowl.
Pour the hot cream over the chocolate and whisk until melted and smooth.
Set aside and keep warm.
Cover and refrigerate until ready to use, and rewarm in a microwave or over hot water when ready to use.
Dip the tops of the éclairs in the warm chocolate glaze (Pic 8 above) and set on a sheet pan.
Refrigerate uncovered at least 1 hour to set the glaze and serve chilled.
I added additional decoration using whipped cream, so you can make some white chocolate or whipped cream to top the éclairs.
Notes
Try not to open the oven door too often during the baking.
The custard can be made up to 24 hours in advance.
The chocolate glaze can be made up to 48 hours in advance.
You can use whipped cream as filling and make the process ease.