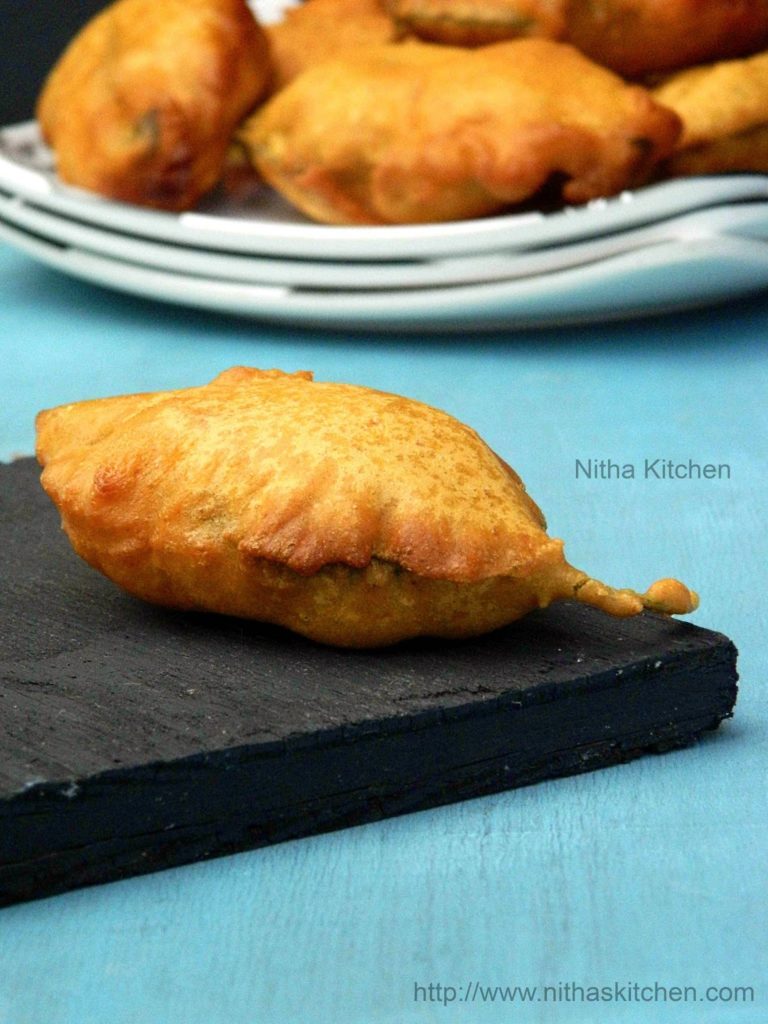 My Mom usually makes this Keerai Bajji Palak Pakora Gram Flour fritters when she gets sudden guest at home, just picks the fresh leaves from the garden and make this delicious light and fluffy bajjis in jiffy. The leaves I used here is
is Callaloo/Mulai Keerai or Vellai Thandu Keerai. To more about that Spinach check here. Usually this green leaf comes in very big bunch, I made Thugayal/chutney, this bajji, Keerai masiyal and one more recipe to come soon 🙂 Spinach Pesto Pasta recipes, on the whole I prepared 4 different recipes in one bunch :-).
Recipe Source :- Own
Ingredients
Fine Gram/Besan Flour/Kadala Mavu – 1 and 1/4 Cups
Green Leaves (Discard Stem) – 15-18 Numbers
Red Chili Powder – 1 and 1/2tsp or more
Rice Flour – 4 Tbsp
Asafoetida/Hing – 1/2tsp
Baking Soda – 1/8th tsp
Salt and Water – As Needed
Oil – To Deep fry
Keerai Bajji Palak Pakora Preparation
Clean and get ready with spinach leaves (Pic 1).
Start heating the oil in wide pan under low flame.
Meanwhile prepare the batter.
Mix all ingredients except oil, water and spinach (Pic 1).
Add water and ensure its lump free batter.
Check the batter consistency and salt in Pic 2.
Now increase the flame and make sure its hot enough by testing with few drops of prepared batter.
Dip the spinach leaf one by one (Pic 3) and drop it in hot oil.
It puff up immediately then flip another side and cook for fractions of seconds or till nice golden brown (Pic 4).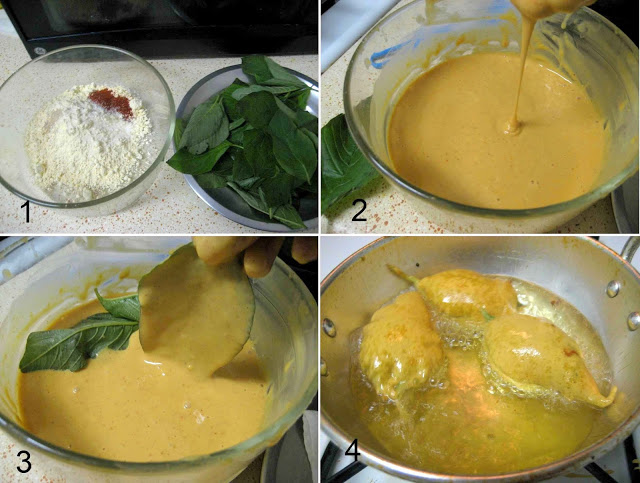 Remove from oil and drain the excess using paper towel.
Finish your evening snack with this bajjis and cup of coffee or tea 🙂
Notes
Drain the water as much as possible before dipping the leaves in bajji batter.
Use any spinach with medium to large size leaves.
Recipe Updated with Recent Pictures