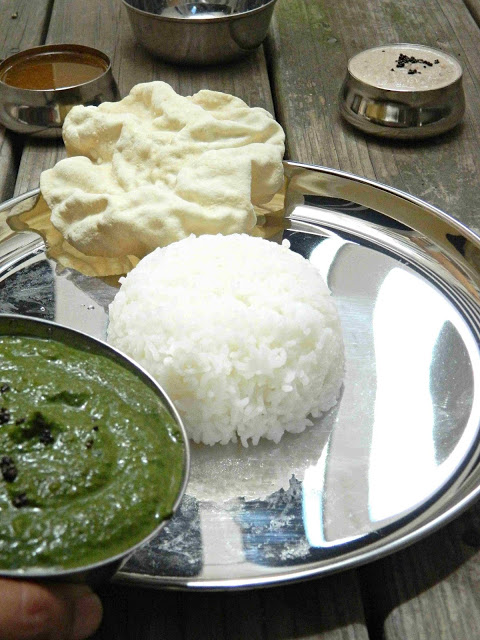 After coming to US, this is the first time i saw red / pink keerai in the Indian store. During my childhood days i used to pick fresh red leaves in our vegetable garden. My mom usually makes poriyal, for a change i prepared this chutney and came out very well. No onion or garlic, so simple to prepare and tastes great. This keerai thugaiyal goes well for rice, tiffin varieties and going to come up with one more recipe with this, stay tuned 🙂
Ingredients
Chopped Red or Green Amaranth Leaves – 2 Cups (Refer Note1)
Red or Green Whole Chili – 2 Numbers
Urad Dhal – 1 Tbsp
Chana Dhal – 1 n 1/2 Tbsp
Dhalia (Pottukadalai) – 1 Tbsp
Shredded Coconut – 2-3 Tbsp
Tomato or Tamarind – A Small Slice/Piece (Optional refer Note 3)
Oil – 1-2 Tbsp
Salt – As Needed
The Red Leaves/Red amaranth (Sigappu thandu keerai or Seng/Cheng Keerai in Tamil, called as 'Hin Choy' in Chinese, also known as Chinese Spinach.
Details about the green leaves i used here.This green leaves is called Callaloo in Caribbean cooking, same spinach family also called as Amaranth with broad leaves. I have given the names state wise in India as per wiki details.In Tamil Nadu – It is called 'Mulai keerai' or Vellai Thandu Keerai.
Kerala – It is called 'Cheera'.
Karnataka – It is called 'Harive'.
Andhra Pradesh – It is called 'Thotakura'.
Uttar Pradesh and Bihar – It is called 'Chaulai'.
Maharashtra – It is called 'Shravani Maath'.
Orissa – It is called 'Khada saga'.
Sri Lanka – It is called 'Koora thampala'.
Fiji Indians call it as 'Choraiya bhaji'.
For more pictures and healthy benefits of this green leaves visit the below links as well
Link 1
Link 2
Method
Heat oil in a pan, add urad dhal, chana dhal and red chili, fry till golden brown.
Add tomato when mashes, add chopped red leaves and pottukadalai (Dhalia).
Saute till keerai cooks well.
Cool completely and grind with coconut,salt and water.
Season with mustard/urad dhal n serve with Idli/Dosa/Rice.
I have updated the below old picture with green leaves pictures recently, whenever i get red leaves again i post a picture with that too…
Notes
You may use any type of green leaves/keerai for this chutney.
Saute well the green leaves till the raw smell goes off.
Some green leaves has sour taste by nature so better to skip tomato or tamarind for that.
Refrigate the left overs in fridge when you reuse just bring to room temperature and have it, trying to reheat may change the color of the chutney.
The recipes for the items in the display picture…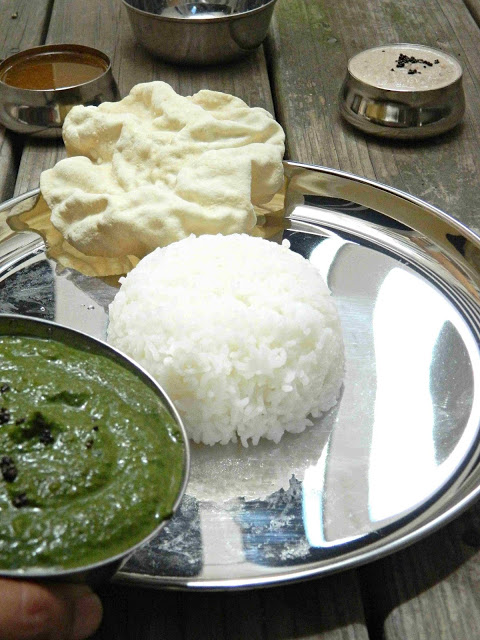 Note:
You can increase coconut and reduce keerai quantity to get mild flavor.