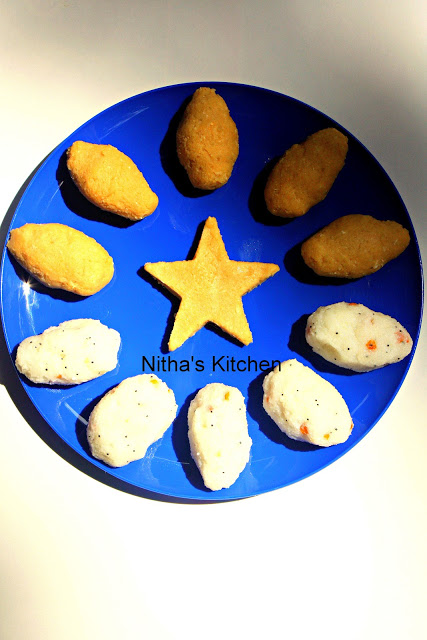 Though I am not from the culture of making Kozhukattais for festival, Neighbors in Chennai not even taught making variety of patchanams also guided the way of praying with Mud Pillaiyar, Umbrella, Arugam poo malai etc. I really inspired, attained very pleasant mind and following every year. Let approach God with your own way and I wish your colorful dreams come true. I have given easy Sweet Pottukadalai and Uppu Pidi Kozhukattai here. Due to lengthy post I cut down the remaining actual neivedhyam recipes, will do in next post.
Sweet Pottukalai Pidi Kozhukattai
Raw Rice/Sona Masoori Rice – 1/2 Cup Or (Instant Rice Flour – 1 Cup)
Pottukadalai / Fried Gram (Dalia) Flour – 1/2 Cup
Jaggery – 3/4th Cup
Cardomom Powder – 2tsp
Shredded Coconut – 2 Tbsp
Ghee – 2tsp
Salt – A Pinch
Method
Soak the rice for 30mins, Drain the rice, Put in paper towel, cover the top and leave it for 10 mins.
Grind the rice to nice powder (I used mixie), By this time 1/2 cup rice gives 1 cup flour.
Sameway grind the pottukadalai separately.
Mix Flours, Salt, Cardomom powder and grated Cocunut, keep aside.
In another pan add 2 cups of water bring to boil.
Add Jaggery to the boiling water, when jaggery completely melts then strain the impurities.
Again bring jaggery+water to boil, add the dry ingredients by keep on stirring.
Otherwise make a dint with the flour and pour the jaggery syrup, mix with spatula.
Once the flour mixed well with sugar syrup, if needed heat it till the moisture completely evaporates.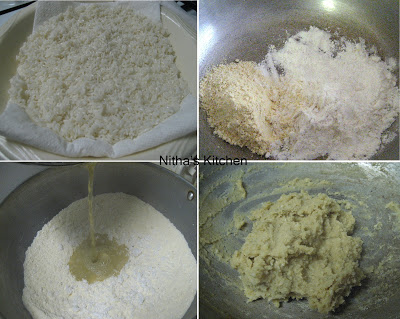 Put off the stove, allow to cool, when the temperature is right for you to handle, apply ghee to palms.

Roll the dough to lemon sized balls and again squeeze tightly with your palms to get pidi shape.
Note
Using pottu kadalai tastes great, may skip and reduce sugar if desired.
Uppu (or) Kara Pidi Kozhukattai
Raw Rice/Sona Masoori Rice – 1 Cup
Mustard Seeds – 1/2 Tbsp
Green Chili – 2 Number (Small Size)
Chana Dhal – 1/2 Tbsp
Split Urad dhal – 1/2 Tbsp
Small sliced Coconut Pieces – Few
Curry Leaves – Few
Oil – 1/2 Tbsp
Hing – A Pinch
Salt – As Required
Method
Wash, soak rice for 15mins then dry with paper towel, powder very coarsely in the mixer.
Heat Oil temper mustard, chana and urad dhal.
Add curry leaves, chopped chili, hing, salt and coconut pieces.
Add 3 n 1/2 Cups of water, when starts boiling add rice, stir till all moisture get absorbed.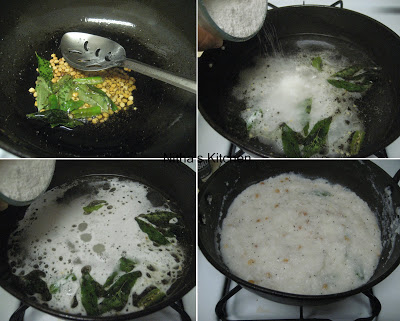 Allow to cool and make pidis as described above.