I had tough time in 2007. Ganesh Chaturthi was nearing and I don't want to skip my regular Pooja/Prayer. Luckily my close friend was with me for Ganesh Chaturthi, so we started preparing bachelor kozhukattais. I just watched her and she prepared everything and called her her mom through phone for her doubts. The outcome was simply superb. Thanks Sar for the wonderful time we had. That was my first pooranam filling experience. She used pottukadaai as filling and today I replaced with Sesame seeds. Also I have included milk/paal kozhukattai recipe too…
Milk Kozhukattai
Rice Flour – 1 Cup
Thick Coconut Milk – 1 Cup
Ghee and Cooking Oil – 1 Tbsp Each
Sugar + Jaggery – 1/2 Cup
Milk – 2 and 1/2 Cups
Cardamom Powder – 2tsp
Method
Mix Rice flour, 1 Cup Milk, 1 Cup Water, pinch of Salt and Ghee with spatula with no lumps.
Put on the stove and keep stirring in medium flame to form dough.
When 3/4th done add a Tbsp of coconut milk which is purely optional.

Keep stirring till the dough separates from pan and moisture completely gets evaporated (use heavy duty spatula).
When temperature is hand bearable add oil and knead well.
Take small portion and keep covered the remaining.
Sit and make small size balls (If needed grease your palms with oil/ghee).
Use large pan heat 1n 1/2 Cup of Milk + 1 1/2 Cup of water.
Simmer the flame and slowly add the balls.
Increase to medium, don't stir till the balls get cooked and float on top.
Now add sugar, Cardamom powder, stir once and allow to boil till you see bubbles on top.
Finally add Coconut milk and give a quick stir.
Put off the stove when starts boiling again.
Don't overcook; the coconut milk may curdle when cooked long time.
It's better to serve after 30mins, so by that time balls soaked well in Sugar+Milk sauce.
Reason for Breaking
1. The balls may dissolve/break in the milk sauce when the rice dough has more moisture in it, so put effort and stir constantly to its maximum.
2. Also balls break when keep on stirring immd after adding the balls in to the sauce, don't do that and wait till the balls float on top.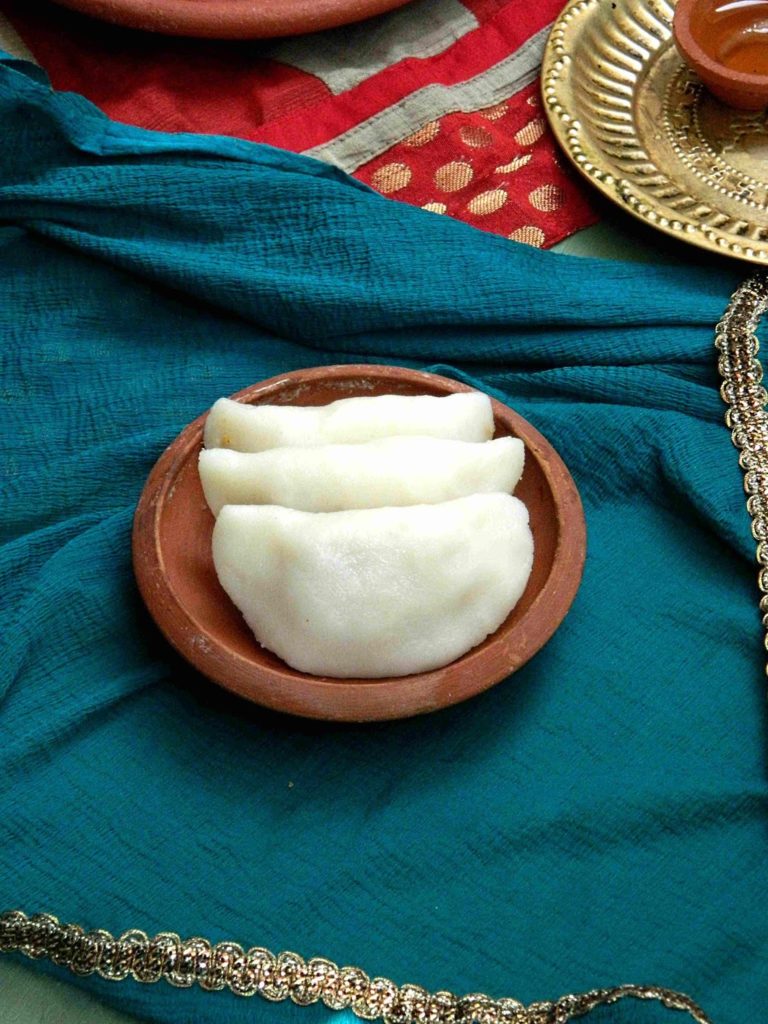 Ellu/Sesame Seeds Pooranam & Neivedhyam
For Filling
Ellu/Sesame seeds – 1/2 Cup (Replace with Pottukadalai)
Jaggery – 1/2 Cup
Cardamom Powder – 1tsp
Grated Coconut – 2 Tbsp
Method
Dry fry seeds till starts crackling or reaches nice golden brown color.
Cool and grind with jaggery. Mix this with cardamom powder.
I usually grate the jaggery which is easy to make and never find any residue when filtered.
Note:
Better you add 2 Tbsps of water + jaggery, when jaggery dissolves, filter it and again evaporate to form a thich paste, when luke warm add powdered sesame seeds, coconut and cardamom powder to it.
Basic Outer Layer
Rice Flour – 1 Cup
Ghee – 1/2 Tbsp
Salt – 1/4tsp
Method
Boil 1 and 1/2 Cups of water (you may not need all).
Mix Rice Flour, Salt and add water in small quantity.
Keep mixing; stop adding water once all flour rolled together.
Just make the dough as you prepare for thattai.
When it attains hand bearable temperature, roll it with ghee/cooking oil (optional).

Stuffing
Make lemon sized balls using the rice flour dough.
Make thin small cups, fill a spoon of pooranam and cover it as shown in picture.
Also make small Sesame balls and fill it for easy covering and neat edges.
I have not added any ghee or oil, oil in the sesame seeds makes perfect balls.
The doom shaped covering is called Modak/Mothagam/Neivedhyam, can be done by bringing all the outer dough to center otherwise simply close the edges as I did for few.
Also cover it round as we cover the stuffing for Paruppu Poli/Opputtu/Paratha.
Once done, steam it in Idli pan or electric cooker for 7mins.
If water boiled already, 5mins is enough or cook till you get shiny outer covering.
Choose the neivedhyam recipes; prepare n serve, also offer fruits and flowers to Lord Ganesha on his birthday.Old Picture