Hope everyone in festive (Ganesh Chaturthi) mood, me too :-). Coming to the recipe here i have used whole green moong dal, one healthiest dal among the dal family for the savory stuffing. Even if you are not a savory lover you should try once to admire it. I used the Gujiya/Somas mould here to shape the kozhukattai though i have explained them without it. I am hurrying up this post becoz i have to make another sweet modak recipe shortly :-).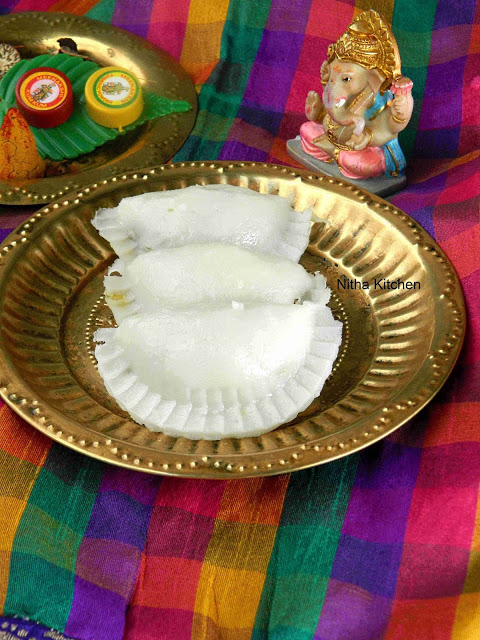 Yields – 10 Approx
Ingredints
For Outer Layer
Rice Flour – 1 Cup
Salt – 1/4tsp (you can increase a bit)
Ghee – 1.5tsp
What you need for savory stuffing
Whole Green Moong Beanl/Pasi Payir – 1/2 Cup
Green Chili – 2 Numbers
Shredded Coconut – 1/3 Cup
Oil – 1 Tbsp
Mustard Seeds – 1/2tsp
Urad and Chana Dal – 1 Tbsp
Cumin Seeds – 1/2tsp
Salt – 1tsp
Oil or Ghee – As needed to grease your hands/molds while making modaks
Method
If you get time you can soak dal for 1 hour minimum, this makes the dal to cook soon (Pic 1).
Pressure cook the dal with enough water for 4-5 hisses, if not soaked then minimum it needs 8 hisses to cook.
Once pressure goes off, strain the water (Pic 2) and when cooled down completely mash it coarsely with one green chili (Pic 3) to coarse texture in the mixie (Pic 4).
In a kadai/pan add 1 tbsp oil temper mustard seeds, cumin seeds, followed by chana and urad dal.
When dal turns golden brown add another roughtly chopped green chili, coarsely grind moong dal and coconut with enough salt (Pic 5).
Mix all well together and saute for few more minutes in medium flame.
Keep aside to cool and meanwhile get ready with the outer layer.
Make sure the filling/stuffing doesn't have moisture, otherwise it breaks and oozes out while you steam it with outer layer.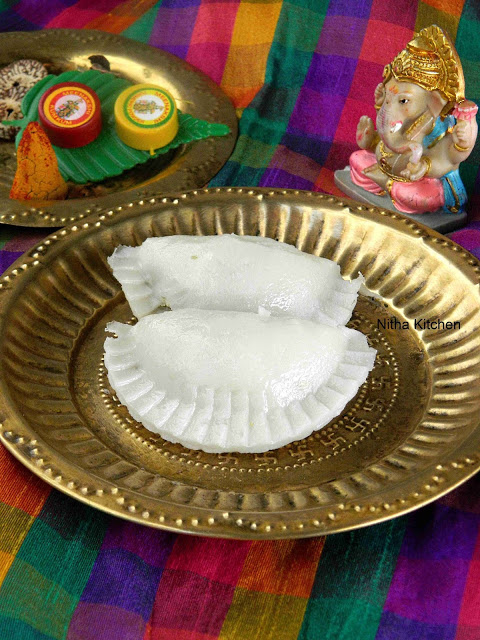 Outer Layer Preparation
Take rice flour,ghee and salt in a wide/mixing bowl (Pic 1).
Boil 1.5 cup water and when bubbles appear, do add it to the rice flour in batches, keep stirring (Pic 2).
You may not need all the water so keep an eye on it.
When you add too much water then the dough becomes too sticky.
If the dough is gooey you can immediately stir in medium flame for the moisture to evaporate, that will fix the problem.
At the same time too little water makes the modaks to break/crack and you have to sprinkle bit water to make the dough perfect.
Adding water stage is too important.
Once done (Pic 3) keep stirring for the steam to evaporate, once the dough attained hand bearable temperature keep kneading with your hands (Pic 4), at one stage it should be soft and crack free non sticky dough (Pic 5).
Now once the dough cooled down completely make lemon size balls out of it (Pic 6) and keep them covered till you use.
Kozhukattai Preparation
Grease your palms with oil, thinly spread the lemon balls like shown in picture 1.
Add 1-1.5 tsp dal savory mixture inside that and cover up gently (Pic 2).
You can make the shape simple as shown in Picture 3 if you don't have mold.
When you use Gujiya Mold then
Apply oil to gujiya mould and place the flat spread rice flour layer.
Add spoonful of moong dal mixture, check the inside picture of 4.
Apply water to edges and close it gently (Pic 4, here i have shown sweet filling, recipe soon), so that it seals out completely, place them aside(Pic 5 & 6).
Do repeat for remaining dough.
Once done in greased Idli pan/steamer (well should boil well) add the shaped kozhukattai and steam for 3-4 minutes (Pic 7).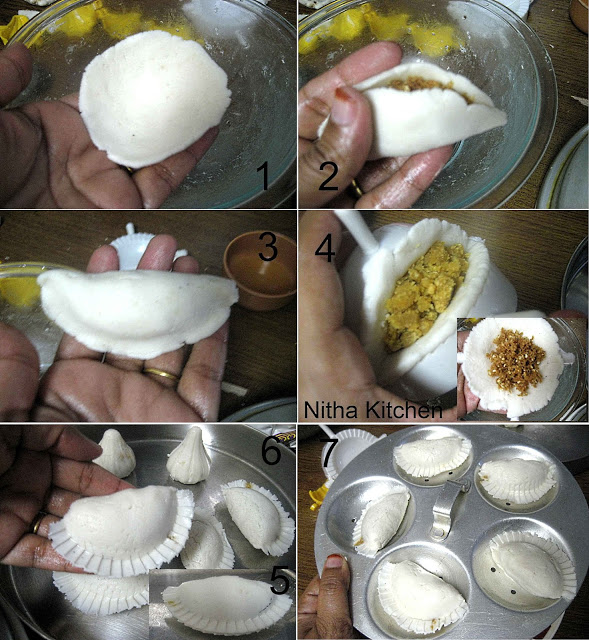 When its done, don't remove it immediately, it will stuck at the bottom, let them cool for 2 minutes at least and then remove it, they will come out easily.
In few step by step pictures i have shown the sweet stuffing,

I will come up with the post very shortly in another 1 hour

, so stay tuned.