Wishing all my dear Readers, Family and Friends a very Happy Ganesh/Vinayagar Chaturthi. May God answer your prayers. Here comes an authentic sweet modak kadala paruppu modhagam recipe that scores the sweet lovers out here. I have detailed the recipe with step by step pictures and an easy way to use modak mould. Do try it for Vinayagar's birthday tomorrow and also don't forget to offer sundal, fruits and flowers!!!
Yields – 14 Approx
Ingredients
For Outer Layer
Rice Flour – 1 Cup
Salt – 1/4tsp
Ghee – 1.5tsp
Cardamom Powder – 1/2tsp
What you need for stuffing
Chana Dal/Kadala Paruppu – 1/2 Cup
Coconut – 1/3 Cup (You can increase)
Cardamom Powder – 1tsp
Grated Jaggery – 3/4 Cup
Oil or Ghee – As needed to grease your hands/molds while making modak
Method
Pressure cook the dal with water for 2-3 hisses.
Mash it coarsely and add it to kadai/Pan (Pic 1).
Once dal gets thick, boil them with grated jaggery (Pic 2).
Meanwhile lightly saute the coconut with a tsp ghee and keep aside.
When the dal and jaggery comes together to rolling consistency (Pic 3) and most of the moisture evaporates add coconut, cardamom powder (Pic 3).
The final stuffing should be like shown in Picture 4.
Make sure the stuffing doesn't have moisture, otherwise it breaks and oozes out while you steam it with outer layer.
Once the stuffing is ready keep aside to cool completely, meanwhile will make the outer layer.
Pic 5 is the final steamed modak picture, you can find a small rice flour ganesha in the plate :-).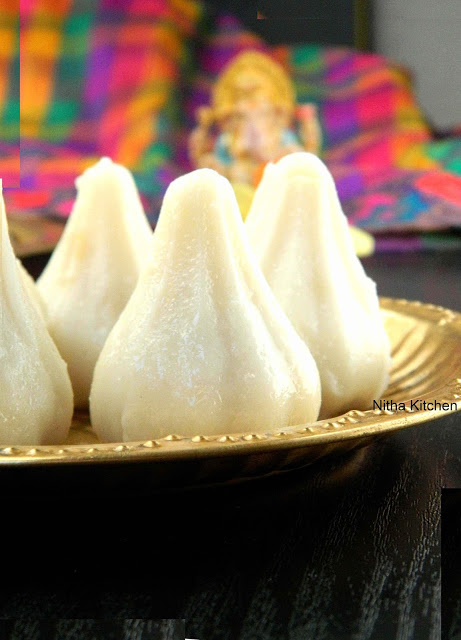 Outer Layer Preparation
Take rice flour,ghee,cardamom powder and salt in a wide/mixing bowl (Pic 1).
Boil 1.5 cup water and when bubbles appear, do add it to the rice flour in batches (Pic 2).
You may not need all the water so keep an eye on it.
When you add too much water then the dough becomes too sticky.
When the dough is gooey you can immediately stir in medium flame for the moisture to evaporate, that will fix the problem.
At the same time too little water makes the modaks to break/crack and you have to sprinkle bit water to make the dough perfect.
Once done keep stirring for the steam to evaporate (pic 4), once the dough attained hand bearable temperature keep kneading with your hands (pic 5), at one stage it should be soft and crack free non sticky dough (Pic 5).
Now once the dough cooled down completely make lemon size balls out of it (Pic 6).
Modak Preparation
Choose the moulds (Pic 2).
Grease your palms with oil, spread the lemon balls like cup shape as shown in picture 1.
Add 1-1.5 tsp dal jaggery mixture inside that and cover up gently.
You can roll them to round or shape it.
For Modak shape twist the top layer with your 5 fingers (refer picture 3) and then keep it inside the greased modak mould (pic 4).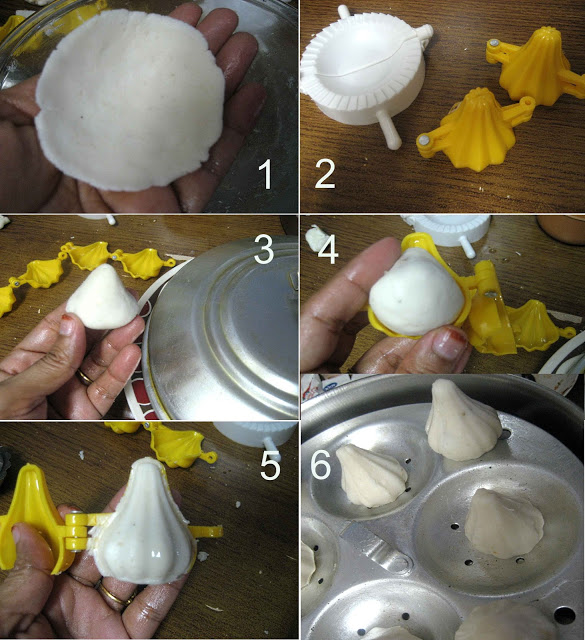 Close the mould gently, also the bottom is open so uplift the stuffed modak with your palm while holding the mould tight so that the excess comes out all over the sides (Pic 5).
Here you have to decide the approx size that fits in the mould and make them accordingly.
Do repeat the process for remaining dough.
Arrange them in oil greased plate (Pic 6).
Steam the shaped modaks in idli pan/steamer for 3-4 minutes or till they change shiny and glossy (refer the steamed modak picture in pooranam/stuffing part).
Remove them once they cool a little bit, say 2 minutes.