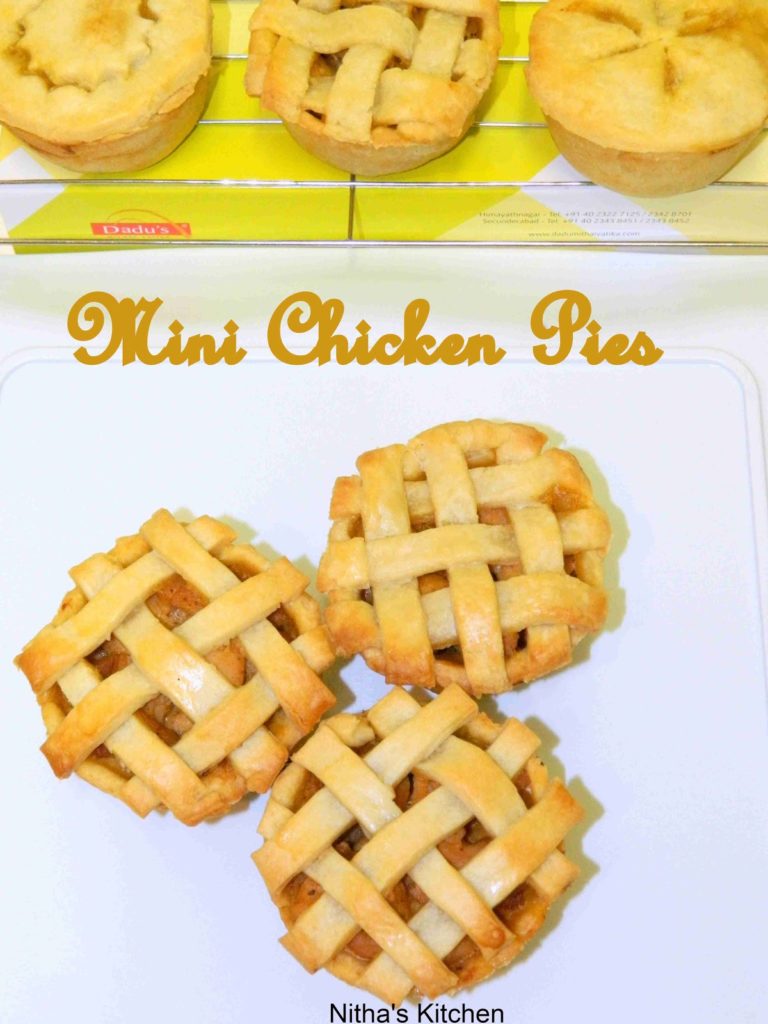 This is a wonderful delicious low fat/light mini chicken pie version. Tastewise I have not found any big difference between full fat/butter pie crust n this version. Actually we the whole family caught up with cold n flu, so thought of making some spiced pie for me n hubby.  I made Shortening+butter based Apple pie for kids which I already posted it. After few recipe hunting finally adapted the Oil crust recipe from here. After I baked this cutie pies, my cutie pie 🙂 asked whats this. In her term I explained this as Chicken cupcakes 🙂

Neither I feed kids with more spices nor they don't like it but to my surprise she enjoyed this spiced version a lot. Hereafter I am going to bake this again and again. This pie suits all age groups so try this savory pie for a change.
Ingredients
Unbleached APF  – 2 Cups
Cold Water – 5 – 5 and 1/2 Tbsp
Butter – 3 Tbsp
Vegetable Oil – 3 Tbsp
Yogurt/Curd – 2 Tbsp (Or replace with 1.5 Tbsp whole milk)
Salt – 1/2tsp
The original recipe calls for 8 Tbsp of oil where I split it as (3Tbsp Oil + 3T Butter + 2T Yogurt)
Method
Mix salt with flour, cut the very cold butter in to it.
Now add tbsp of oil at a time and keep on mixing with fork.Once done with oil add yogurt n rub gently with fork.
At last add a tbsp of cold water n make as crumbled mixture.
When u try to make balls from the crumbled mixture it should happen with cracks otherwise continue adding cold water.
Now divide the gathered dough in to 2 with one 3/4th in size n remaining 1/4 in another.
Flat the balls separately in plastic wrap, if breaks adjust it and seal the wrap.
Refrigerate both the dough for at least 1 hour.
Meanwhile prepare the filling for pie.
For detailed step wise pictures of making n rolling a pie crust please click the link here.
For the filling
Boneless Chicken – 300gms
Tomato ketchup – 2 Tbsp
Hot Red  Chilli Sauce  – 2 Tbsp (Replace with red chilli powder/flakes too)
APF/Maida/Corn Starch – 2 Tbsp
Mustard Sauce – 2 Tbsp (Optional)
Garam Masala Powder/Chicken Masala powder- 1/2 Tbsp (Optional)
Oil – 1 Tbsp
Salt – 1/2tsp or as needed
Method
Heat oil and add the chicken with salt saute for few mins like 2-3 mins
Then add tomato ketchup, hot chili sauce n mustard sauce, if needed sprinkle little water n cook till chicken becomes soft.
Finally add flour and make switch off the flame (don't over cook).
How to Roll the Pie Crust and Fill the Chicken mixture
After 1 hour, in between two parchment/wax papers roll the 3/4th sized(large portion) dough.
The edges may leave cracks, fix it with ur hands n continue rolling.
Use any round caps/cookie cutter with size more than each round of your muffin pan (Pic 1).
Just invert the pan over the dough n make sure before you cut.
You may notice butter in white tiny spots all over the dough, if you see than the crust is perfect.
Insert the dough in to the muffin, adjust the inner corners n prick with fork the bottom dough (Pic 2).
Once you done with one, refrigerate till you make the next one.
Do it for the remaining by gathering the left over dough again and again.
When you feel the dough is flexible or butter starts melting refrigerate or freeze it for a fraction of mins.
Now take the remaining separately stored 1/4th dough roll and make strips using knife or pizza cutter(Pic 2).
Arrange it as shown in picture 3 (Lattice) or cover the top fully and make slits for the bubbles to release.
Decorate to your creativity and apply milk or egg wash over the top.
Bake in preheated oven at 350° F for 20-25mins or till the crust gets golden brown color (Pic 4).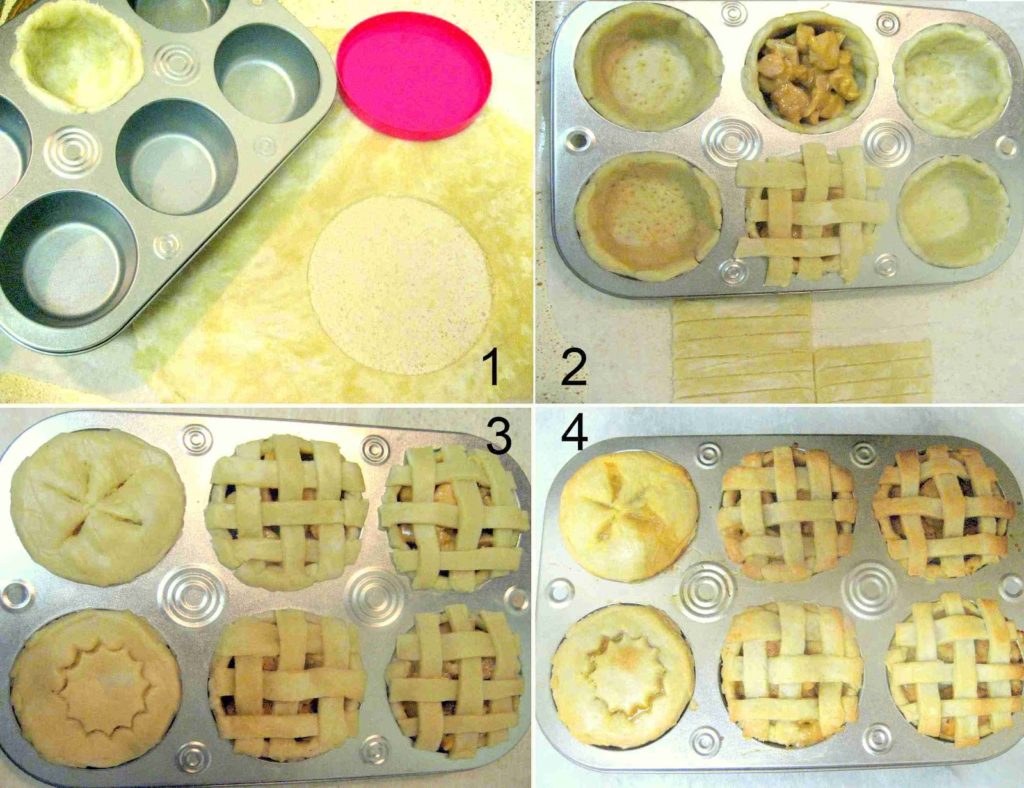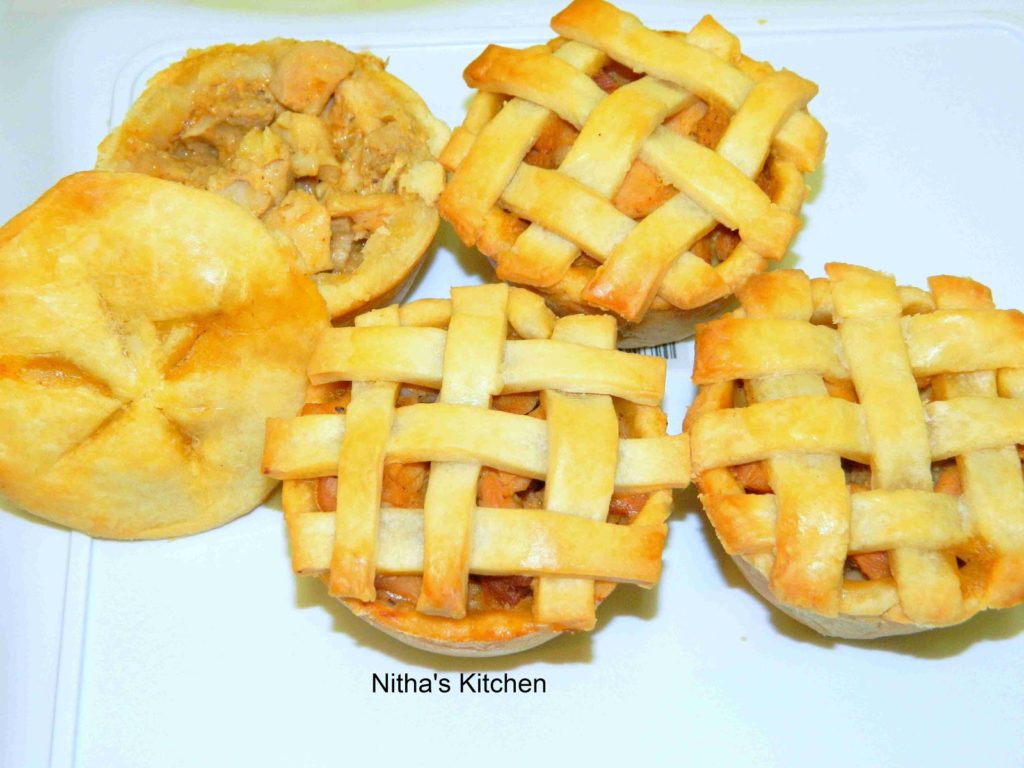 Notes
Be sure the bottom and top layers are of even thickness otherwise one cooks soon n turns dark brown when compared to other.
Even you can add Onion/Capsicum to the chicken filling.
Can use this same pie crust for making any reduced fat pies, increase the flour quantity to 2 and 1/2 cups for 9″ pie.
The leftover dough can be stored in freezer for month if the quantity is less then mix it with dinner rolls/chapathi/paratha etc