Coming to this month Divya's South vs North Indian challenge the South Indian teams are challenged with this mini ghevar/ghewar by Manjula Bharath of Desi Fiesta. Thks for challenging us with this wonderful recipe…Actually I thought of posting this Rajasthani traditional dessert on or before pongal which they make it especially for Sankranthi, but I couldn't. Ghevar is nothing but a crisp flat disc shaped snack made from thin batter of all purpose flour/maida, cooked/deep fried in hot oil/ghee in low flame till it attains nice crisp golden color. This plain ghevar is served with sugar syrup or Rabdi, I opted for rabdi. My daughter liked the plain ghevar, where I specially soaked it in rabdi for my son, who enjoyed it a lot. I invited my hus with this hot ghevar when he returned from office, he was curious to know abt htis recipe. I
explained everything like what I said here, he appreciated my effort n finally concluded "Well this month the gas bill will definitely hit more than the prev ones", what to say 🙁
Ingredients for Ghevar
All Purpose Flour/Maida – 1 Cup
Ghee – 2 n 1/2 Tbsp
Water – 2 n 1/2 Cups
Cardamom Powder – 1/2 Tbsp
Pinch of Salt
Ghee/Oil – For deep fry (I used Oil)
Ingredients for Rabdi
Whole Milk – 2 Cups
Sweet Condensed Milk – 3/4th Cup
Cardamom Powder – 1/2 Tbsp
Chopped n fried nuts like Cashew/Pista/Almond – 2 Tbsp
Method
Heat milk in a pan when comes to boil simmer it for 2-3mins n add condensed milk.
When all rolled together to nice thick consistency, adjust sugar to suit ur taste buds.
Finally add cardamom powder n fried nuts.
Keep this Rabdi aside and start making ghevar.
Melt ghee, add cardamom powder n salt to it.
Add 1n1/2 cups of water to the ghee mixture n gradually add flour
Mix with whisk to get lump free batter.
Add tbsp of remaining water at a time and make even thin batter.
Batter should have one thread consistency (See Note 1).
Heat oil in a hollow/cylinderial utensil to get this round beautiful mini ghevar.
When I start clicking pictures my son usually smile for the flash n I was searching for him, see he started sleeping under my feet 🙂
Check the oil temperature by dropping few drops in oil, the batter drops should raise immd after falling in (Pic 2).

Take the batter in a cup/ladle n pour very thin batter in to the oil by maintaining a distance as much as u can.
While pouring, the oil should be very hot.
After finished pouring approx 5Tbsps of batter or when the bubbles settles down, just leave a short gap, make hole in center using wooden stick (Pic 3) and again pour another 5Tbsps of batter.
Can repeat one more time, but as a beginner I stopped with 2 rounds.
Now reduce the flame n cook till sides leave (in between make hole at center).
You may get the Pic 4 texture approximately after 12-15mins but depends on the size of utencil n thickness of batter.
When u see lot of bubbles at the time of ghevar cooking, you can put off the stove for 1-2mins or till bubbles settle down.
The only thing you have to note is at the time of pouring the batter in oil, flame should be Med-High n while cooking it should be low as possible.
For a single ghevar it took almost 20mins to get it done.
Place it as shown in Pic 5 to collect the excess oil.
Then drain in paper towel for few more mins.
Bit time consuming, calorie rich, very challenging recipe but worth trying this delicious dessert 🙂
Please watch this video to know about ghevar making.
That day my hands were shaking due to ill health so I dropped the batter here n there.
But satisfied with the perfect outcome n everyone at home liked it.
Serve with rabdi or sugar syrup.
I forget to click the plain ghevars before soaking in the rabdi n also rushed to prepare dinner.
I feel sorry for the pictures I clicked but I will make this ghevar again sometime later n update it.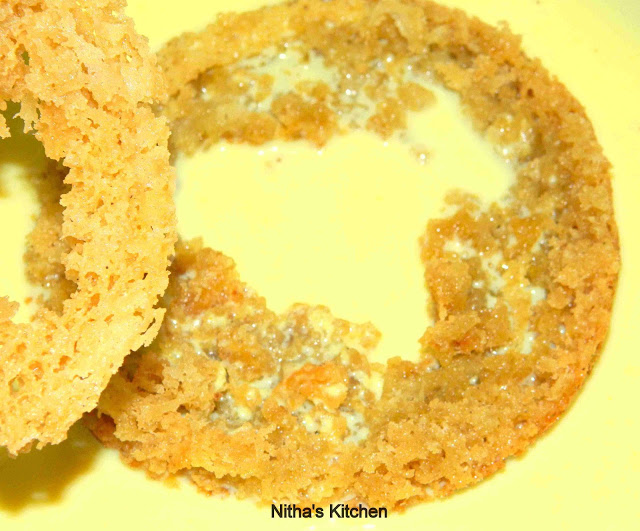 Note:
Atlast, for final batches you may need more water to bring the batter to thread consistency.
If ghevar sticks at bottom, increase the flame n gently pop it up using wooden stick.