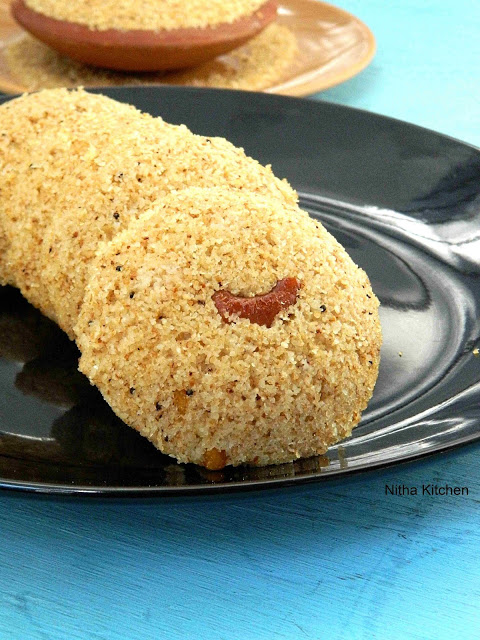 Here comes instant wheat rava idli when you don't have time to soak and grind idli batter or the ground batter is not fermented on time. This rava idlis are so spongy and tastes yum which you can prepare it for breakfast or dinner and you can pack in kids lunch box as well. Make sure to use cracked wheat for the better texture.
Yields – 9 Idlis as shown in picture.
Ingredients
Cracked/Broken Coarse Wheat Sooji – 1.5 Cup (prefer coarse texture sooji and you can use white sooji/semolina as well)
Thick Yogurt -1 Cup or More as needed
Eno Salt – 1tsp (you can replace eno salt with baking soda as well in that case reduce the quantity of soda)
Green Chili – 1-2 Numbers
Ginger – Small piece
Lemon Juice – 1tsp
Salt – For taste
For tempering
Oil – 1 Tbsp
Chana dal – 1.5tsp
Urad dal – 1.5tsp
Curry Leaves – Few
Mustard Seeds – 1tsp
Cashewnut – Few
Grated Ginger – 1tsp (Optional)
Method
Soak rava/sooji (Pic 1) and yogurt for 20 minutes at least.
With a tbsp of soaked rava add green chili and ginger(pic 2) and grind to smooth paste (pic 3).
Add it to the soaked rava mixture (pic 4).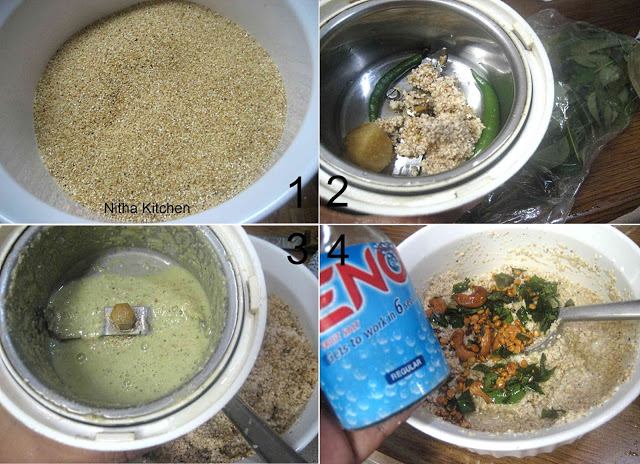 In a pan/kadai heat oil and when its hot add mustard seeds.
Allow the mustards to splutter and then add chana, urad dal and cashewnuts.
When the dal and nuts turn golden brown add chopped curry leaves and optional ginger.
Let saute all for a minute and finally add this to the soaked rava mixture, Pic 4 (reserve few fried cashews to use it later).
Mix all together squeeze lemon juice (Pic 5) and the final consistency should be like shown in picture 5.
Arrange the reserved fried cashews in the oil greased idli plates as shown in picture 6.
Then drop spoonful of rava mixture in each oil greased idli kuzhi (pic 7).
In well boiled water place the idli plates and steam it for 5- 8 minutes or till the toothpick inserted at the center of idlis comes out clean.
Allow the steamed idlis to cool a bit and then take it out from the plate (Pic 8).
Serve hot and chutneys are optional for this.