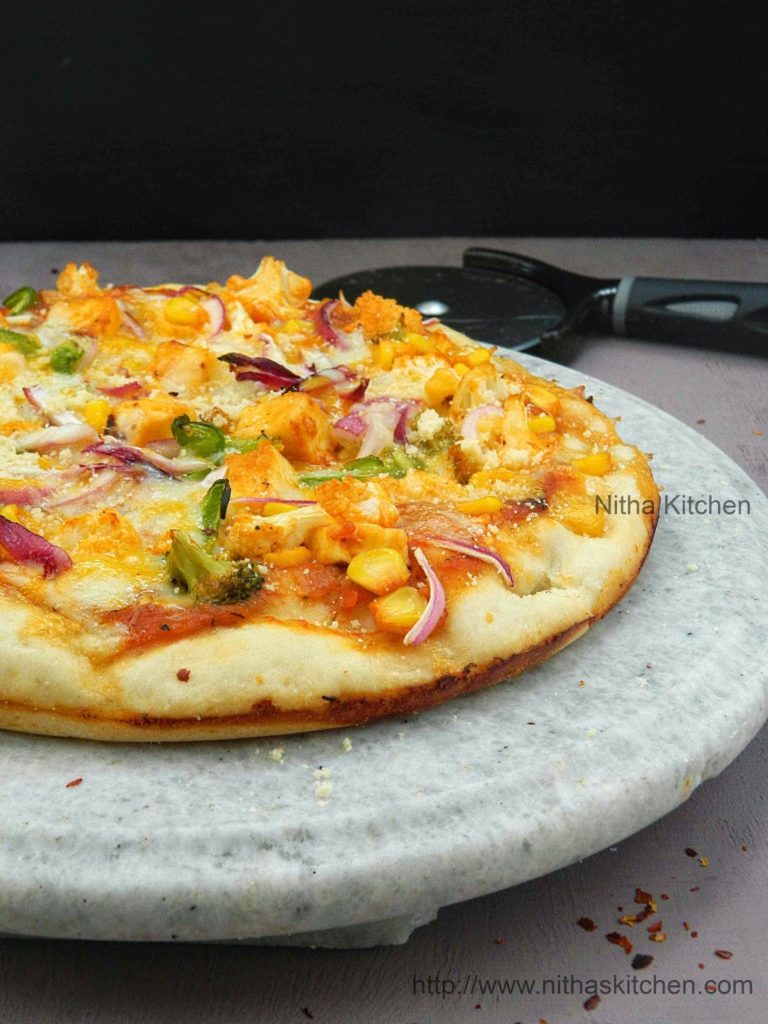 Making homemade pizzas from scratch gives immense bliss!!!  That too when kids enjoy eating and asks for more slices, our few hours of work flew like anything!!! Today's recipe is a copycat of California Pizza Kitchen and the highlight of this recipe is marinating the toppings (here I use veg) like Paneer, Cauliflower, Broccoli and Corn in BBQ sauce and grill it before topping over Pizza Crust. To the below quantity you get one 16"inch thin Pizza and one 8" thick pizza. Also one more thing to note is make the dough one day prior to making and refrigerate till use!!! Thanks Saras (International Food Challenge) and Joanne for the recipe suggestion, we the whole family enjoyed this cheesy pizza to core, though the pictures are not appealing it tastes great 🙂
I find time to click the thick pizza crust alone, for thin crust you can refer my Newyork Style Pizza Crust, which resembles like it. Also if you are a beginner in making pizza do check the dough making step by step process here.
Recipe Source :- Adapted from Here
Serves 8 ~ 12
Make crust one day before you plan to make the pizza.
Ingredients
For Crust
Bread Flour – 2 and 1/2 Cup
Olive Oil –  1 and 1/4 Tbsp
Warm water (105 – 115F) – 3/4 Cup plus 1-2 Tbsp
Yeast – 2 tsp
Sugar – 2and1/2 tsp
Salt – 1and1/4 tsp
Toppings
Paneer or Tofu – 1 Cup or More
Olive oil – 1 Tbsp
Shredded Mozzarella – 2-2n1/2 Cups (I use mix of Cheddar and Mozzarella)
Grated Gouda cheese (preferably smoked) – 1 Cup (Optional)
Sliced Red Onion – 1/2-3/4 Cup
Sliced Bell Pepper/Capsicum – 1/2 Cup
Finely chopped fresh cilantro – 1-1n1/2 Tbsp (Optional)
Pepper and Salt to taste
* Store Bought Original BBQ Sauce or Normal Tomato Sauce – 1n1/2 Cup (I use Newyork Style Pizza Sauce)
* Store Bought BBQ contains egg so if you don't like either marinate the toppings with Red Chili powder + Vinegar or Lemon Juice + Soy Sauce + Maida/Flour + Few drops of Oil + Pepper and Salt.
Method
Pizza Crust
In a large bowl or the bowl of a stand mixer, combine water, yeast and sugar.
Let sit for 5 minutes, until the yeast starts to foam.
Add flour, salt and olive oil and mix until dough comes together.
Knead 10 minutes, Place dough in a greased bowl and turn to coat with oil.
Cover and let rise for 2 hours then place in refrigerator overnight.
Remove dough from refrigerator one to two hours before making pizza, allowing it to come to room temperature.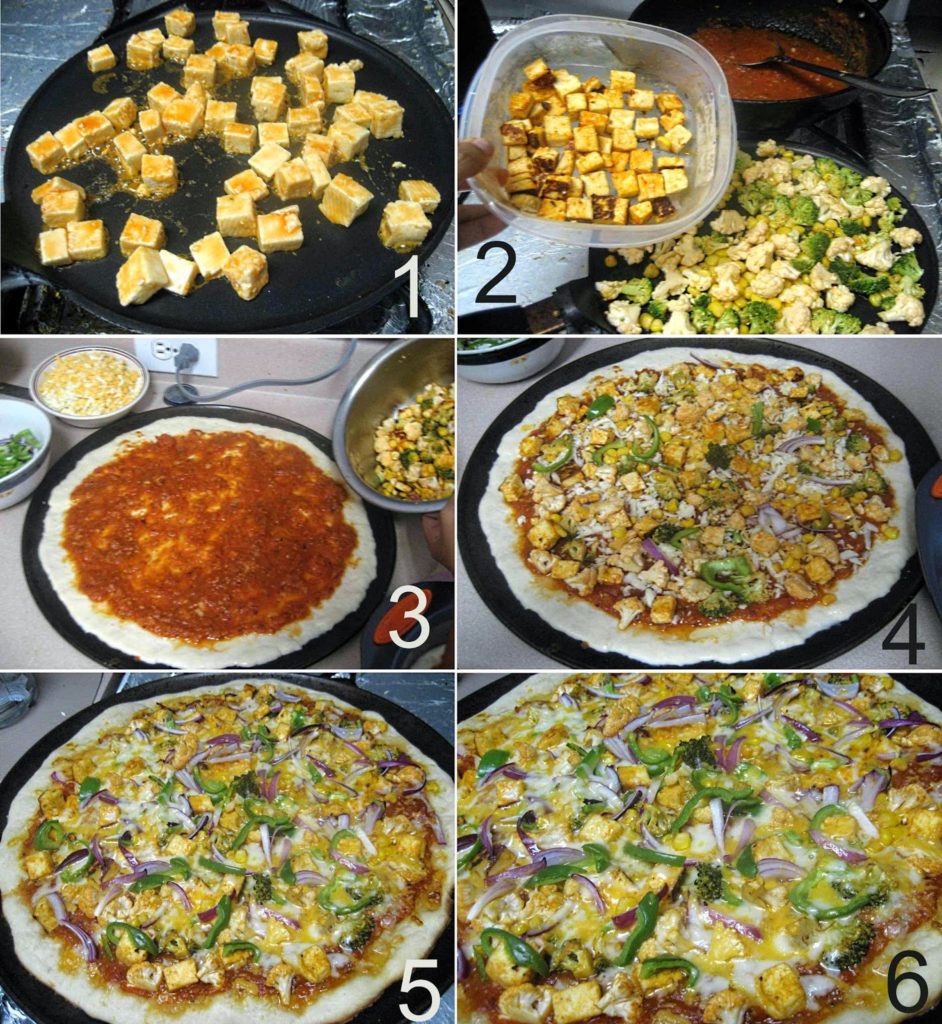 Pizza Topping
Marinate the cubed Paneer in separate bowl with necessary sauce you prefer.
Also choose and chop the veggies, marinate them in separate bowl, Cover and let marinate both for 2 hours.
Place pizza stone in oven and preheat oven to 450° F for 30 minutes.
If not using pizza stone, preheat the oven and pizza pan for 6-8 minutes at least.
Either grill or Saute Paneer (Pic 1) over medium heat until cooked through 7-8 minutes, Set aside (Pic 2).
In the same pan (I use dosa pan) saute the marinated vegetables for 2-3 minutes(Pic 2).
Sprinkle counter top with cornmeal and roll out pizza dough into a circle, I rolled one 16-inches thin crust and one 8 inch diameter.
Spread remaining pizza/BBQ sauce on dough (Pic 3).
Freeze the shredded cheese, onion and bell pepper for at least 15 minutes before spreading over dough.
Sprinkle half of the mozzarella cheese and Gouda over BBQ sauce.
Top with Paneer, Veggies, Red onion and remaining mozzarella (Pic 4).
Transfer pizza to oven and bake for 10-12 minutes, or until golden brown (Pic 5).
Top with cilantro and Parmesan cheese powder if desired (Pic 6).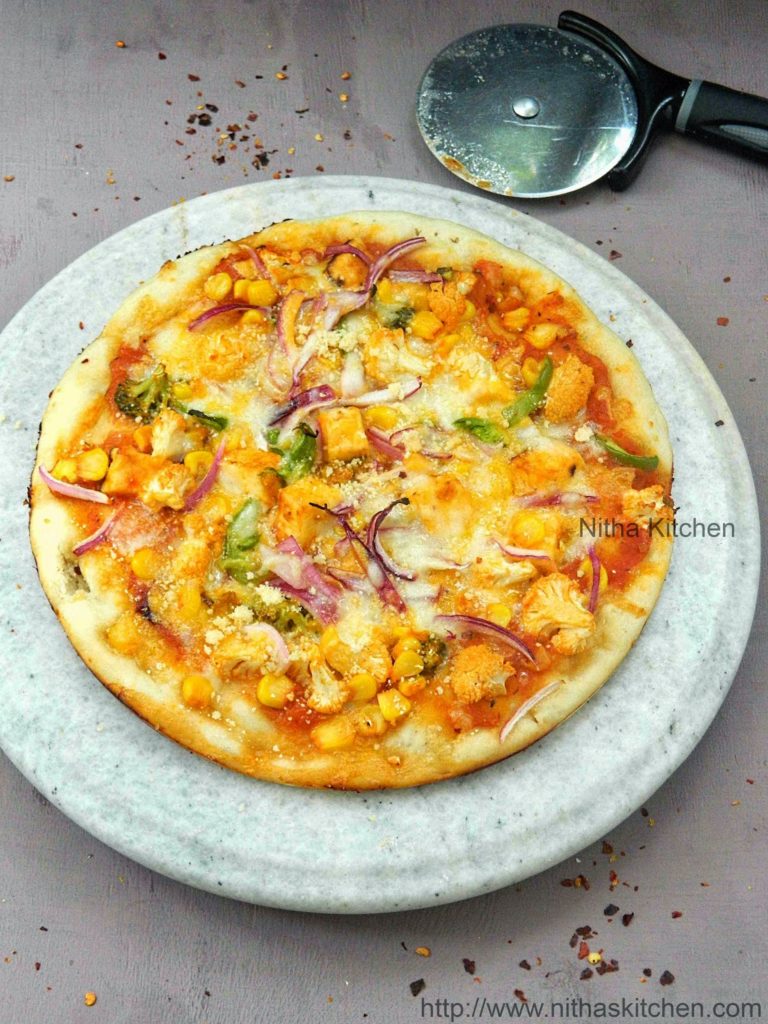 Note:
Instead of Paneer you can use chicken…