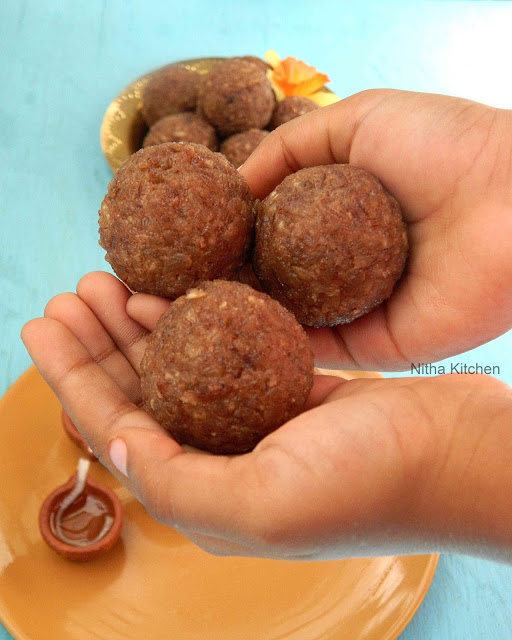 Wishing you all a very Happy Krishna Jayanthi. Here comes a very easy and tasty aval coconut ladoo recipe that you can offer to Lord Krishna on this day. It takes just 20 minutes to prepare this delicious ladoos or you can serve the aval jaggery mixture as it is without making ladoo and that is similar to aval velachuthu.

Ingredients
Red Aval/Kerala Matta Aval – 1 Cup
Jaggery or Unrefined Pure Cane Sugar (Nattu Sarkarai, I used it) – 3/4 Cup
Shredded Coconut – 1/2 Cup
Ghee – 1 Tbsp
Water – 1/2 Cup
Cardamom Powder – 2tsp
Milk – 3/4 Cup
Method
Melt 1/2 tbsp ghee (Pic 1), and just lightly fry the aval/poha (Pic 2), keep aside.
Don't fry the poha too long , if so it takes long time to cook later.
Add remaining ghee and shredded coconut to the same pan fry till nice aroma attains (Pic 3).
Melt the jaggery with water in medium flame, filter the impurities and again boil for few minutes like 3-4 minutes in medium flame.
No need to check the jaggery for string consistency but anyways little thick syrup is needed here (Pic 4).
In the picture 4 i have made jaggery syrup in bulk for few more neyvedhyam, will update later.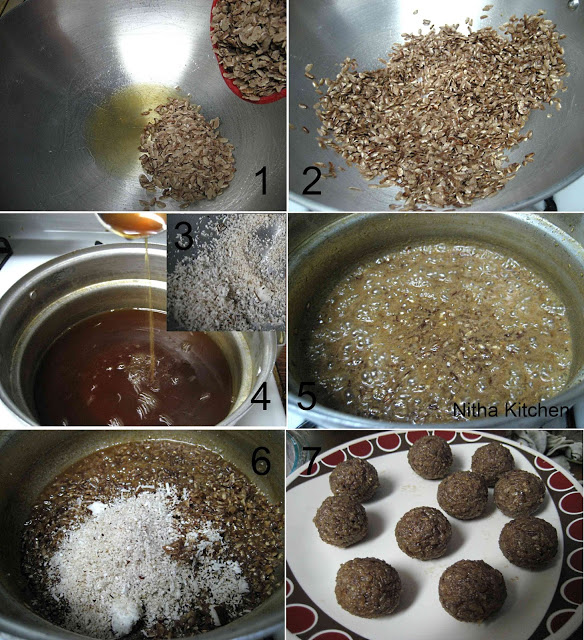 Boil the milk and add the poha allow to cook for few minutes say 3 minutes then add jaggery mixture, cook altogether (Pic 5) till all the water evaporates and poha gets cooked.
You can powder the poha and add to jaggery syrup, in that case dry fry the poha without adding ghee.
If poha is still crispy and not cooked and you want to make smooth ladoos then add 1/4 cup water at this point and cook for few more minutes otherwise proceed to next step.
Finally add cardamom powder, fried coconut (Pic 6), remove from flame and let it cool.
When the poha jaggery mixture attains hand bearable temperature, take a fistful of mixture and hold tightly with your hand to hold round shape.
You can grease your hand with ghee/oil, but it's optional.
Complete making ladoos (Pic 7) with the remaining cooked aval and store for later use.