Hope everyone is celerating Krishna Jayanthi. I tasted my first seedai when my corporate friend packed her seemantham snacks for our friends to office. One day thought of visiting my neighbor friend's new born with the Uppu Seedai and Rava Ladoos, I done with rava ladoo and when dropped few seedais in oil it bursts and got few marks in the forehead . After that incident I stopped making Seedais.  Last year my MIL was with us for my second delivery, gathered courage and started making it again. Luckily it popped out well with no burst. Now I learnt the reason for the burst, last time i added the shredded coconut directly, so moisture in the coconut is one reason for the burst. This year I dry fried the coconut and prepared the dough. After adding two/three seedai balls I went out of the sight and watched, they successfully popped well :-).
Ingredients
Instant Rice Flour – 2 Cups
Urad Dhal Flour – 4 Tbsp
Coconut Grated – 1-2 Tbsp
Cumin Seeds – 3/4 Tbsp
Sesame Seeds – 1 Tbsp (Optional)
Butter – 4 Tbsp
Salt and Oil – As Required
Water – Approximately I used 1 Cup Plus 2 Tbsp water, it depends on flour you use.
Method
Dry roast the whole urad dhal/gota till light golden brown and powder in mixie.
Sieve it and keep ready.

In the same pan fry shredded coconut for 2-3mins or till moisture goes off.

Mix all the other ingredients except oil.
Now sprinkle water and knead to crack free and smooth dough like chapati dough.

Pinch the dough and make seedai balls out of it.

You can spread in cloth or paper too…

Heat Oil in kadai, drop the balls and fry till golden brown (First drop 1 or 2 balls and test it).

Seedai absorbs less oil when compared to other deep fried snacks.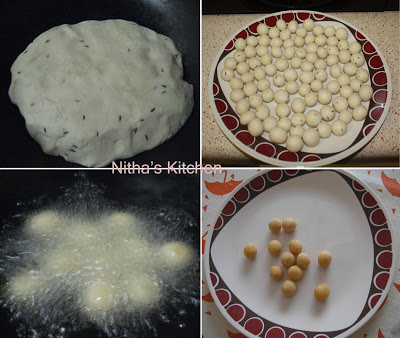 Notes
I don't have sifter to sieve the urad dhal flour so i powdered it fine to maximum.
Too much of moisture in the dough or coconut may cause bursting….
You can use homemade flour too but make sure to dry fry few minutes.
Old Picture