Only 3 days more for Krishna Jayanthi, so today's recipe is going to be traditional South Indian Special vella seedai inippu seedai using instant rice flour. Last year for Janmastami I made vella seedai for the very first time and they came out really good. This year as my MIL is with us, she suggested several tips for making vellam/jaggery seedai, also she insisted to make fresh rice flour for it. But this week my daughter started full time school and keeping me busy, so I felt comfort with instant rice flour. Will try to make and post an another version of seedai with homemade rice flour later!!!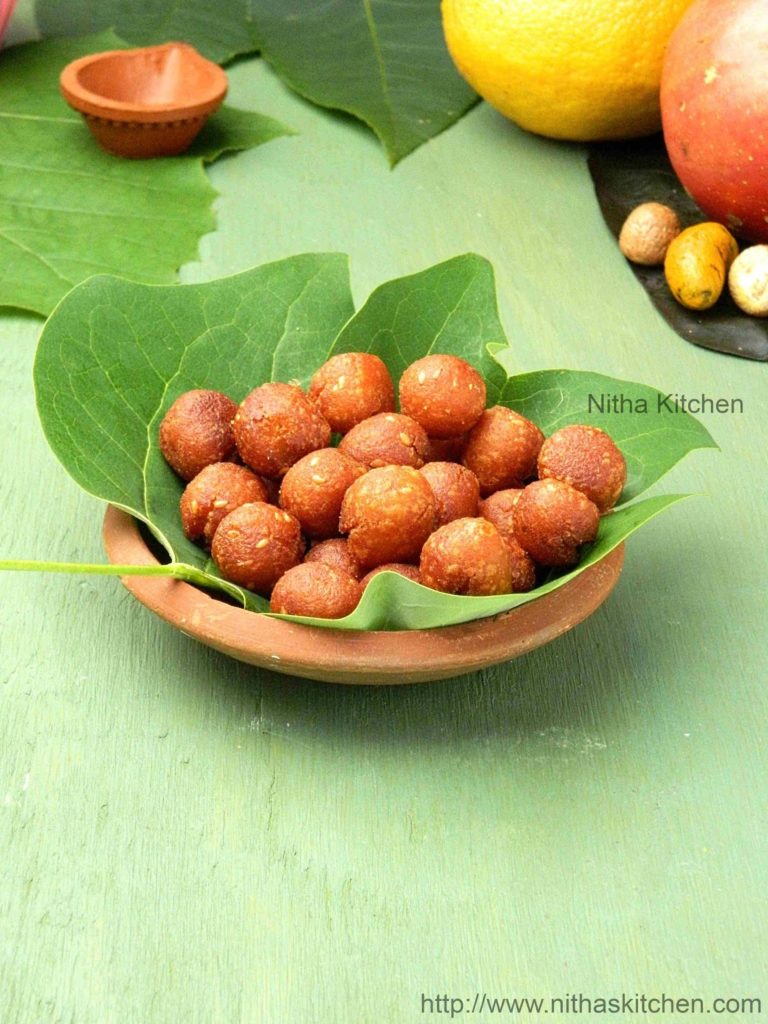 Yields :- 50 Big Size Seedais
Ingredients
Instant Rice Flour – 1 Cup
Jaggery/Vellam – 1and1/4 Cup
Chopped or Shredded Coconut – 1 Tbsp
Sesame Seeds – 2tsp or 1 Tbsp
Cardamom Powder – 1 Tbsp
Urad dal flour – 1 tsp (optional)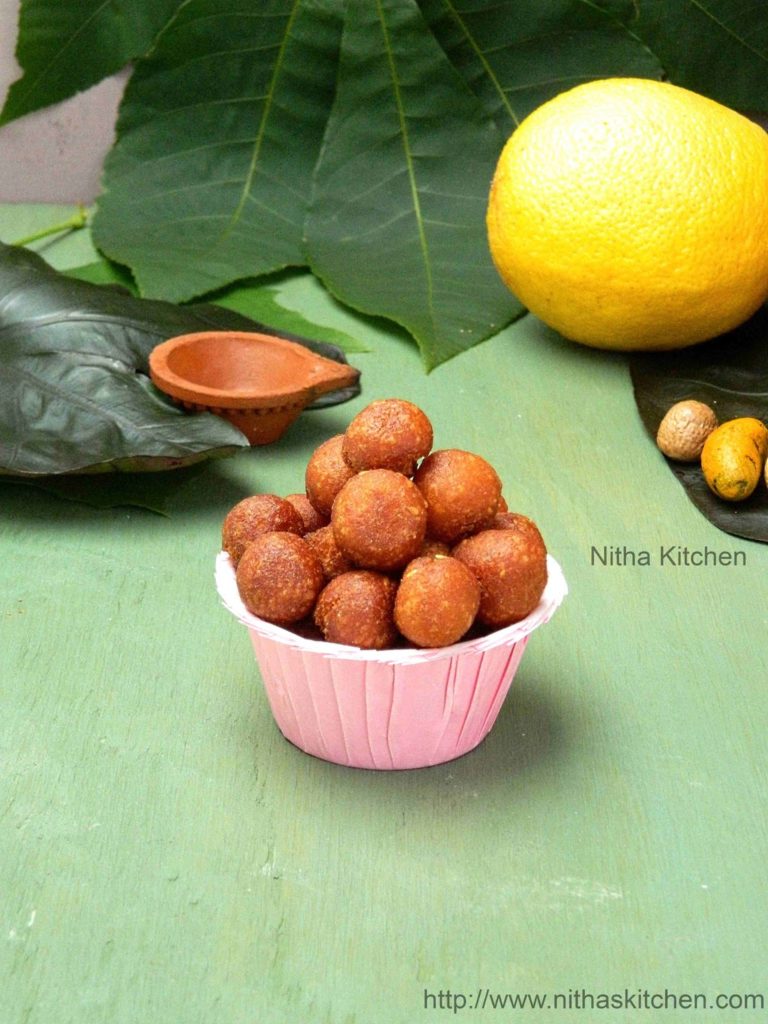 Vella Seedai Inippu Seedai Method
In a sauce pan add 3/4 cup of water to jaggery and keep aside.
In a wide pan/kadai dry fry the flour in very low flame for few minutes, and make sure not to burn it.
Remove flour to another bowl and dry roast the fresh coconut in the same pan till moisture evaporates.
Transfer the fried coconut to flour.
Also add cardamom powder and sesame seeds to it (Pic 1), mix well.
Bring the jaggery immersed water to boil, keep stirring so that jaggery quickly dissolves in water.
Once completely dissolved, strain the impurities and again bring it to boil.
In medium flame boil 5-7 minutes and here no string consistency is needed.
Just look at the stepwise picture 2 for the syrup consistency.
Add the hot syrup in batches to the rice flour mixture (Pic 3) and when comes to little loose dough consistency, stop adding syrup (Pic 4).
Cover loosely and keep at room temperature for 2 hours at least (I kept 4hrs).
By this time the dough hardens (Pic 5) and you can make perfect balls out of it.
Ifyou feel the dough is watery and you can't make balls then adjust it with few tsps of rice flour.
Pinch the dough and make even balls out of it.
Spread the seedai balls over dry cloth or paper (Pic 6).
No need to wait for the moisture to absorb, once you done with the dough, heat oil and start frying 10-12 balls in each batch.
Start frying with first made seedai balls by that time you finish all the dough in to seedai balls the extra moisture might absorbed by the cloth.
If you are making very small batch then rest the seedai balls over cloth for 10 minutes.
While adding the balls the oil should be very hot and after adding the seedai reduce to medium flame, otherwise vella seedai turns dark brown soon.
Also seedai has some cracks over outer layer and its normal.
Drain excess oil using paper towel (Pic 7).
These seedai are crispy to munch immediately and when stored in air tight container they turn soft by next day.
Can store and use up to 5 days.