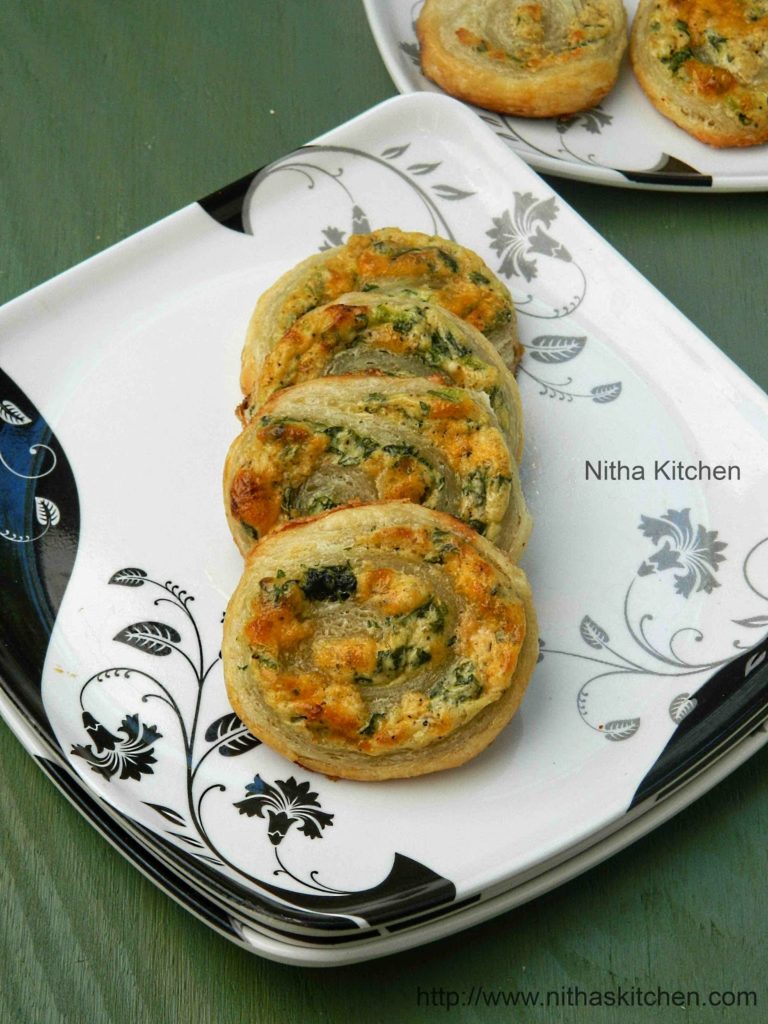 This month for baking partners challenge Swathi gave a wonderful opportunity to choose recipes that I wish. Since puff pastry is one that itching my mind for long time, I took this chance and suggested a homemade puff pastry without yeast also I made savory filled pastries using it. I have few puff pastries related old and draft posts that I have to update in coming days. Thank Swathi for giving such wonderful chance!!! This is such a detailed post and I have given few tips that makes you comfortable to work in puff pastry!!!
Homemade Puff Pastry
You can make the pastry a day before and store in refrigerator or freeze it for longer use!!!
Recipe Source :- BBCFood
Ingredients
Strong Plain Flour – 250gms (Better to avoid bleached flour)
Butter – 250gms, at room temperature, but not soft (I kept 5mins at RT before start crushing it)
Fine Sea Salt – 1tsp
Cold Water – 150ml (add 2/3rd of water, reserve remaining n add if needed)
Method
Sift the flour and salt into a large bowl.
Make a well in the bowl and pour in about two-thirds of the cold water, mixing until you have a firm rough dough adding extra water if needed (Pic 1).
You can use food processor/blender at this time (Pic 2).
Turn out onto a lightly floured board, knead gently and form into a smooth rectangle (Pic 3).
Cover with cling film and leave to rest for 20 mins in the fridge, I kept almost 2hrs, also overnight works (Pic 4).
Roughly break the butter in small chunks, use two parchment paper and chunk them loosely. You need to see bits of butter (Pic 2).
Using Knife or scale and bring it to shape (Pic 3) and store in refrigerator with the same parchment paper till use.
Now roll the dough with thick center, place the butter at center(Pic 4) and seal it properly (Pic 5).
Roll the dough in one direction only, until 3 times the width, about 20 x 50cm (Pic 6).
Keep edges straight and even.
Don't overwork the butter streaks; you should have a marbled effect.
Fold the top third down to the centre, then the bottom third up and over that (Pic 7).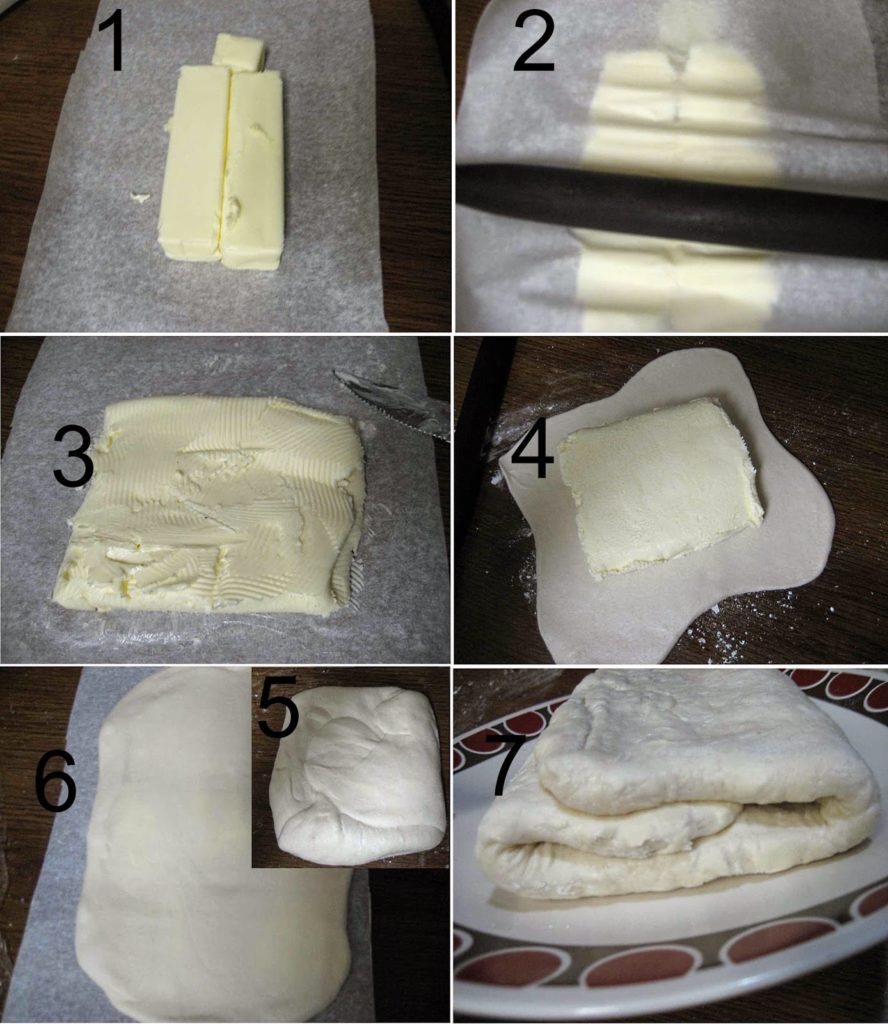 Give the dough a quarter turn (to the left or right) and roll out again to three times the length.
Fold as before, cover with cling film and chill for at least 20 mins before rolling to use.
Roll and fold four more times, chilling after two.
You can fold 4 times the previous day and then next day you can fold two times.
In the whole process brush off the excess flour over the pastry dough.
Chill the dough for an hour or more before using.
I used 3/4th of puff sheet i made for below pin wheels and remaining, using 1n1/2″ flower cookie cutter i stuffed some veggies and baked, so here is the picture of mini veg puffs that i made anyways i will come with detailed post later in separate post.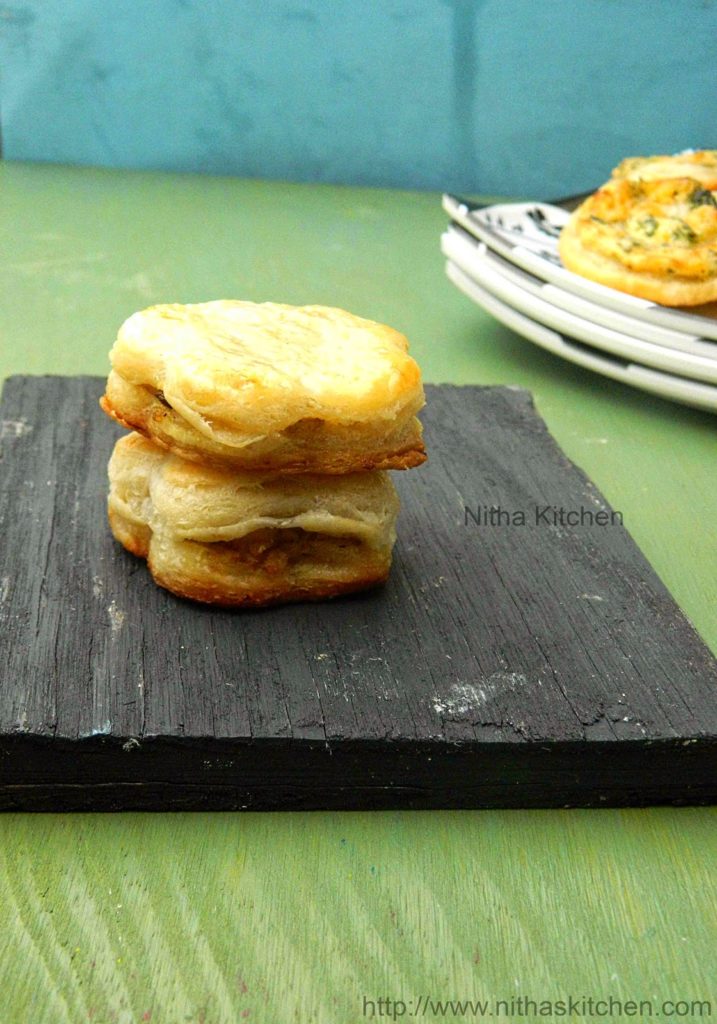 Notes:
When you feel the dough is sticky just chill in refrigerator before the next fold.
You can check this video for making the puff pastry Link1.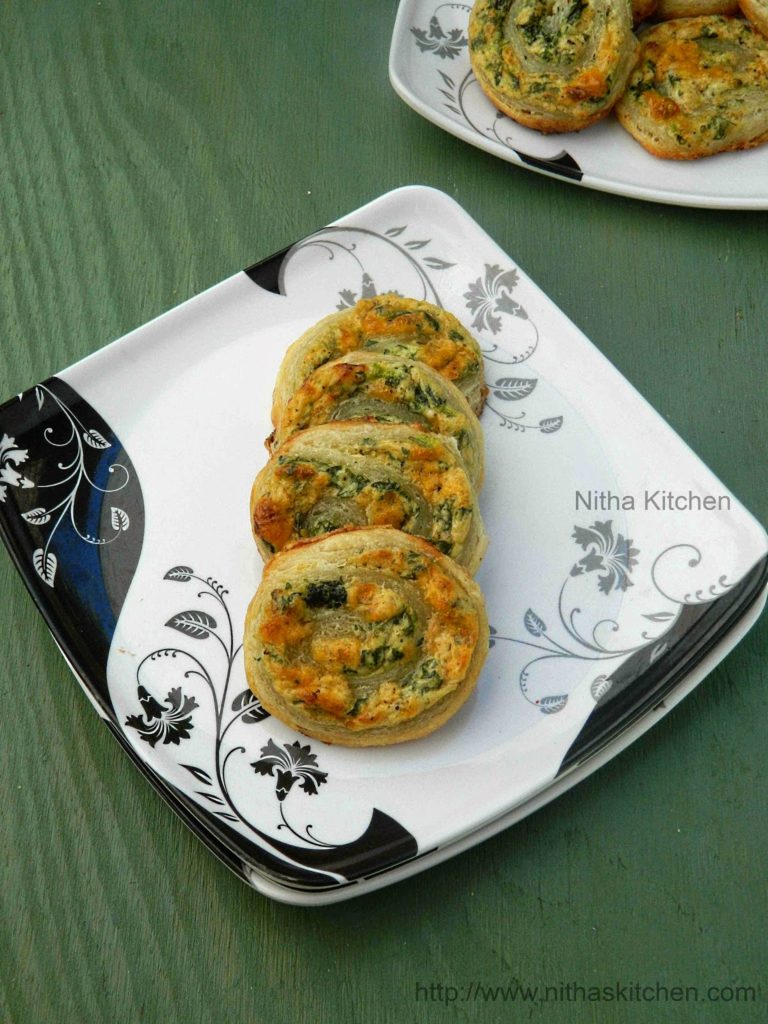 Spinach Cheese Swirls
Recipe Source :- Adapted From :- Puffpastry
Ingredients
Fresh or Frozen Chopped Spinach – 1n1/2 Cups or 1 pkg. (about 10 ounces) , thawed and well drained
Chopped Capsicum – 1/3 Cup
Cream Cheese – 2-3 Tbsp
Water or Milk – 1 Tbsp
Shredded Muenster Cheese – 1/2 Cup (I use mix of Mozerella n Sharp Cheddar/Any shredded cheese will work in this recipe)
Parmesan Cheese – 1/4 Cup grated (I used powder)
1 Green Onion, chopped (about 2 tablespoons) (Optional)
Garlic powder – 1/8tsp
Pepper Powder – 1tsp
All Purpose Flour – To Dust the Surface
3/4th of Puff Pastry made above or 1/2 of a 17.3-ounce package puff pastry sheets (1 sheet), thawed
Egg – 1 Number (Optional)
If the filling is too wet, it may make the pastry soggy.
Directions
Mix softened cream cheese,water/milk, parmesan cheese, capsicum, pepper powder and garlic powder in a wide bowl (Pic 1).
Stir all the remaining shredded cheese, half of the chopped spinach in it (Pic 2).
Sprinkle the flour on the work surface.
Roll the pastry sheet to 1/4-1/2″ thickness on the work surface (Pic 3).
Beat the optional egg in a small bowl with a fork.
Brush the pastry sheet with the egg mixture if using.
Top with the cheese mixture and remaining spinach (Pic 3).
Starting at a short side, roll up like a jelly roll (Pic 4).
Freeze the roll for 20 minutes atleast so it is easy to handle.
Meanwhile preheat the oven to 400° F.
Cut the roll into 20 (1/2-inch) slices (Pic 5).
Place the slices, cut-side down, onto 2 baking sheets (Pic 6), with necessary space between each pinwheels.
Brush the slices with the egg mixture or heavy cream.
Bake for 15 minutes or until the pastries are golden brown, make sure it is freezed well before baking.
Remove the pastries from the baking sheets and let cool on wire racks for 10 minutes.
For best results, make sure to remove as much liquid as you can from the spinach before adding it to the pastry.
Notes
When it is in oven the cheese melts and pops here and there, don't get panic, its normal.
When the swirls cooled completely they turn crispy.