Wishing you all Happy Gokulashtami. If you can't spend time in making seedais or other snacks, here is an easy aval verkadalai jaggery laddu recipe that can be made in no time. Aval and butter are Lord Krishna's most favorite, so few days back while making Vella Seedai (You may notice that I have used the same leafs here too ) and Uppu Seedai I prepared this poha peanut laddu too, this is made with zero ghee
and sweet is based on jaggery syrup…If you would like to add white sugar and ghee I have specified the measurement for it too…do check the recipe in detail!!!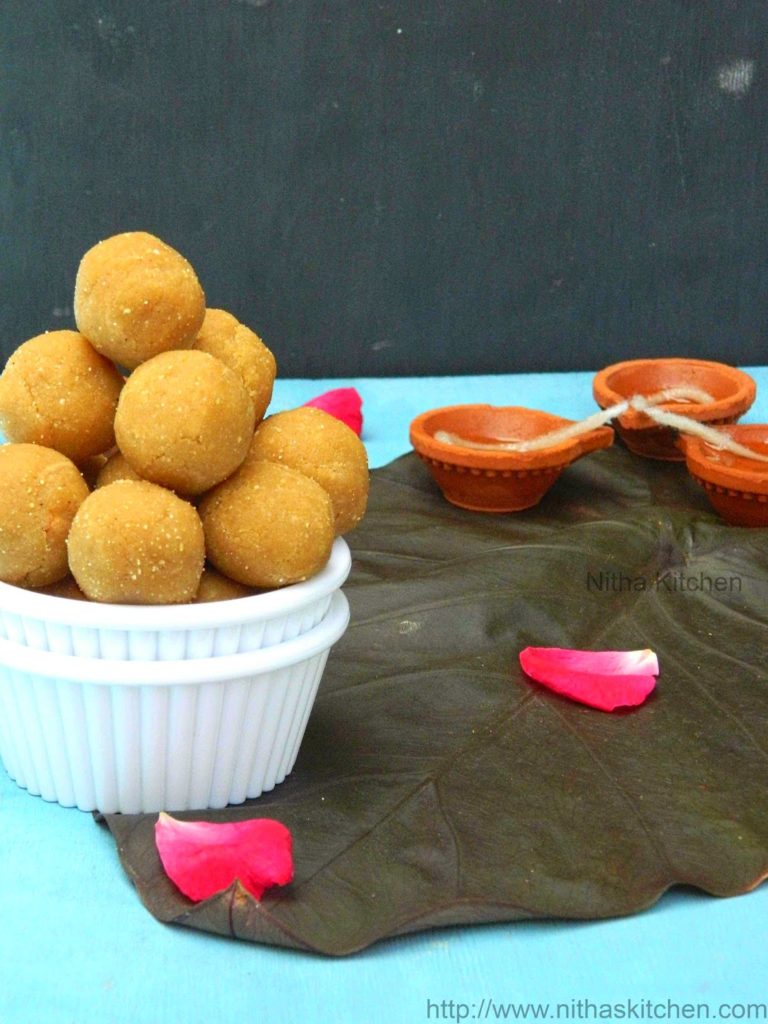 Ingredients
Aval/Poha/Beaten Rice – 2 Cups
Peanut – 1/2 Cup
Jaggery/Raw Cane Sugar – 1 Cup (You can take 2 tbsp more)
Chopped Cashew nuts – 1-2 Tbsp
Cardamom Powder – 1-2tsp
Water – 1/4 Cup
Aval Verkadalai Jaggery Laddu Preparation
In a sauce pan add jaggery and 1/4cup water, keep aside.
Dry roast aval in a wide pan on low-medium flame till it turns crisp (Pic 1).
When you break in between fingers it should break easily or fry till light golden brown that is the right consistency.
Transfer it to the blender/mixie, when cooled completely powder it well.
In the same pan dry roast peanuts/verkadalai.
When cooled completely remove the skin and add it to already powdered poha/aval powder (Pic 2).
Blend all together with cardamom powder (Pic 2).
In a pan add little oil/ghee (i used oil) fry the chopped cashew nuts.
Heat jaggery in medium flame and when it dissolved well in water, filter it.
Now add the filtered jaggery syrup to the cashew nut placed pan(Pic 3) and boil till one string consistency (Pic 4).
When one string consistency is attained then put off the flame.
Now add the powdered poha and peanut mixture to the jaggery syrup (Pic 5), mix well.
Reserve 1-2 tbsp jaggery syrup before adding poha peanut mixture and if needed you can use it later.
Initially the jaggery and poha mixture looks like watery but poha absorbs all moisture and turns to firm dough like texture in another 20 minutes of time.
Now it's the right time to hold ladoos, peanut leaves oil while holding shapes so you get perfect laddus without any crack/break (Pic 6).
One more thing i want to add here you can add fried cashews later while adding poha mixture to jaggery syrup but by this way when nuts cooked with syrup it tastes great.
Using Regular Sugar
Ingredients
Aval/Poha/Beaten Rice – 2 Cups
Peanut – 1/2 Cup
Powdered Sugar – 1-1and1/4 Cup
Chopped Cashew Nuts – 1-2 Tbsp
Cardamom Powder – 1-2tsp
Ghee – 1/4 Cup or More
Skip making jaggery syrup from step 2 to step 8 the process are same.
After roasting cashews add powdered poha mixture, powdered sugar.mix well.
Now add melted ghee in batches.
When you able to hold shapes stop adding ghee and make balls.