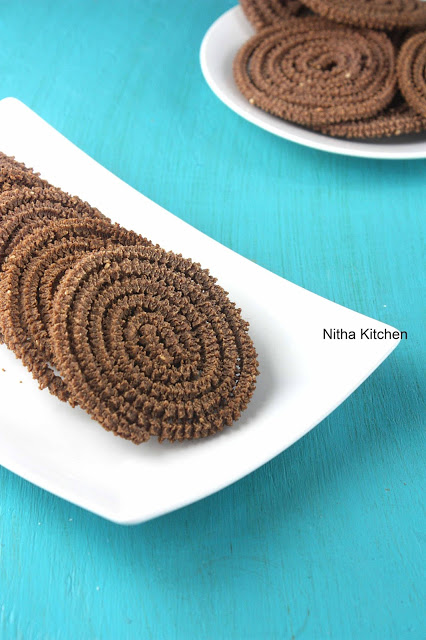 Today I am here with one popular Kongunadu recipe Ragi Murukku Finger Millet Chakli Kelvaragu Mullu Murukku, I got inspired much on this rai murukku when I saw its speedy sale at popular departmental stores in Erode region. My Chithi makes often and after coming here though I made several times, only today I got to post this recipe. I have few such recipes and don't know when I get time to post all those!!!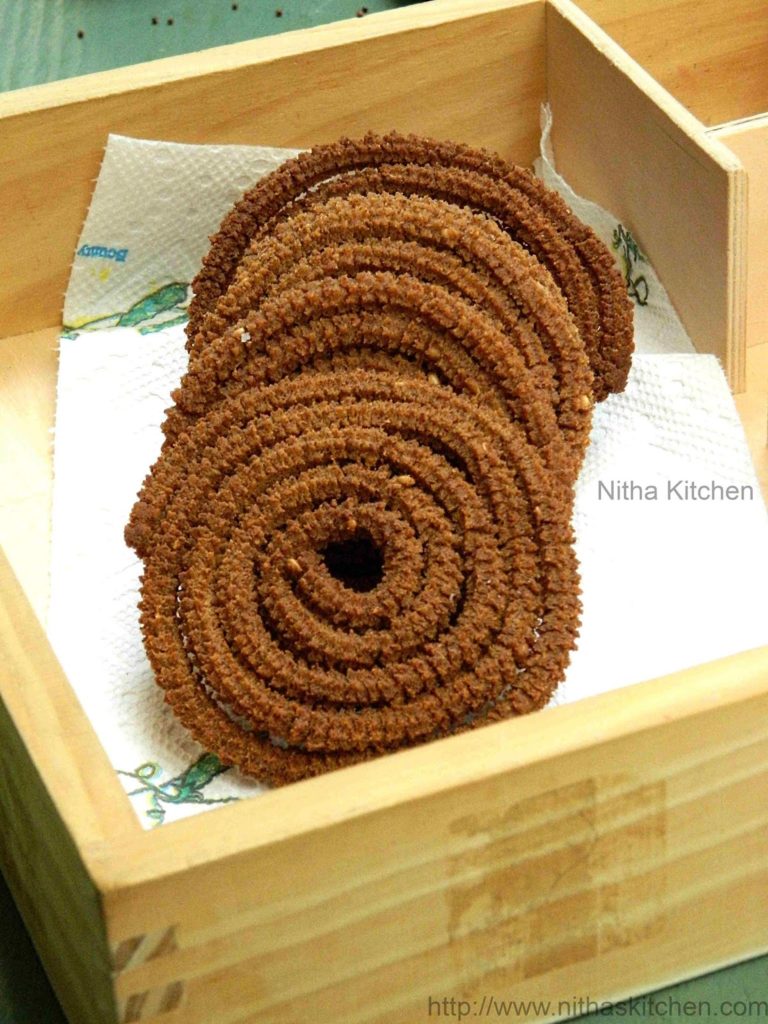 Ingredients for Ragi Murukku Finger Millet Chakli Kelvaragu Mullu Murukku
* Thick Idli Rice Batter (arisi maavu) or Instant Rice Flour- 2 Cups
Ragi Flour – 2 Cups
Butter – 5 Tbsp
Urad Flour – 1/3 Cup (Homemade or storebought)
** Pottukadalai/Dalia Flour or Gram Flour – 1/3 Cup
***Red Chili Powder – 2tsp or More or Whole Red Chilis –  2-4 Numbers
Ajwain/Sesame Seeds – 1 Tbsp
1/2 Onion + 5-6 Cloves of Garlic Paste
Salt and Water – As Needed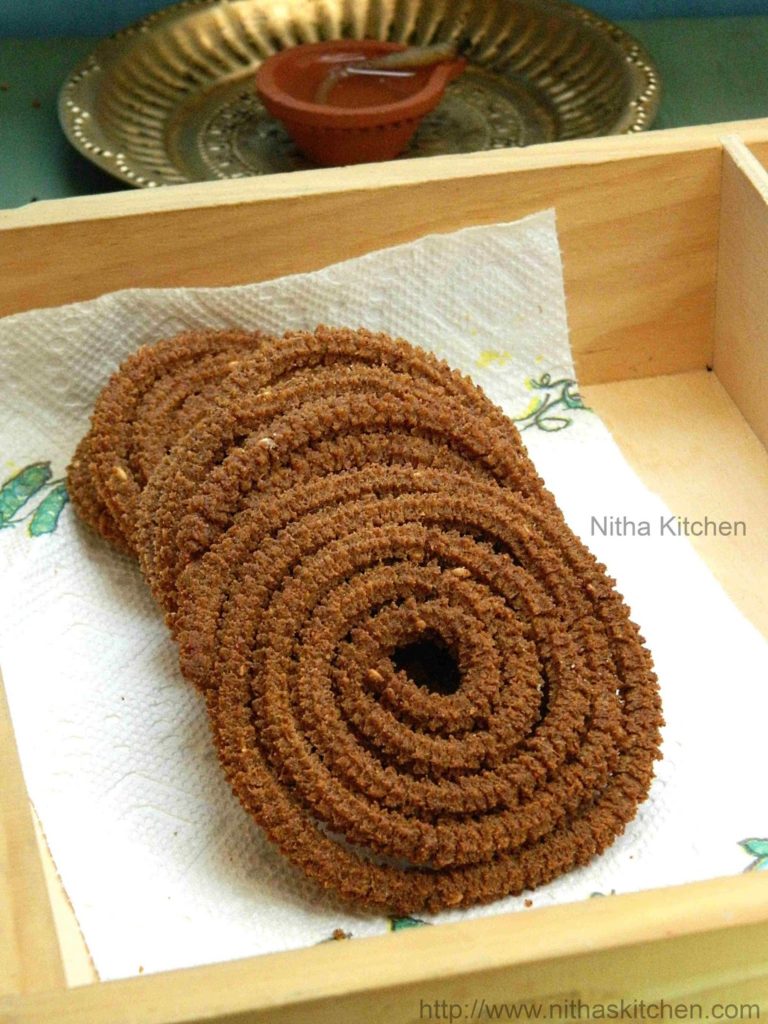 * You can use thick idli batter or store bought rice flour, in both cases the process are same, only water is need in high for instant rice flour. You can check my step by step Thenkuzhal Murukku Recipe for the thick batter consistency picture.
** The Ragi Flour lacks in binding so here the gram flour is used to hold the mullu murukku like shapes. If not going for perfect round shapes you can use pottu kadalai/dalia flour and make random shape murukkus, so choice is yours in picking either gram flour or pottukadalai flour.
*** If using whole red chilis soak few hours and grind with rice batter (if using) or with onion/garlic paste.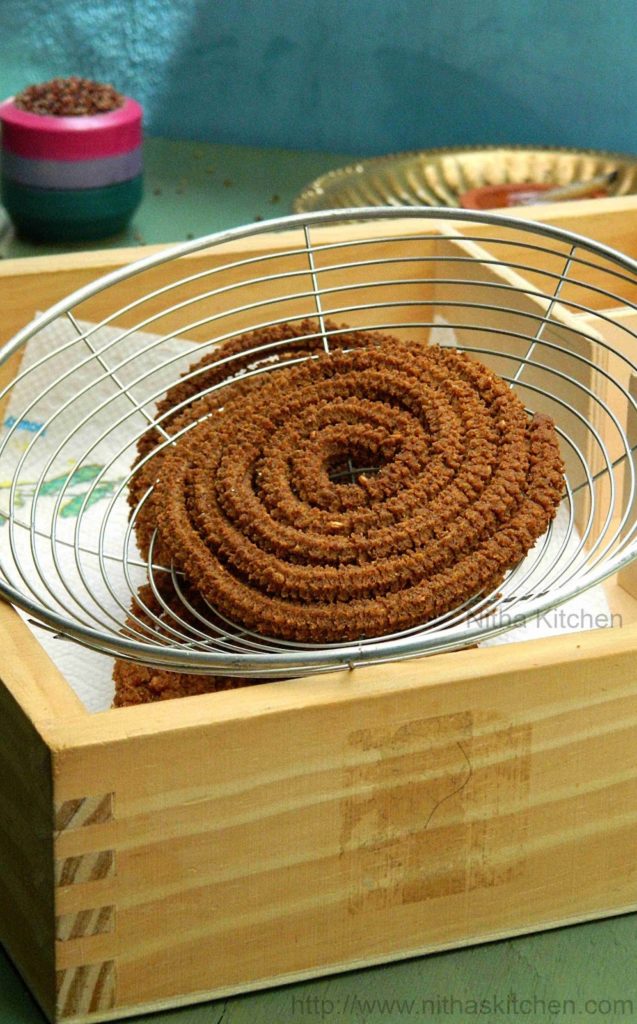 How to make Ragi Murukku Finger Millet Chakli Kelvaragu Mullu Murukku
Mix all the dry ingredients first.
Grind soaked chilis with onion and garlic(Pic 1) and make fine paste.
Add the ground paste, butter to flour mixture(Pic 2) and mix crack free dough as shown in picture 3.
Choose the design you wish (I used star press) then add the dough in to murukku press.
Make the shapes in spatula (Pic 4) and drop it in oil.
Also you can make random shapes by pressing directly in oil, as we do for thenkuzhal murukku.
Once pressed, cook in medium flame otherwise the ragi murukku turns black soon.
So keep an eye and remove it at right time (Pic 5).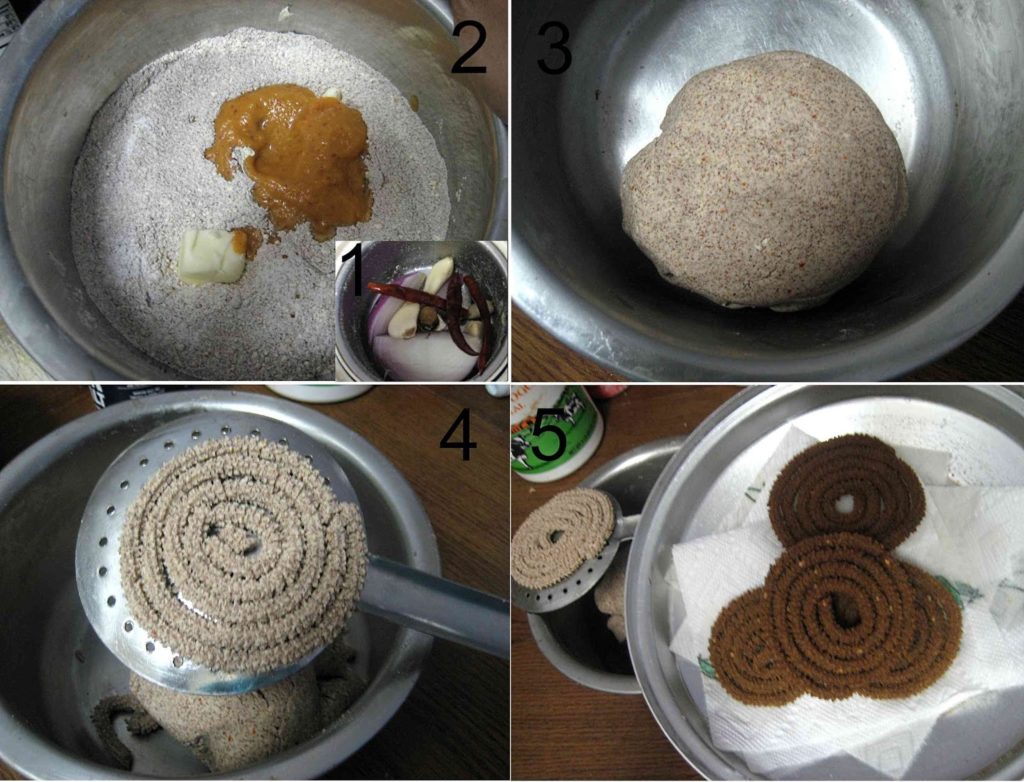 Depends on quality of rice or rice flour they may become hard, if you feel the murukku turned hard while tasting you can add another 1 tbsp of butter.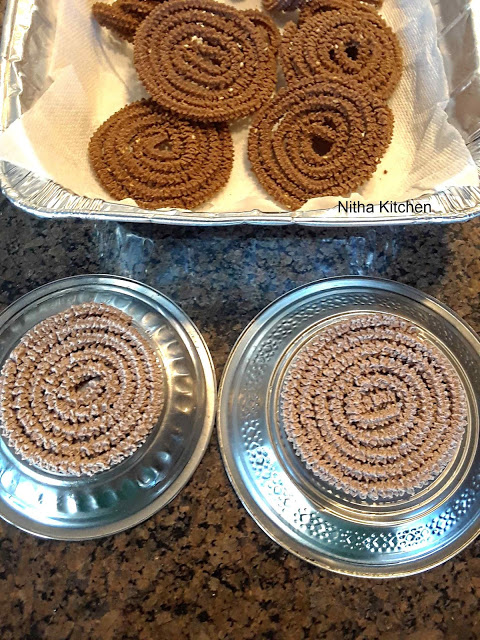 Drain the excess oil using paper towel and store in air tight container.
Ragi Murukku remains fresh for more than 15 days.
Old post updated with more pictures!