Again a traditional ingredient Thinai /Quinoa but this time I used it in the snack form. Thanks to one of my reader who searched Thinai Murukku Quinoa Millet Chakli Recipe in google and ended up in my Pottukadalai murukku, Otherwise I couldn't get this idea. First time I experimented with 1 Cup measurement and the taste was awesome. I assure that you will get the traditional petti kadai murukku taste from this murukku. Second time I
made it in huge quantity shared with few of my neighbors and stored it for H before making our India trip. Thinai/Foxtail Millet and Quinoa are different in texture but process of making murukku / chakli is similar and taste wise i couldn't find much difference between those two…
Ingredients for Thinai Murukku Quinoa Millet Chakli
Rice Flour – 3 Cups
Foxtail Millet/Quinoa Flour – 1 Cup + 2 Tbsp (I used whole grain and powdered it Refer Note 3)
Unsalted Butter – 4-5 Tbsp
Omam/Ajwain – 2tsp
Whole Red Chilis or Red Chili Powder – 5 number or 2tsp
Salt n Water – As Required
Oil – For deep fry
How to make Thinai Murukku Quinoa Millet Chakli
Soak the red chili's for at least 4 hours and grind to fine paste.
You can use instant red chili powder too.
Dry roast the whole thinai/quinoa (Pic 1) till they are lightly golden and start to pop (approx 4-5mins in medium flame).
Powder it well when cooled completely (Pic 2).
Can sieve it but i didn't do so but make sure it powdered well otherwise the murukku turns so hard (Refer note 1 for another reason).
Mix all the ingredients except oil n water (Pic 3).
Sprinkle little by little water and make it soft pliable dough Pic 4 (Refer Note 2).
Add the dough in murukku aachu/press and make shapes in a parchment/aluminum foil/non stick surface Pic 5.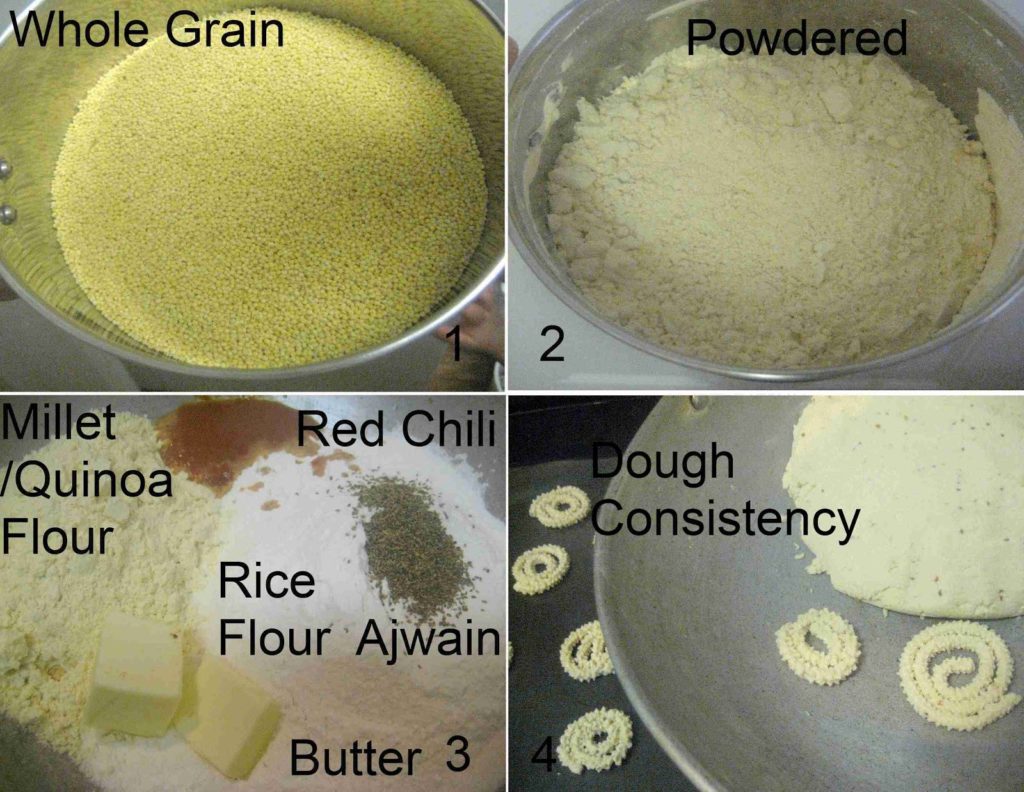 Shift the pressed/shaped murukkus in hot oil using flat ladle or
You can press one at a time in another big ladle and flip it to hot oil or directly in hot oil.
Fry till golden brown or sound suppresses Pic 6.

Drain the excess oil n store in air tight container.
Note:
The other reason for hard murukku is becoz of less butter in the dough, so increase it when u feel hard.
The dough neither break while making shapes nor have too much moisture.
Use white/regular processed/husk removed quinoa.
By mistake if the dough has too much of moisture adjust it with rice flour n millet flour (3:1 proportions)
Before storing in container make sure the murukkus cooled out completely.
Make shapes without gap in between circles.
Old Picture