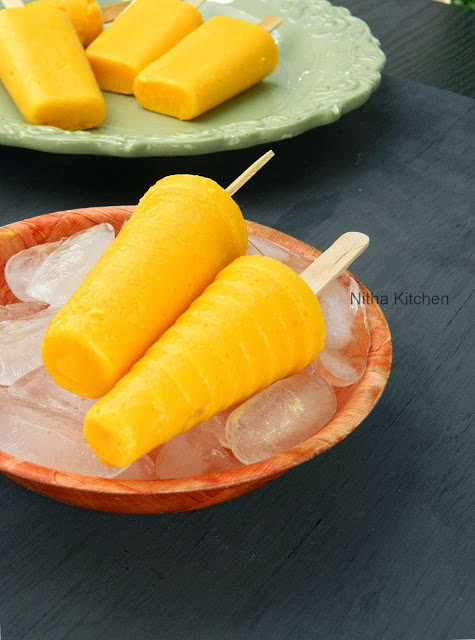 Today is Mother's day and wising all the moms out here a very happy Mother's day :-). I would like to dedicate something thru blog to my mom. Whenever she find street vendors selling popsicle she is the first to buy it, we call it as 'kuchi ice' in our slang :-). She keeps on telling me in phone that she can't tolerate the summer in India and asking me for some chill recipes like ice pops that she can make it easily at home. I immediately suggested this recipe where mango and yogurt are the two main ingredients in this recipe. Also on the same day I tried it at home for the first time. Though I couldn't find time to ask her whether she tried it or not, but trust me, I made it thrice after that and compared to other mango ice cream and kulfi recipes my kids prefer this Mango Yogurt Popsicle much. Such an easy, healthy and delicious recipe I am posting soon after clicking it 🙂
Ingredients
Mango – 2-3 Numbers (small size or 3/4th Cup of puree)
Thick Yogurt – 1 Cup
Lemon Juice – 1/2tsp (Optional)
Cardamom Powder – 1-2tsp
Sugar – 1/4 Cup or As Needed
Yields – 6 Servings as shown in pictures
Method
Extract the pulp from 2-3 mangoes.
Blend it along with sugar in the food processor/mixie to fine puree.
Also add yogurt to it blend with lemon juice and cardamom powder for just a minute or two.
That's it pour the mango yogurt mixture in desired Popsicle moulds and freeze it.
After freezing for 1/2 hour insert the stick at the center of each mould.
Freeze it for another 2-3 hours for the popsicles to set.
Later wash the back of Popsicle in running warm water for a minute to de-mould easily.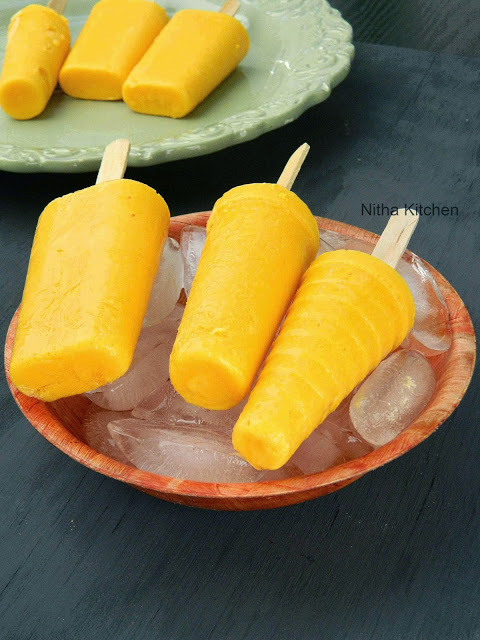 Note
You can add lemon or orange juice when your yogurt is not much sour.