Hope you remember the homemade hamburger buns recipe from scratch I posted last month. Here is the recipe for black bean patties that stacked in the burger buns…The recipe has one optional egg you can skip it if you don't need. Also I add Parmesan cheese for this patties that really enhances the taste but if you can skip that as well. You can make this patties in stove top as explained here or use grill or oven to bake as you prefer…
Yields – 6 Patties of large size as shown in Pictures…
Ingredients
Dry Black Beans – 1 Cup (you will get 2n1/2 cups approx after soaking and cook
OR
Store Bought Can Beans – 1-16-ounce Can black beans = 1-1/2 cups drained so measure it accordingly
Red Bell Pepper – 1 Small chopped finely
Onion – 1 Medium, chopped finely
Finely Chopped Garlic  – 3 Cloves or Onion Powder -1tsp
Egg – 1 Number (Optional)
Red Chili Powder or Paprika –  2tsp
Bread Crumbs – 3/4 Cup
Dry Parmesan Cheese Powder – 1/4 Cup (Optional)
Hamburger Buns – 6 Buns
You can add Indian Garam Masala Powder – 1tsp (optional) and Cumin Powder – 1/4tsp (optional)
How to Cook Dried Black Beans
Soak black beans for 4 hours at least (Stepwise Pic 1 below).
Add necessary water and salt to beans and cook in pressure cooker for 2 hisses.
Allow to cool, once pressure goes off (Pic 2) drain the water from beans and use accordingly.
You can cook in stove top as well, in medium flame cook for 8 minutes or till it's done.
How to make Black bean Patties
Grind the cooked and water drained black beans in food processor, keep aside.
In a food processor or using knife finely chop bell pepper, onion, garlic and add it to the wide mixing bowl (Pic 3).
Also add Parmesan cheese powder, red chili powder(Pic 3) .
Then add bread crumbs, egg (if using) (Pic 4) and finally ground or mashed black beans (Pic 5).
Mix everything well (Pic 6) and If needed you can sprinkle some water.
Also adjust salt and you can add more red chili powder if you wish.
Once done and everything turns as shown in stepwsie Pic 7 (below), now it's time to shape the patties.
How to Shape the Patties
Take a big lemon size ball (Pic 7) and gently press it between your palms (Pic 8).
Also you can flat it using flat bottom pan as shown in pic 9.
Shape the edges to make it round using your fingers (Pic 10)
Hold the patty one side and roll it like shown in picture so that the edges will score the perfect shape (Pic 11).
Keep the rolled patties in a plate (Pic 12) or parchment paper.
You can grill, bake or shallow fry the patties.
If grilling, preheat an outdoor grill for high heat and lightly oil a sheet of aluminum foil and grill till done.
If baking, preheat oven to 375°F/190°C and lightly oil/spray a baking sheet and bake till done.
To fry use cast iron pan or dosa pan, drizzle some oil and in medium flame cook the patties(Pic 13) by flipping both sides.
Whenever necessary drizzle more oil.
Cook the patties till it turns golden brown as shown in Pic 14.
Serve the patties with burger buns, sliced tomato, lettuce and optional cheese slices or spread some butter.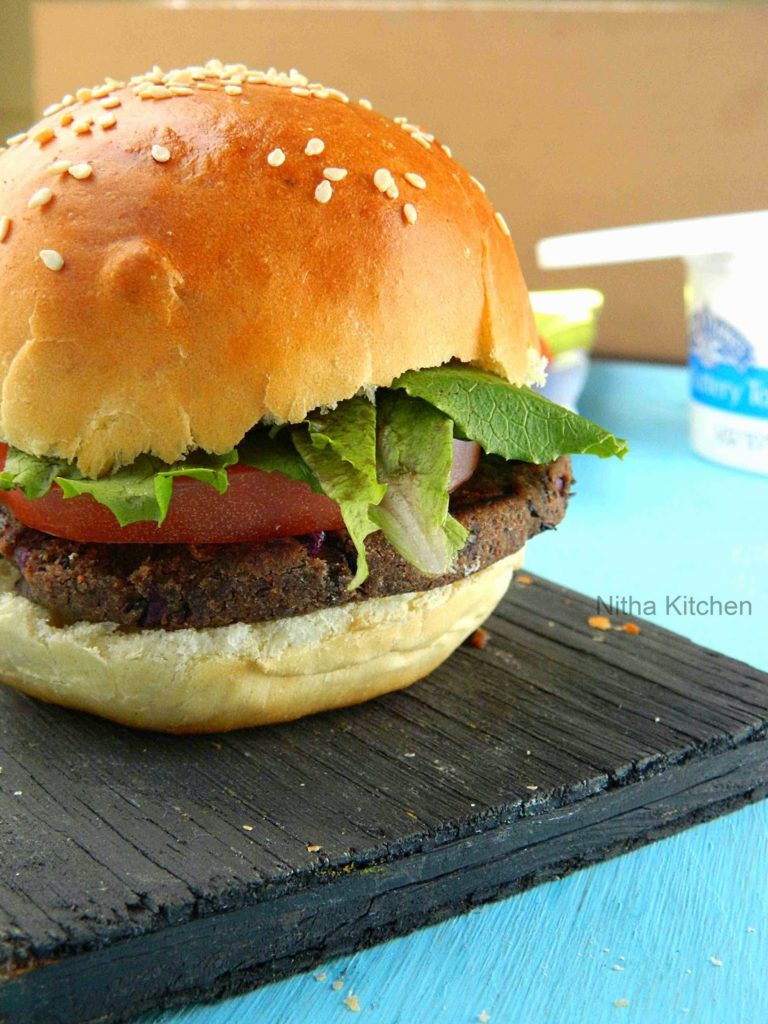 How to freeze the patties
Shape the patties and stack it using butter or parchment paper then seal it in Ziploc, Whenever you need thaw by keeping it in room temp for at least 1 hour and cook as you prefer!!!