Here comes the healthy and colorful Black Bean Salsa or Salad Recipe. You can take this veggies mixed salsa with Tortilla or any chips or as a tummy fill salad. You can use it on baked potatoes, or wrap it with Tacos and Burritos; also you can mix it up with lettuce/salad leaves and make it even more healthier.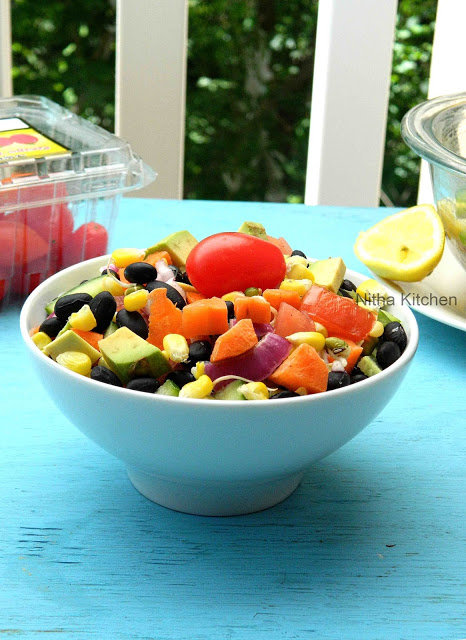 Ingredients
Homemade 1.5 Cup of Black Beans or Store Bought Black Beans, drained and rinsed – 1 Can (15 oz)
Any Fresh Sprouts – 2 Tbsp or More
Fresh Corn, cooked – 1/4 Cup Avocado – 1, peeled, pitted, and diced
Jalapeno Pepper – 1, seeded and diced (Optional)
Chopped Cilantro – 2 Tbsp
Chopped Carrot – 2 Tbsp
Chopped Tomato – 1 Tbsp and More
Cherry Tomatoes – As Needed
Chopped Cucumber – 2 Tbsp
Red Pepper/Capsicum – 1/4 Large, seeded and diced
Red Onion – 1/4 , diced
Ground Pepper – 1/4tsp
Olive Oil – 1 Tbsp
Juice of 1 lime/lemon
Salt – 1tsp
Optional dressing
Method
Clean and make the veggie ingredients ready.
Slice the kernels off from the corn cobs or you can use frozen corn, microwave it for few seconds and it is ready to use.
Dice the red pepper, onion, and chop up carrot and cilantro.
Chop cucumber, tomato, Peel (Pic 1), remove the seed (pit) and chop the avocado as well (Pic 2).
Combine all ingredients and stir gently so that pepper and lime juice coats well (Pic 3).
Cover and refrigerate for at least 30 minutes or overnight.
Bring to room temperature toss it and if needed add more pepper,salt and lime juice for taste.
Serve at room temperature as a salsa with chips, a side dish on baked potatoes, with grilled chicken, on tacos and burritos.
We often take it as it is for dinner.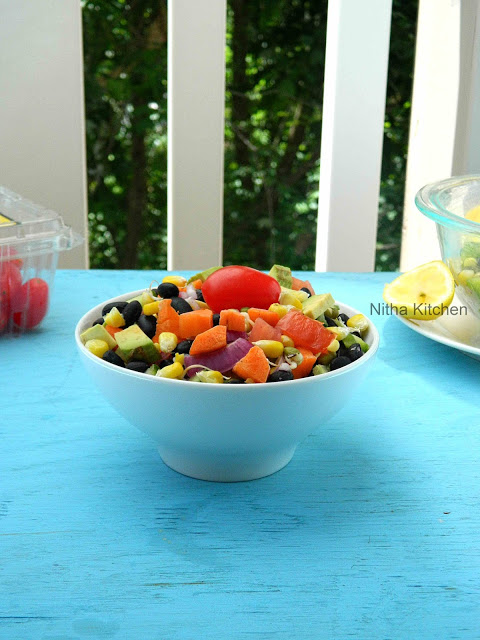 Note
If you are using dry black beans then refer this link to learn how to soak and cook black beans.