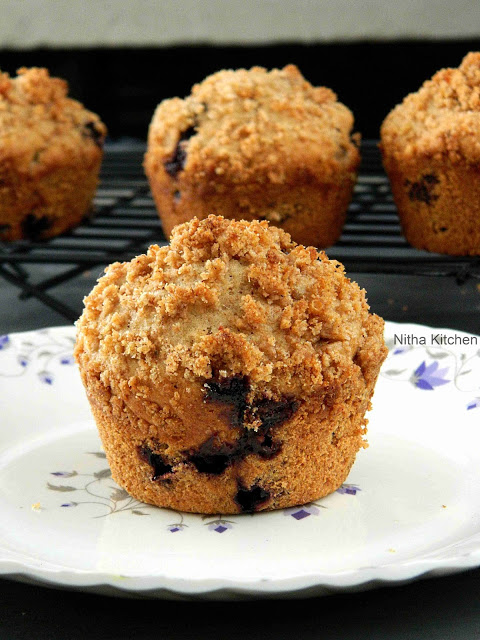 Today's recipe is healthy eggless blueberry yogurt muffins with delicious butter and cinnamon flavored biscuit ie streusel crumb layer on top. I have made this recipe several times before sharing it with you all. These muffins are healthy to its best since it has loads of blueberry fruit, yogurt, cinnamon and its a very good snack for school going kids. Now coming
to sugar, I have given 1 cup (medium level) but you can increase or decrease, it is up to your desire. But believe me i just use 1/2 Cup + 2 tbsp of sugar on the whole…
Eggless Blueberry Yogurt Muffins Ingredients
AP Flour or Maida – 2 and 1/4 Cups (you can use 50% Whole wheat flour+ 50% APF, the muffins in the first picture are made like that)
Blue Berries – 1.5 Cups
Baking Powder – 1and3/4tsp
Baking Soda – 1/2tsp
Salt – 1/2tsp
Dark Brown Sugar / Jaggery – 1/2 Cup
Regular/Granulated Sugar – 1/2 Cup
Melted Butter – 4 Tbsp of butter, melted
Cooking Oil – 1/4 Cup
Thick Yogurt – 1 Cup
Butter Milk – 1/4 Cup (Optional, Refer Note 1)
Cinnamon Powder – 1 tsp (to make homemade powder dry fry 4-5 cinnamon, grind then sieve it to get fine powder)
Vanilla Extract – 2 tsp
For Streusel Crumb Topping
Butter – 2 Tbsp
APF / Wheat Flour – 1/4 Cup
Brown Sugar – 1/4 Cup
Cinnamon Powder – 1/2 tsp
Yields :- 12 – 13 Muffins
Eggless Blueberry Yogurt Muffins Preparation
Coat/grease the muffin pan with oil and keep aside.
Wash the blueberries (Pic 3), drain the water and coat them with 2 tbsp of all purpose flour (Pic 5), keep aside.
Prepare the crumb coating and refrigerate till use (Pic 1).
For that add flour, sugar, cinnamon powder then gently rub the chill butter with fork, keep it in the refrigerator till you use in the recipe.
For the muffin, add the dry ingredients like flour, cinnamon powder, baking powder, soda and salt in a bowl (Pic 1), keep aside.
Mix the wet ingredients like melted butter, oil, and if the dark brown sugar has crystals then you can add it to the warm butter so it melts in the heat (i do so, Pic 4).
Whisk after each addition, now add vanilla extract and granulated sugar.
In 3 additions add flour and yogurt alternately.
If needed add buttermilk but consistency should be thick (Pic 6)and not runny like cupcake batter.
Finally add the flour coated blueberries and fold it in the batter.
Scoop the batter and drop in muffin pan (Pic 7).
Sprinkle the crumb mixture that kept in refrigerator right now on each muffin (Pic 8).
Place the pan in preheated oven and bake at 375 F for 12-15 minutes.
You will get nice aroma of the cinnamon and buttery crumb topping so that's the key when it is done.
Also you can insert toothpick and check it it comes out clean then remove it from the oven (Pic 9).
Cool them in the wire rack for 15 minutes at least then gently remove each muffin (Pic 10).
Notes
The homemade yogurt Made with reduced fat milk has water in it so in that case buttermilk is optional, if going for Greek yogurt then add buttermilk for right consistency.
You can make plain muffins by skipping the top crumb layer.
Also I have an another very healthy butter free (low fat) , egg free version of blueberry muffins do check it here.
Healthy Muffin Recipe Collections