Blueberries on season, which has high source of manganese and other vitamins. They play vital role in brain development. Those who hesitate to have raw fruit can try this eggless and butterless blueberry muffins baked with lot of berries. Such a simple and healthy recipe with few ingredients. Serve it for breakfast with cup of milk.
Eggless Butter Free Blueberry Muffins Preparation
Mix the dry ingredients and keep aside as usual.
Clean the berries and mix 1-2 Tbsp of APF mixture with it
In a large bowl beat yogurt,butter(if using) and sugar till sugar dissolves well.
Add the cooking oil and vanilla extract to it.
Add the flour mixture in batches, if necessary add tsp of milk at a time.
Finally add the flour coated berries and gently fold it with the muffin batter.
Drop the batter in muffin pans lined with paper liner or foil baking cups/silicone cups (In detail find cooking tidbits page).
Bake in 375° F for 12 to 15mins or toothpick inserted at center comes out clean.
Can get 8-10 Muffins.
Eggless Butter Free Blueberry Muffins Ingredients
Blueberries – 1/2 Cup

Thick Yogurt – 1 Cup (If your yogurt is bit watery then take 3/4th cup + 2tbsp butter)
Wheat OR All Purpose Flour – 1 and 1/2 Cup
Sugar – 3/4 Cup (2 Tbsp dark Brown sugar for remaining add Regular Sugar)
Cooking Oil – 2 Tbsp
Baking Powder – 1tsp (I use double acting powder)
Baking Soda – 1/2tsp (I use double acting soda)
Vanilla Extract – 1/2tsp Salt – A Pinch
Optional Milk For Muffin Batter Consistency
Muffins texture varies based on yogurt texture so better use 2 tbsp of butter or 1/4 cup milk powder or condensed milk if your homemade yogurt is watery…
Notes
Try to add the blueberries first while dropping the batter in the cups and finally top it with plain batter.
Also the flour coated blueberries prevents oozing water while baking.
Eggetarian can add 1 egg and reduce Yogurt.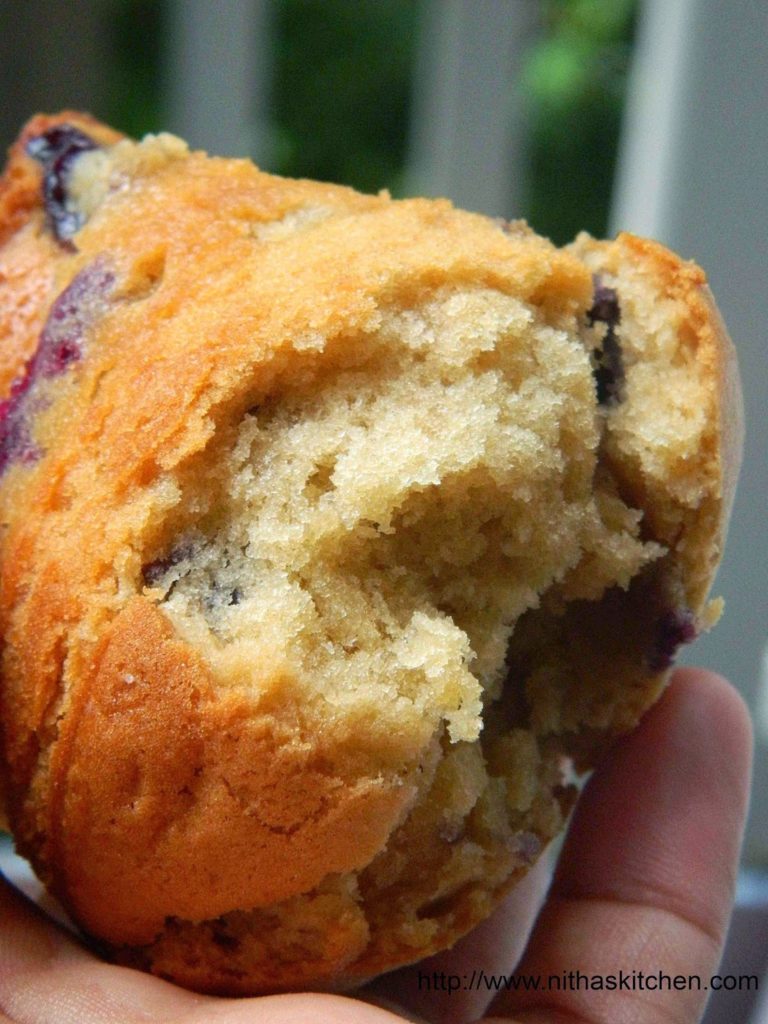 Healthy Muffin Recipe Collections