Walnut Blueberry Muffins: When I get fresh blueberries the first thing comes to my mind is to bake muffins so that my kids have it for morning snack at school. Sometimes I use baking paper so that they feel comfortable while eating. I have few blueberry based bakes especially muffins in my blog will list it out below. Last time when I posted similar muffin recipe in Facebook group few people asked whether they can add dried blueberries..If you get only dried blueberries, yes you can use very well in this recipe instead of fresh ones, in that case please reduce sugar level. For the muffin topping you can use any Streusel and here I have used two different topping, one is sprinkling some leftover
cake crumbs and the other is as usual flour butter mixture for muffin topping. I have provided both here do check it out. The recipe says walnut muffins but you cannot see traces of muffins because usually I powder the nuts and add to the muffin batter.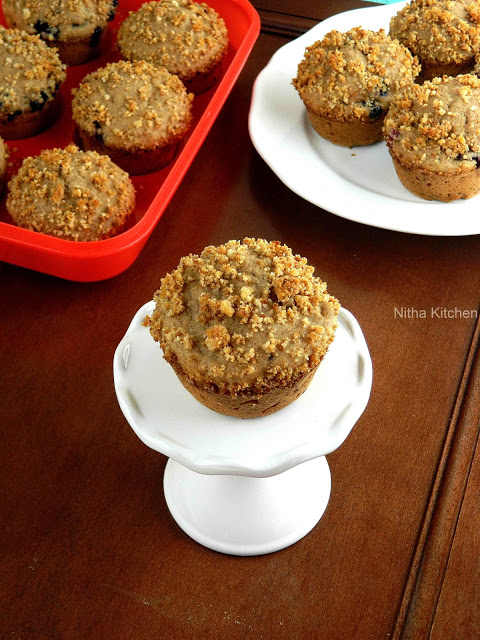 My little one is so picky, he doesn't like any nut bites in his food, so always I prefer to powder and add. Now who knows these muffins are superb healthy with the goodness of wheat flour, apples, blueberries, walnuts and coconut sugar until you reveal 🙂
I have given two options for the muffin topping, do pick your choice.
Streusel or Crumb Topping I
I have used leftover cake crumb mixed with butter and flour, the proportions are given below.
Leftover Vanilla Cake crumb – 1/4 Cup
Wheat Flour – 1/4 Cup
Cinnamom Powder – 1tsp
Melted Butter – 3 Tbsp
Brown Sugar – 2 Tbsp
Streusel or Crumb Topping II
Wheat Flour – 1/2 Cup
Brown Sugar – 1/4 Cup
Rolled Oats – 2 Tbsp
Chopped Walnuts – 2 – 3 Tbsp
Melted Butter – 4 Tbsp
The below picture is with topping II
Yields 12-15 Muffins
Walnut Blueberry Muffins Ingredients
Whole Wheat Flour – 1 and 3/4 Cups (I use King Arthur Flour)
APF/Maida – 1 and 3/4 Cups (Replace with Whole wheat flour)
Dark Brown Sugar – 1.25 Cup (I used coconut sugar)
Powdered Walnuts – 1/2 Cup (You can use Almond or any other nuts here)
Baking Powder – 2tsp
Baking Soda – 1tsp
Salt – 1/2tsp
Apple Sauce or Homemade Apple Puree – 1/2 Cup (mine is homemade)
Eggs – 2 Large
Cinnamon Powder – 1tsp
Melted Butter – 1 and 1/2 stick (3/4th cup, 12 Tbsp but you can reduce 2 Tbsp)
Thick Buttermilk – 1 and 1/2 Cup (you may need few more tbsps for batter consistency)
Fresh Blueberries – 2 and 1/4 Cups
Vanilla Extract – 2tsp
I have few eggless muffin recipes with variations, click the below links
Nut Free Eggless Blueberry Muffins
Eggless Blueberry Oats Muffins
Egg Free Butter Free Blueberry Muffins
Walnut Blueberry Muffins Preparation
Just mix the ingredients for crumb topping, it has to look crumb/coarse in texture and refrigerate till use.
Coat/grease the muffin pan with oil or use paper liner and keep aside.
Wash the blueberries, drain the water and coat them with 2 tbsp of All Purpose flour, keep aside Pic 1.
In a wide mixing bowl add flour, powdered walnut, baking powder, baking soda, cinnamon powder and salt mix very well and keep aside.
To that mixture melt the butter and add it so the flour mixture looks crumbly as shown in picture 1.
Beat the buttermilk (Pic 1), mine is homemade yogurt make sure it is not too thin/watery.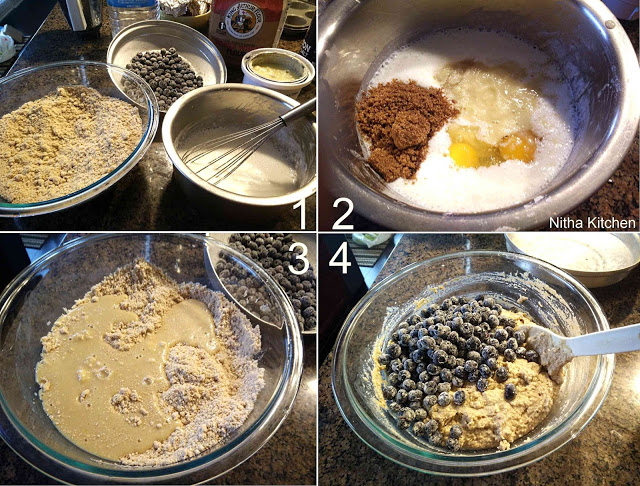 Mix the wet ingredients like eggs, vanilla extract, apple sauce, dark brown sugar to the buttermilk (Pic 2).
In 3 additions add yogurt mixture to the crumbly flour mixture, mix it well (Pic 3).
If needed add buttermilk but muffin consistency should be thick and not runny like cupcake batter.
Finally add the flour coated blueberries and fold it in the batter (Pic 4).
Scoop the batter and drop in each muffin hole.
Sprinkle the crumb mixture that kept in refrigerator right now on each muffin.
Place the muffin pan in preheated oven and bake at 375 F for 14-16 minutes, for pictures refer HERE.
You will get nice aroma of the cinnamon and buttery crumb topping so that's the key when it is done.
Also you can insert toothpick and check it it comes out clean then remove it from the oven.
Cool them in the wire rack for 15 minutes at least then gently remove each muffin.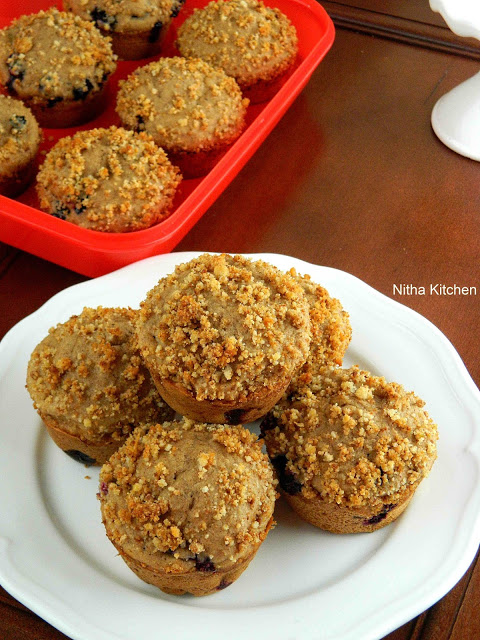 Healthy Muffin Recipe Collections