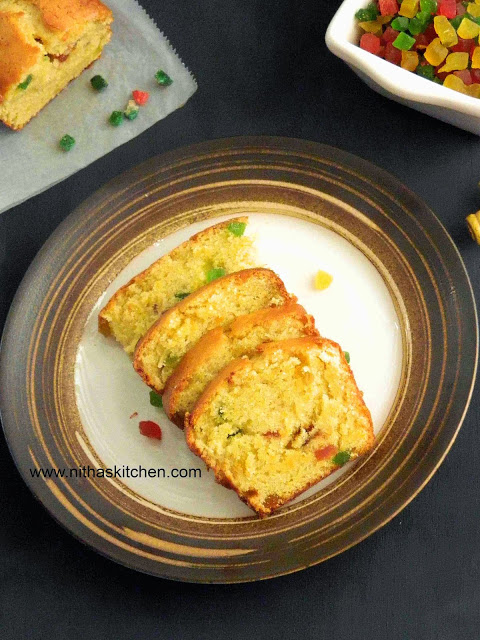 Here comes Eggless Orange Cake, a healthy butter free and egg free tea cake / snack with fresh orange juice and dried fruit cake mix ie Tutti Frutti…Here I used Fat Free Milk Powder which makes the cake very soft and also it enhances the taste. It's optional but I have given several alternate ingredient for it otherwise you can skip…Anyways prepare the right consistency batter if the batter is runny then the loaf cake takes lot of time to cook and cake texture also differs.
Yields 2 Mini Loaf Or 1 Regular Loaf Cake
Ingredients
Maida / All Purpose Flour –  1 n 1/2 Cup
Fresh Orange Juice – 1/2 Cup + 1 Tbsp
Regular Sugar – 3/4th – 1 Cup
Dark Brown Sugar – 1 n 1/2 Tbsp (Optional)
Oil – 1/2 Cup
Tutti Frutti – 1/3-1/2 Cup (Replace with Fruit Cake Mix)
Orange Peel/Zest – 2 Tbsp (Optional)
Lemon Juice / Orange Juice – 1 Tbsp
Baking Powder – 1n1/2tsp
Baking Soda – 1/2tsp
Vanilla Essence – 1tsp
Salt – 1/2tsp
*Fat Free Milk Powder – 5 Tbsp (You can replace with Almond Meal/Powder for Vegan Option Or 1/4 Cup Yogurt/Condensed milk (in Yogurt case skip lemon juice) Or Adjust batter consistency with either Milk or Oil or Orange Juice.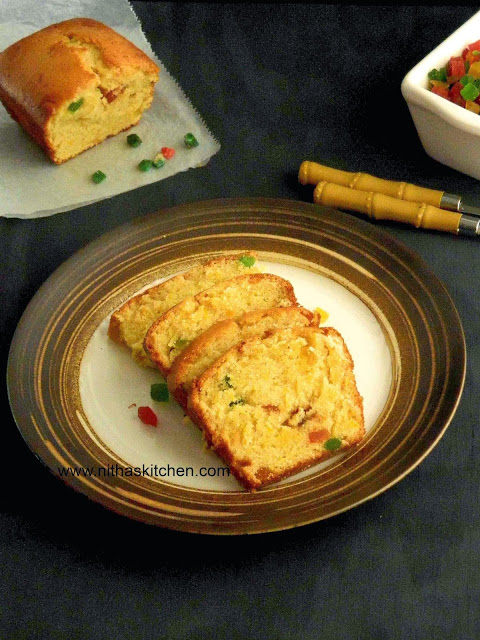 Method
Mix the dry ingredients like flour, baking powder, soda and salt in a separate bowl.
In a wide mixing bowl add sugar (both), Oil and milk powder/Yogurt (if using), (Pic 1)mix it well…
Milk powder needs to dissolve well before proceeding further.
Now add flour in batches, alter with Orange Juice (Pic 2).
Add Lemon Juice, Orange Zest and Tutti Frutti, fold in with batter (Pic 3).
Adjust batter consistency as said before with Oil/Milk/Orange Juice.
Grease the loaf pan with oil and flour and pour the batter in 2 mini loafs (Pic 4) or 1 regular pan.
Bake in preheated oven at 350° F for 25-32 minutes or cake tester inserted at center comes out clean.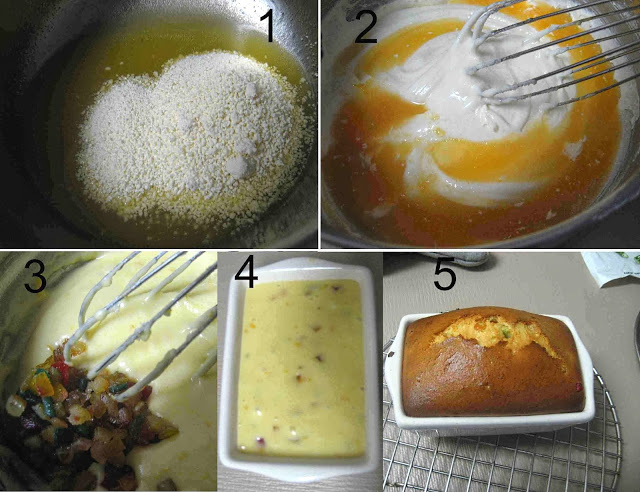 Allow to cool on wire rack (Pic 5) and insert a knife or bread slicer to loosen the cake.
When cooled completely slice it.
Note:
If the tutti frutti is large in size you can chop it to small pieces…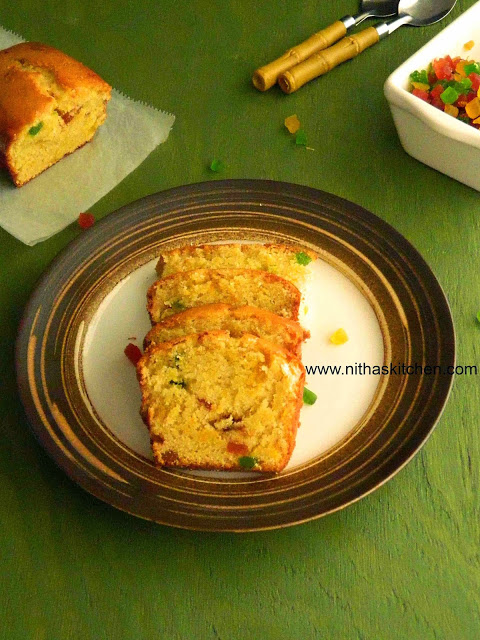 Linsy from real home got inspired and tried this recipe, here is the recipe
link
…