Here comes an easy to make Shortbread cookies / bites recipe that can make around 80 cookies as shown here in 30 minutes of time. The Shortbread bites are an easy peasy snack for school going kids and good holiday recipe as well to treat the guests. These cookies are not even a mess to roll and cut shapes as desired, just score the whole dough in to small bites over the baking tray that's it. Also the ingredients are simple and no need to add any leavening agent, just butter and flour makes wonder with a mild sugar at the time of baking. Will see the step by step tutorial to make them…
Ingredients for Shortbread Bites
APF/Maida – 2 and 1/2 Cups I use Unbleached Flour)
Unsalted Butter – 2 Sticks (1 Cup)
Sugar – 1/2 Cup + 2 Tbsp
Multi Colored Nonpareils – 2 Tbsp
Vanilla or Almond Extract – 1tsp
Salt – 1/4tsp
Recipe Reference :- Land O Lakes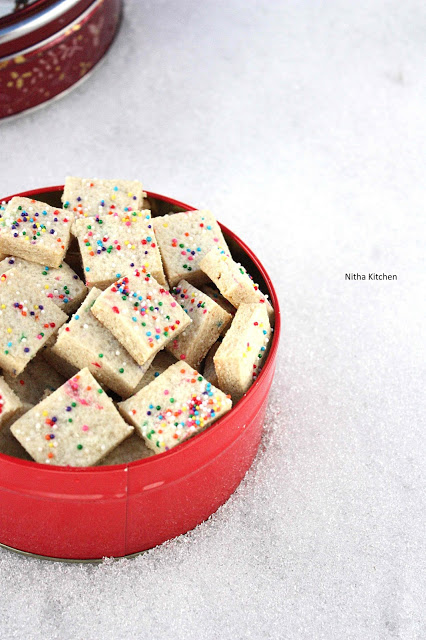 Shortbread Bites Preparation
Mix salt to flour and shift it before use.
Cut the cold butter in to small pieces.
Keep it at room temperature in a mixing bowl not more than 8 minutes
(Pic 1).
Using hand blender or pastry blender, roughly break the cold butter.
At one stage it reduces in size now add sugar and blend for few more minutes  (Pic 2).
The butter and sugar looks grainy and can see bites of butter  (Pic 2).
Now gradually add flour mixture and continue blending.
You can see the crumbly textured dough after 3-5 minutes of blend (Pic 3).
Now if needed add tbsp of milk and stop using blender.
Add 1 Tbsp of non pareils to it and using your hands roll the dough together (Pic 4).
Now in a 13*9 inch parchment/wax paper greased pan flatten the cookie dough evenly (Pic 5).
Sprinkle the remaining non pareils and gently press it on the top (Pic 5).
Refrigerate the dough along with pan for 30 minutes.
Now score the dough in to equal size small bites (Pic 6, say 1 inch approx) and spread them in two cookie baking tray (Pic 7).
Again freeze for a while say 15 minutes and bake at pre heated oven at 325 F for 12- 14 minutes of time (Pic 8).
I used parchment papers even for non-stick cookie sheets to prevent too much of burning the bottom of cookies (Pic 8).
They puff up well at the time of baking so give enough room for them to raise (Pic 8).
Allow them to cool and store in air tight container for future use.