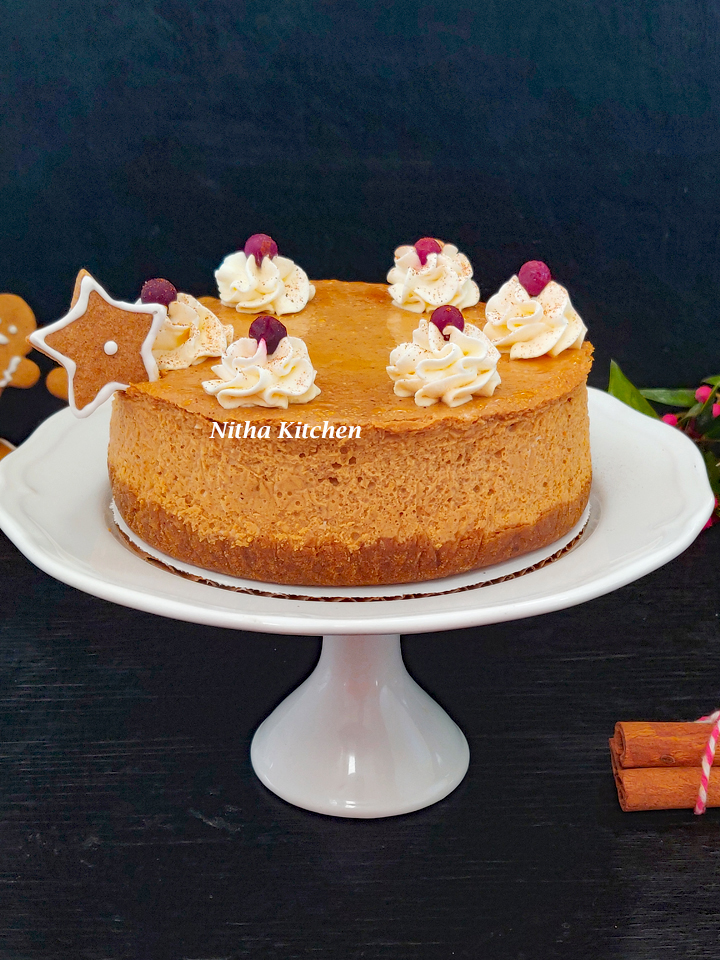 Last year , the very first thing I did after buying Instant Pot was, on the way home I bought some cream cheese blocks to make this delicious Gingerbread Cheesecake. It was my dream to make cheesecake in Instant Pot and it came true
during Thanksgiving. Also I made it again for Christmas as well. Do refer our 2020 Christmas spread in the below picture. You can save time when you make cheesecake in Instant pot. Also I absolutely love the texture of the IP cheesecake. This cheesecake is baked in oven and Instant pot, explained both but made both using regular cake pan/no springform technique so edges of cheesecake is not so neat. I do have springform pan will share cheesecake made in those special pan links later.
Highlights of Gingerbread Cheesecake Recipe

Egg Free Cheesecake Batter From Scratch
Homemade Gingerbread Cookie Crust
Fresh Spice Mix made at home
Homemade Caramelized Sugar Syrup
Baked in Regular Cake Pan
Oven baked Cheesecake &
Instant Pot Cheesecake
I have few mini Cheesecakes recipes made in cupcake pan. You can try mini version of this recipe and do check the below collection to get an idea.
Cake pan/Springform Pan related Cheesecakes
Jump to
FAQ
Is it necessary to bake the cookie crumbs/Cheesecake Base?
Yes baking the crust is necessary which prevents soggy crumb/base in the cheesecake. Just bake for 325 F /160 C for 8 minutes for this recipe.
Can we bake cheesecake without eggs?
Yes it is possible. This eggless gingerbread cheesecake uses cornstarch to bind the cheese and so no need of eggs.
Why wrapping the pan is necessary?
Do wrap the sides and bottom of the pan with foil to prevent cheesecake getting too much heat and layer of foil prevents burning the cheesecake. Also this wrapping prevents boiling water getting inside the cheesecake if you use spring form pan. I have used spring form pan in Gulab Jamun Cheesecake Recipe you can refer for how to bake the cheesecake with special pan.
Can we bake cheesecake without springform pan?
Yes of course it's 💯% possible. One main thing to remember when you use regular cake pan with aluminum foil is use two layers of foil to hold and lift the heavy weight cheesecake. Also hang out extra foil on the sides of the pan to lift the cheesecake once its done.
Why steam is necessary for baking cheesecake?
Water bath/Steamer is compulsorily needed otherwise direct heat burns the cheesecake, also bake till very light brown spots appear on top. It's better to bake a little more and not to take it out under baked. The primary goal of the cheesecake is to bake slowly, with this method it gets enough time for the center to cook well and prevents burning the sides and top very quickly.
Does Cheesecake doubles in volume while baking?
Not at all. I worried and filled 3/4 of the pan while making Gulab Jamun Cheesecake, but it slightly increases in height, fluffs up a bit but won't double in size. Also tap the cheesecake mixture several times to release air pockets formed while beating the batter which gives perfect cheesecake and also it prevents cake getting rise. Little rise up and flat is normal in cheesecake.
No Springform Pan Technique
Make indent of the cake pan over aluminum foil like shown in Picture 1.
This step is to easily place the foil (Pic 2) inside the pan with less wringles.
Now place the foil inside the cake pan, hanging some on sides for future lifting the cheesecake.
Also make two layers of foil (pic 4), try to neat the foil (Pic 5) as much you can to get neat cheesecake.
Make a layer of foil outside the cake pan to prevent over heating of cheesecake.
This outer layer ie foil wrapping is important when you use springform pan to prevent water getting inside the pan.
You can spray non stick coating on inner foil or grease with melted butter/oil to prevent cheesecake sticking.
Keep the pan ready.
Know About Ingredients
Sugar/Caramelized Syrup
I use raw cane sugar and brown sugar (jaggery)/ unrefined sugar for most of the recipes and also note that the color of the cheesecake varies with the type of sugar you use. also I used homemade caramelized sugar syrup using cane sugar for this recipe. The brown sugar quantity I mentioned in the recipe has HIGH LEVEL of sweetness so adjust accordingly.
Yogurt/Sour Cream
I used homemade thick unflavored yogurt/curd to this recipe. For that I boiled 1.5 cups milk and after its first foam simmered it for another 10 minutes. This gives the perfect greek yogurt or sour cream kind of thick texture. Also I remove extra whey once the yogurt is set by straining it and its called hung curd (refer pictures in cheesecake batter preparation). Make curd ahead of cheesecake baking day.
Spice Mix
I use freshly prepared homemade spice mix. Indeed nothing can beat the fresh aroma, don't you agree? If not do use mix of nuteg, cinnamon, cloves and ginger of 2tsp for this recipe.
Cornstarch
Store bought cream cheese or greek yogurt or sour cream has different texture than homemade and it impacts the texture of cheesecake. So to get shiny and non sticky cheesecake slices in eggless cheesecake use cornstarch.
Homemade Cream Cheese
I use homemade cheese for most of my cheesecake recipes. If you prepare cheese at home do filter excess moisture as much as you can and keep it firm to get perfect textured cheesecake. The firm homemade cheese is later blended with hung yogurt (where the recipe calls in cheesecake) to get creamy texture. This is the main key point I follow always and would like to share before getting in to the process of making cheese.
I made 16oz in 8.5 cups milk + Heavy Cream for Rose Cardamom Cheesecake. Explaining some cheese combo which I experimented in early days and shared in few cheesecake recipes in the blog.
50:50 Homemade Cream Cheese and Paneer/Indian Cheese works for this recipe.
50:50 Store Bought Cream Cheese and Paneer or homemade Cream Cheese works.
100% homemade or store bought Cream Cheese can be used for this recipe.
Homemade Cream Cheese Preparation
Boil 7.5 Cups whole Milk / full fat milk with 1 Cup Heavy cream (you can use up to 8 cups milk for 1 cup ultra pasteurized cream and its better to make little more cream cheese).
Once it foams, simmer for 5 minutes and keep stirring.
Later switch off the heat and add 4 Tbsp lemon juice (Pic 1 above) or 2 Tbsp White Vinegar in batches.
Once curdles well (Pic 2), add ice cubes or cold water to the cheese mixture and strain it (Pic 3).
These ice cubes prevent cheese getting harder.
Use muslin or any cloth to strain / separate the cheese and whey.
The whey won't be a clear liquid, since it has heavy cream it won't look like Milk curdling whey.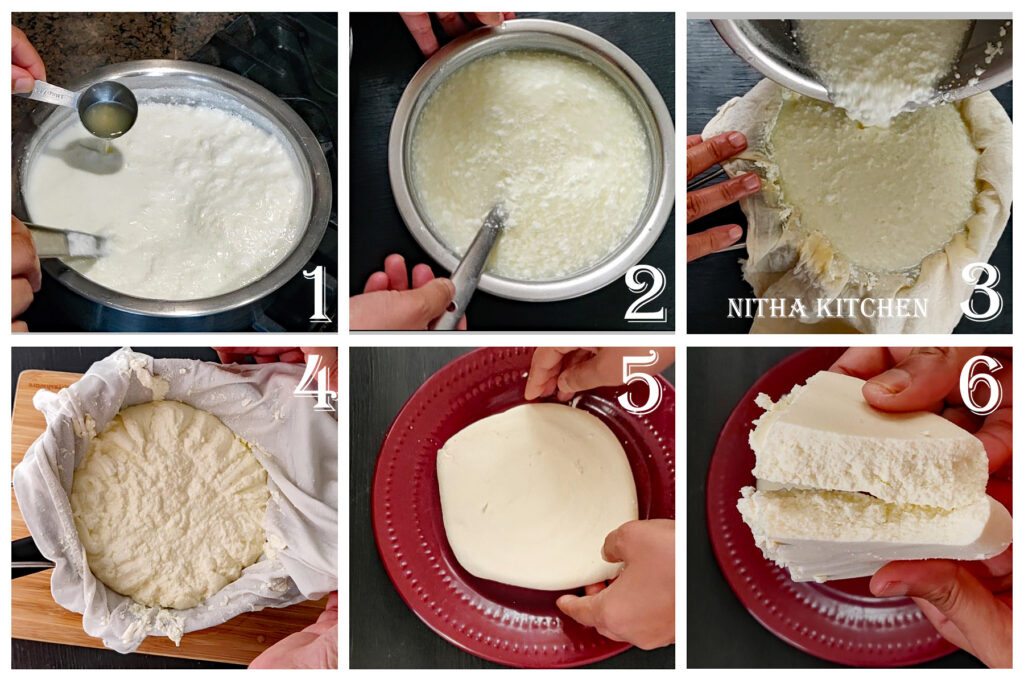 Now add the filtered whey weight over cheese mixture and let it stand like that for an hour.
By this time most of the whey gets separated from cheese (Pic 4).
Now store in refrigerator by covering it properly and again keep the weight over it.
After 8 hours it gets the perfect texture a shown in Pic 5 & 6.
Store the cheese in refrigerator by covering the top properly (don't let the cheese dry) until you use.
You can make it a day ahead of cheesecake baking.
For the smoothy cream cheese texture blend with hung yogurt where the recipe calls in the cheesecake.
For blending with yogurt do refer either Mango Cheesecake Recipe or Gulab Jamun Cheesecake Recipe.
Gingerbread Cookie Crumb Crust
Can use store bought biscuits/ cookies/ graham crackers and powder it to make cheesecake crust. The gingerbread cookies I used here for this cheesecake is yet to be published in blog. Do refer different flavor if you are looking to make this cheesecake recipe.
Eggless Whole Wheat Cardamom Cookies
Take homemade (Pic 1) gingerbread men or any shaped gingerbread cookies (Pic 2) in a food processor.
Powder it and measure for this recipe (Pic 3).
Add sugar (optional) to the cookie crumb.
Now add melted butter and wet the crumb (Pic 4).
Add the prepared cookie crumb to the prepared pan (Pic 5).
Using weight , press the crumb tightly to the pan (pic 5).
Bake in preheated oven @325F/160C for 8 minutes (Pic 6).
Once it is baked let it cool and keep ready to pour the cheesecake mixture.
Ingredients for Gingerbread Cheesecake
6 or 7 inch Pan

Ingredients for Cheesecake batter

Creamcheese – 2 – 8oz blocks/1 Pound/452grams
Hung Yogurt/Sour Cream – 10 Tbsp (2/3 cup)
Brown Sugar – 1/2 Cup (reduce to 1/4 Cup for mild sweetness)
Molasses / Caramelized Sugar Syrup – 3 Tbsp
Homemade Spice Mix OR
Cloves/Nutmeg/Ginger/Cinnamon Powder – 2tsp
Corn Starch – 2.5 Tbsp
Salt -1/8tsp
Orange Zest – 1/4tsp
Glazed Cranberries
Optional Whipped Cream -1/2 Cup – To Decorate

Cheesecake Crust

Gingerbread Cookie Crumbs – 1.25 Cups
Melted Butter – 3-4 Tbsp
Variations to this recipe
If using egg use 2 eggs for this recipe
In that case use only 1.5 tbsp cornstarch and use only 6 Tbsp of sour cream.
Creamcheese, softened – 16ounces (2 , 8oz blocks)
Brown Sugar – 1/4 – 1/2 Cup (medium to high level sweetness)
Sour Cream or Hung Yogurt – 6 Tbsp
Corn Starch – 1.5 Tbsp
Molasses/ Caramelized Sugar Syrup – 3 Tbsp
Eggs – 2 Numbers
Homemade Spice Mix OR
Cloves/Nutmeg/Ginger/Cinnamon Powder – 2tsp
Salt – 1/8tsp
Orange Zest – 1/4tsp
Gingerbread Cheesecake Batter Preparation
So we have Cream Cheese, baked Cheesecake crust in the regular cake pan, all in handy, now prepare the cheesecake batter.
Before starting add specially made (pic 1) thick curd/plain yogurt to the siever/strainer (Pic 2).
Let it filter excess whey like shown in Pic 3.
Lwet it sit for a while and try to remove whey completely Pic 3.
Also prepare caramelized sugar syrup and keep it ready (pic 4).
Unwrap cold cream cheese (pic 5) and add it to a mixing bowl (pic 6).
Beat until combined (Pic 6).
Use a spatula to scrape the sides of the bowl.
When cheese is creamed well (Pic 7), add half of molasses or sugar syrup and beat until combined.
Next add rest of syrup, brown sugar, spice mix (Pic 8), cornstarch, hung yogurt, salt and orange zest (Pic 9).
Beat gently in low speed.
Scrape the sides of the bowl while blending the ingredients.
Once all ingredients incorporated well stop beating (Pic 10).
Don't over beat the cheesecake batter.
Silky smoothy gingerbread cheesecake batter is ready (Pic 11)
Take the prepared baked crust pan and pour the cheesecake batter into it (Pic 12).
Lightly tap the pan on the counter to release air bubbles allowing them to rise to the surface.
Also you can use a toothpick or wooden skewer to pop any bubbles in the cheesecake batter.
Gingerbread Cheesecake in Instant Pot
Prepare the cake pan as mentioned above, pour the prepared cheesecake batter in it (pic 12 , above).
Place the Instant Pot on the counter.
In the instant pot inner pot add 1 cup water (pic 1), place the trivet inside (pic 1).
Let the water boil well for that set saute mode high in IP.
Meanwhile wrap the top of cheesecake pan leaving 2 inches height (Pic 3) with foil this prevents water getting inside the cake (Pic 2).
Once wrapped and water starts boiling, cancel saute mode.
Carefully set the cheesecake batter placed pan on the trivet.
Leave space all around the pan (Pic 3).
Close the lid by releasing excess pressure ie keep pressing the steam release button down (Pic 4).
Once you closed the lid slightly turn back to lift the steam release button up (Pic 5) ie for sealing/pressure cook position.
Pressure cook in high for 25 minutes in sealing position (pic 6).
Let it cool gradually so allow natural pressure release (this will take about 13-18 minutes).
Later manually release any excess pressure and open the lid (Pic 7).
Uncover the pan (Pic 8) and I noticed slight crack and it will vanish when cools down in the refrigerator.
Take the pan from the instant pot , let it cool on a wire rack (Pic 9).
Let the cheesecake cool to room temperature allow 1 hour approximately.
Once the cheesecake is at room temperature , cover and refrigerate overnight or a day to set.
Later carefully remove the cheesecake from the pan by lifting the hanging foil(Pic 10).
Tear foil on the edge of the cheesecake to separate it from the pan (Pic 11).
There will be a slight cheesecake sticking over the foil because i didnt grease the foil.
Place the gingerbread chesecake on a cake board or plate (Pic 12) to decorate.
Gingerbread Cheesecake in Oven
Pour this mixture gently in to the prepared pan.
Tap to release excess air .
Place on hot water bath, for that add hot water to a cookie tray (pic 1) or cake pan that fits the cream cheese baking pan.
In preheated oven, place them carefully inside and bake at 320 F/160C for 50minutes.
Don't keep opening the door and check for doneness if so it will deflate / crack the cheesecake.
Check after 42 mins of bake and also light brown spot on top (Pic 4) is the indication of doneness (it's my opinion) and not to under bake the cheesecake.
Once baked let it cool inside the oven with slight door open (insert a wooden ladle, refer video tutorial) for 30-40 mins later chill it at room temperature over a wire rack (Pic 2).
Later cover cheesecake and store in refrigerator for 8hours or a day.
The next day tear/unwrap the foil gently and place cheesecake on a board for decoration.
How to decorate Gingerbread Cheesecake
Use 1/2cup whipped cream to decorate the gingerbread cheesecake.
Using Wilton 1M tool tip decorate like shown in (Pic 1,2 and 3.)
I have used two kind of decoration fro oven baked and Instant pot cheesecake.
So do refer the video tutorial for claer idea.
Also I used glazed cranberries on top of cheesecake (pic 4).
For that in boiling sugar syrup add cleaned fresh cranberries.
Simmer the flame and Let is boil for few minutes.
Thats it glazed cranberries are ready.
Also dust cinnamon on top of whipped cream (Pic 6).
Beautiful holiday dessert is ready to serve.
RECIPE CARD