For this year Valentine day I made Vanilla cheesecake cupcakes to finish off the cream cheese box sitting on my fridge for a while. Since it fallen on weekday I prepared them after sending the kids to school and was waiting with this vanilla flavored cheesecakes with love along with some of their favorite lunch menu. My kids know that I make just chocolate hearts so one asked to get green chocolate hearts and another like was towards brown so I made 2 different colors using candy melts. But they were totally surprised to see cheesecake with chocolate hearts waiting over the kitchen counter. We adults too got tempted with this yummy dessert and me gulped several forgetting the calories in it :-). When you have cream cheese and some crackers do try this easy welcoming dessert for your family and friends in no time. I went for homemade graham crackers (recipe soon) and you can choose any biscuit crumb or cracker as the crust/base.
Recipe inspired from cooking classy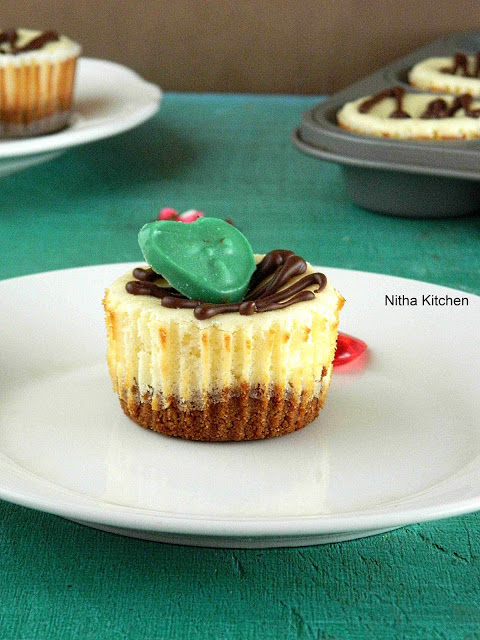 Yields 12 Vanilla Cheesecake Cupcakes
For the biscuit crust
1 and 1/4 Cup graham crumbs (you can use any cracker, powder it coarse in food processor)
Unsalted Butter – 3 Tbsp melted
Brown or Regular Sugar – 3 Tbsp
Honey – 1 Tbsp
If not using cinnamon powder in the crackers then add 1/2 tsp while making crust.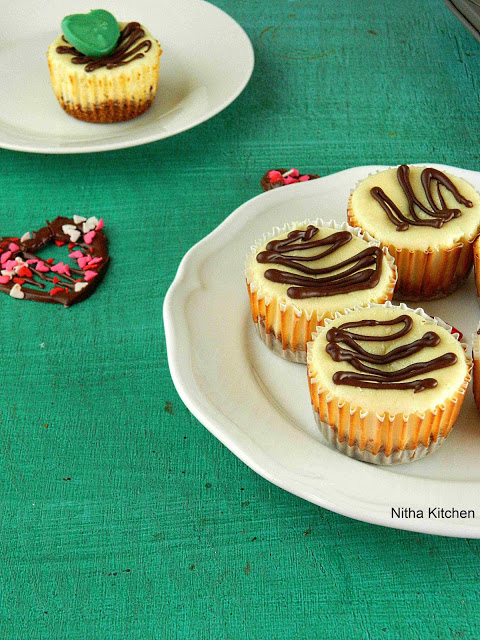 Ingredients for the Vanilla Cheesecake Cupcakes
2 box of 8oz cream cheese package, 16 oz on total (I used only 1 and 1/2 package ie 12 oz it was sufficient for 12 cheesecakes )
Regular Sugar – 3/4 Cup
All Purpose Flour / Maida – 3 Tbsp
Eggs – 2 Numbers (Large Size) Replace with 1/3 Cup Sour Cream/Yogurt
Vanilla Extract – 1tsp
Sour Cream or Hung Yogurt – 1/2 Cup (I use hung yogurt)
Vanilla Cheesecake Cupcakes Preparation
Preheat the oven to 350 F.
Prepare the biscuit crust using the ingredients given above.
First melt the butter, add sugar, powdered crackers (Pic 1) and honey to it(Pic 2).
Mix them well and it has to look moist as shown in picture 3, otherwise add more melted butter or oil.
Either grease the muffin holes with melted butter or use baking papers for easy peel.
Since we like more biscuits in the cheesecake, I have used 1.5 Tbsp of moist crust in each muffin hole (Pic 4) (you can reduce to 1 Tbsp).
Using any stone pestel press the crumbs tighlty down (Pic 4).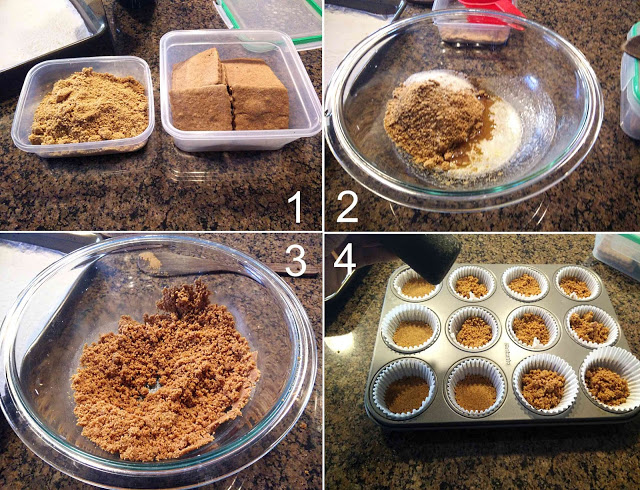 Bake the crust alone for 5 minutes and remove from oven, let them cool meanwhile prepare the filling.
In a mixing bowl add cream cheese (Pic 5), sugar and whisk till the cream cheese blends with sugar well.
Now add flour and one egg at a time.
Finally add curd and vanilla extract mix them all together to get fluffy mixture as shown in picture (Pic 6).
Don't beat for long time, just blend all the ingredients fine that is what needed for these cheesecakes.
Pour the batter in each hole.
Baking Process
Tap before placing the pan in the oven so the air bubble goes off if any from the batter.
In preheated oven bake then 18-20 minutes bake the cheese cake or till you see mild cracks, immediately remove from the oven (Pic 7).
You can reduce the temperature to 325 F to prevent cracking and for more tips check here.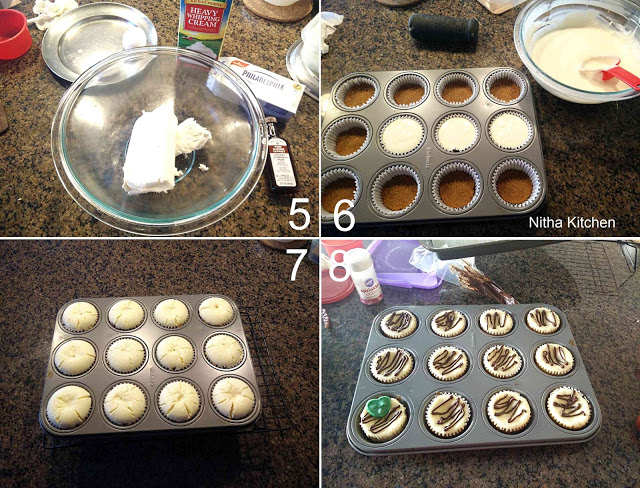 Refrigerate for 2 hours and after that the mild cracks also settles down and looks perfect.
Make desired topping, i have used chocolate decorations (Pic 8) but you can use canned fruit cheesecake toppings too…
How to make Chocolate hearts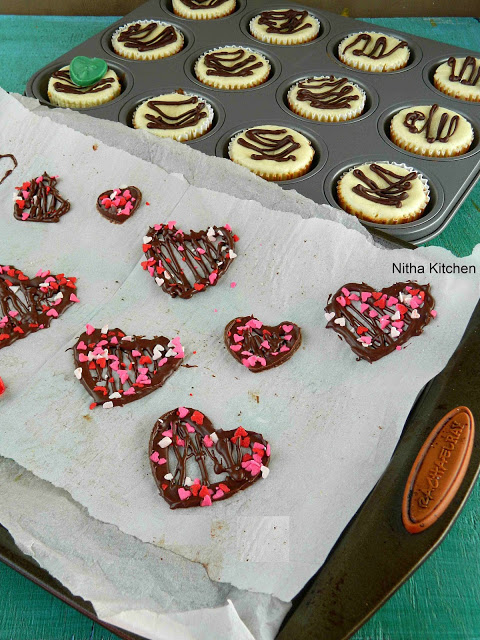 In microwave or using double broiler melt the candy melts and pour it in piping bag attached with small round tip (you can also make without tool tip by cutting the piping bag with scissor, make sure the hole is not too big).
Over a parchment paper make hearts by your free hand or use heart cookie cutter as border and in the inner side make the heart patters.
Drop some sprinkles over the hearts and repeat the same for more hearts.
Leave it aside for the chocolates to set and you can refrigerate for the hearts to set quick.
Top as desired and serve chilled.