Homemade Fig Bar with Homemade Fig Puree. I am a proud mom of two who always feel happy to make homemade healthy snacks for them. Most of the days, I spend more time in the kitchen to cook, bake and feed my family with healthy homemade foods. So today's recipe is one among that healthy category and which is none other than fig bars.
Figs has lot of healthy benefits and mainly it is rich in fiber, calcium and iron, you can take fig in any form and this is one best way to feed figs for kids. It's my second attempt in making fig bars at home, so I have shared step wise pictures from both the attempts. Also I do make fig puree at home ( i feel it is
expensive at stores), if it's time consuming you can buy puree from stores.
I have mentioned medium level sugar in the detailed recipe below, so if you like to increase or decrease, please adjust it accordingly….My little one is not taking eggs in any form, so secretly adding eggs in bakes nowadays. If you like to skip eggs then you can very well do that instead add 2 Tbsp flax seed powder with 1/4 cup water or teaspoons of milk to bind the flour.
Ingredients For Homemade Fig Bar
Whole Wheat Flour – 3/4 Cup (preferably coarse textured whole grain wheat flour, if using regular chapati atta the texture of the fig bar varies slightly, I use King Arthur whole wheat)
Unbleached APF – 1 and 1/4 Cup (Replace with WWF)
Unsalted Butter – 1 Stick / 1/2 Cup (Room Temp)
Brown Sugar – 1/2 Cup + 2 Tbsp
Eggs – 2 Numbers (you can skip eggs and add milk or 2 flax egg to bind the flour, detailed Eggless Whole Grain Fig Bar Recipe Later)
Cinnamon Powder – 1tsp
Baking Soda – 1/2tsp
Baking Powder – 1/2tsp
Salt – 1/2tsp

Filling

Fig Puree – 1 and 3/4th Cup to 2 Cups
Brown Sugar – 1/4 Cup or More for Sweetness
Cinnamon Powder or Cardamom Powder – 1 tsp
You can use dates puree for natural sweetness and also 1/4 cup of almond meal or walnut which are purely optional.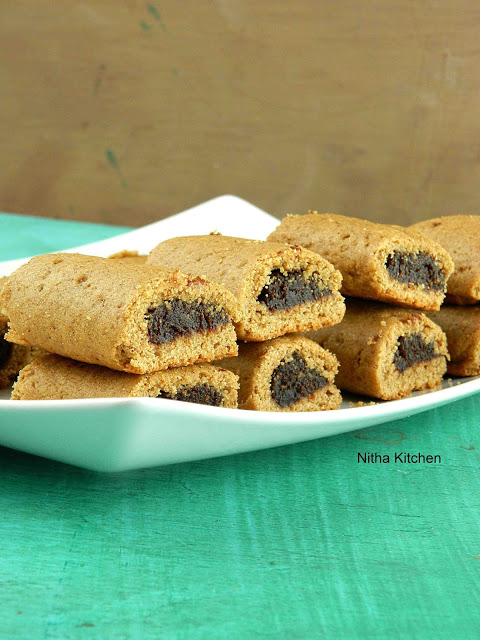 If you are going to make fig puree from dry figs like me, then the below details are for you…
How to make Fig Puree
Cut the stem part of figs.
I have used Organic dried figs ( Pic 1) so i found mud (Pic 2), in mild warm water i washed them thrice.
Later in well boiled water soaked the cleaned figs overnight or 5 hours at least (Pic 3).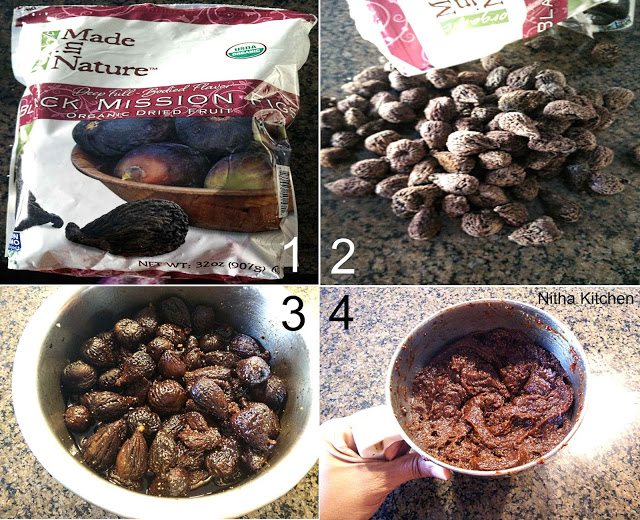 Once they bloomed well (Pic 3), using a food processor/mixie blend them to make nice puree Pic 4).
You can see the fig seed here and there that is absolutely normal.
Once done with puree use them immediately in the recipe calls for or refrigerate to use it within 3 -5 days or freeze it and thaw properly before using it.
If your puree has more moisture then cook in a wide pan for a while for the water to evaporate, let them cool before using it in the recipe.
Yields – 25-27 Cookies
Homemade Fig Bar Preparation
Add Flour, Cinnamon Powder, salt, Baking powder and Baking soda in a separate bowl and mix all together well, keep aside (Pic 1).
Using hand blender, cream the room temperature butter and brown sugar until both blends well.
Add one egg at a time (Pic 2) and beat for 2-3 mins in medium speed.
Now add flour mixture in batches and at this time take off the electric blender and using hands knead and bring the dough all together to form a ball (Pic 3).
Wrap the dough and chill it for 1 hour at least or overnight.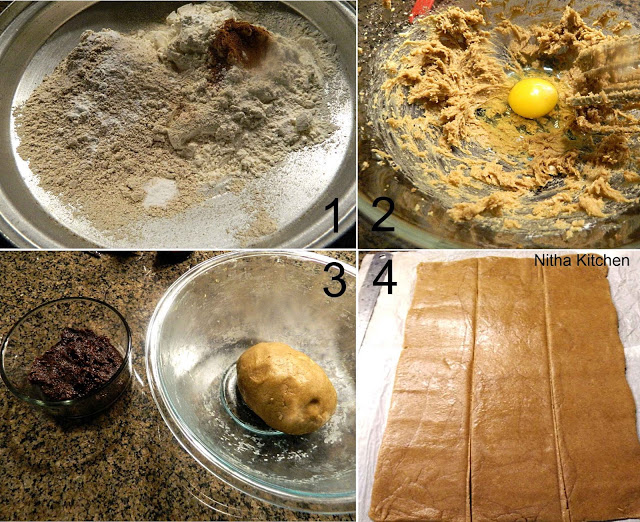 Take the dough out from refrigerator and at room temperature keep it for 15 minutes.
Then roll them to even thickness and make sure it is 13-14 inch in length and 10 inch in width.
Divide them in to three equal parts, length wise (Pic 4), In case if you rolled more width wise then divide them in to 4 equal parts.
Now freeze them for 10 minutes and using Wilton tip, pipe the filling as shown in step wise picture 5 below, i made 2-3 rows of filling in each (Pic 5).
Using water or Milk seal the edges and arrange the sealed part down (Pic 6), make sure to flat the top of each log gently.
Baking Process
Place it in parchment placed cookie sheets (you can use two pans if single doesn't fit and lengthwise if the fig logs doesn't fit cut them in to halve and arrange accordingly).
Freeze them for 15 mins before baking it (below picture), meanwhile you can preheat the oven.
In preheated oven at 350 F / 180 C bake for 13-15 minutes.
To check whether its done or not, slightly lift and check the bottom of the log, if it turned light brown then it is done otherwise do bake for couple more minutes (Step wise picture 7 and below) picture for reference).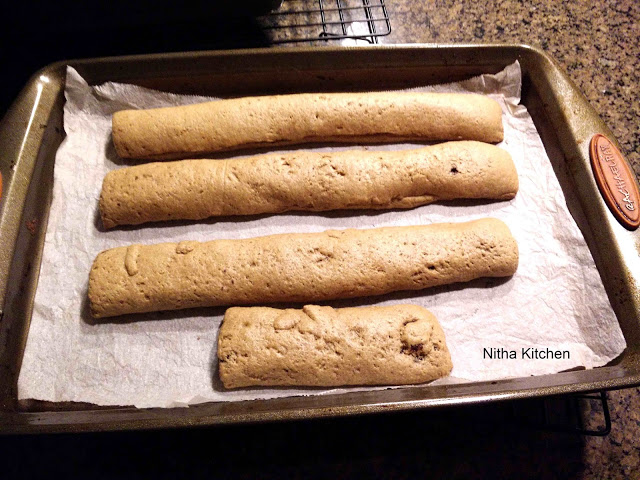 Let them cool in the wire rack for 15-20 minutes then using sharp knife, cut each log in to equal size bars (Step wise Picture 8 and below for reference).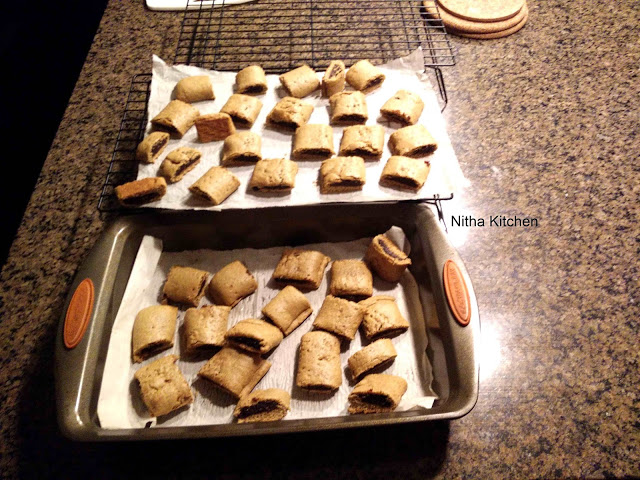 Now the fig bars are ready, once cooled completely store them in air tight container.
First day they tend to be little crisp and later it turns soft.