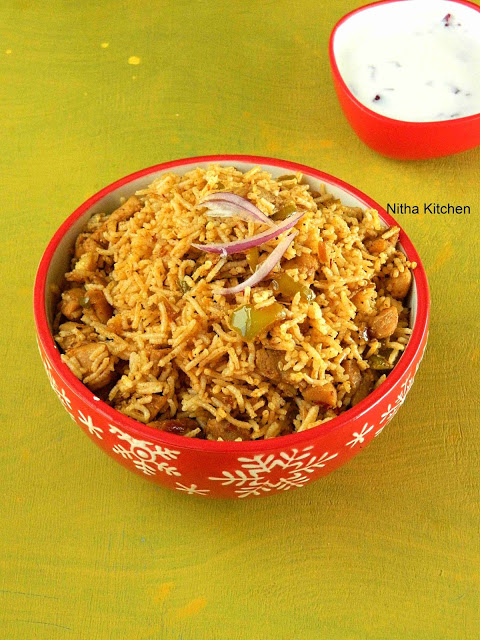 Today's recipe is simple yet filling one pot meal that you can take it either for lunch or dinner. The post title says spicy though my kids liked it without any hesitation. If your kids says spicy you can add a tsp of ghee in thier rice to substle the spiceness or reduce red chili flakes in the following recipe. You can taste this rice as it is, anyways kids likes to have it with ketch up and if you get time do prepare onion raita which also goes well with this fried rice.
Recipe Source – Own
Ingredients
To Soak (soak the below ingredients for at least 1 hour)


Garlic – 1 Tbsp (finely Chopped or crushed)
Ginger – 1tsp (finely chopped or crushed)
Seasame Seeds –  1/2 Tbsp
Gingely Oil – 1 to 1.5 Tbsp
Paprika/Red Chili Flakes – 2tsp
Other Ingredients
Cooked Rice – 2 Cups
Green Onion – 1 (Finely chopped)
Chopped Capsicum – 1/4 Cup (Optional)
Sauteed Chicken (Take 1.5 cups of finely cubed Chicken, saute with a tbsp of red chili powder and 1 tsp salt) – 1 Cup
Pepper Powder – 1tsp
Chili Garlic Sauce – 1 Tbsp (you can add more, refer stepwsie picture 1)
Soybeans Sauce – 2-3 Tbsp as needed
Garlic Chicken Fried Rice Preparation
Soak the ingredients given under to soak before start preparing this fried rice.
Cook the rice as per instruction, i use basmati rice.
Cube the chicken and saute with chili powder and salt in a cast iron pan or wok till it shrinks and gives nice color.
Chop the green onions and make the other stuff ready for this fried rice.
Once rice is done, add some gingely oil to it, mix gently and spread it in a wide pan.
Grind the soaked garlic and sesame stuff to coarse paste.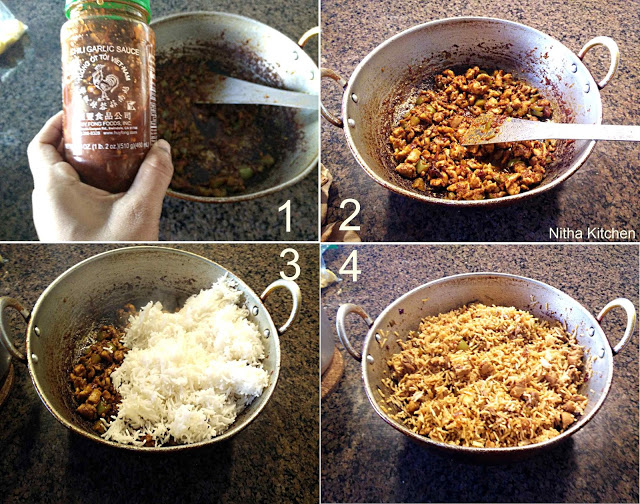 In the same chicken fried kadai/pan add sesame oil or butter, add the ground ingredients, when it attains nice aroma, add Chili Garlic sauce,
Saute for a while now add the bottom thick part (bulb) of green onion if using.
After a minute or two, add soy bean sauce, sautéed chicken, Pepper Powder, salt and mix all together.
If the whole stuff turns thick as shown in picture 2 then add the cooked rice Pic 3) and remaining stalk of green onion.
Once the rice got heat up and well mixed with chicken garlic mixture finally adjust the salt and its time to add more soy sauce if needed Pic 4).
This spicy fried rice goes very well with tomato ketch up or onion raita.
Note
You can add 2-3 separately sauteed/scrambled eggs to this recipe but i skipped it.