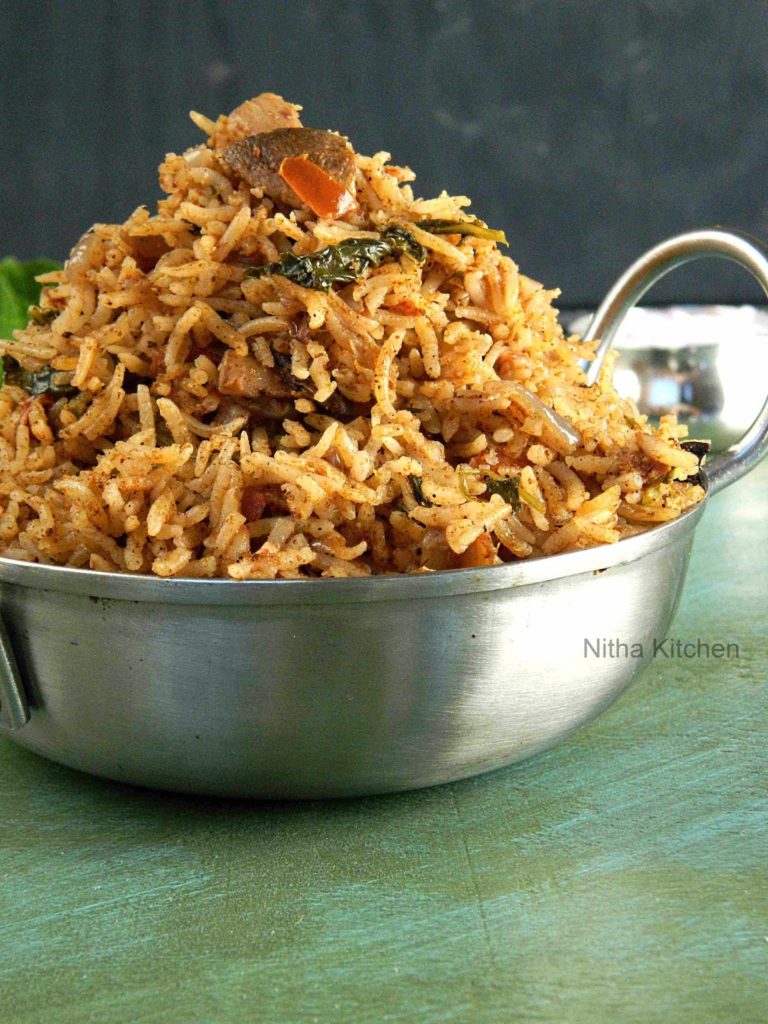 Mushroom Biryani : My little one often needs change in his food, yup kids taste buds will get wiser with age. Like I mentioned in Egg Biryani post, now weekdays become biryani day to feed my little fuzzy eater. When he returns from school he hesitates to eat white rice with sambar and veggies kind of typical south Indian foods and Tomato rice or Mushroom Biryani Kalan Biriyani or any biryanis is his recent top picks. He likes today's biryani and its very aromatic with the freshly ground cinnamon and other spices mix flavors…Let see in detail how to make Mushroom Biryani Kalan Biriyani

Recipe Source :- Here

Ingredients for Mushroom Biryani Kalan Biriyani
Basmati Rice – 2 and 1/2 Cups
Mushroom – 12 Oz (350 grams Approx)
Onion – 2 Large (3 Medium)
Tomato – 2 Large (3 Medium)
Ginger Garlic Paste – 2 Tbsp
Thick Coconut Milk – 1 Cup
Chopped Mint and Cilantro Leaves – 1 Cup, Loosely Packed
Whole Green Chili – 2 Numbers (Slit)
Biryani Masala Powder – 1 and 1/2tsp (Optional, if not using add mix of garam and red chili powder here for 1tsp)
Red Chili Powder – 1tsp
Garam Masala Powder – 1tsp
Whole Garam Masala like Bay Leaves, Star Anise – 2 Each
Oil or Ghee or Butter – 4 Tbsp
Salt – As Needed
To Dry Roast and Powder
Coriander Powder – 2tsp or whole seeds 1 Tbsp
Cardamom – 2 Numbers
Cinnamon – 1 (2-1/2 inch piece, split one)
Cloves – 4 Numbers
Fennel Seeds – 1tsp
Poppy Seeds – 1tsp
Whole Pepper Corns – 3/4tsp
Salt – 1/2tsp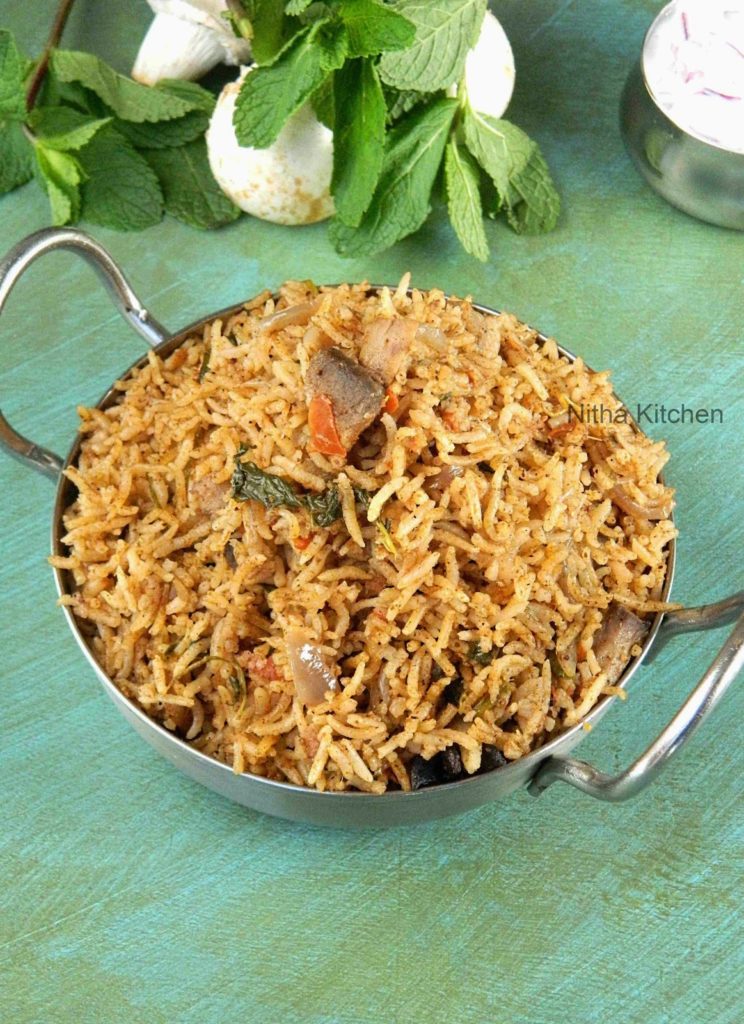 How to make Mushroom Biryani Kalan Biriyani
Dry roast the above ingredients given under "To Dry Roast and Powder", let it cool and grind it to very fine powder.
Add butter/oil in a wide pan kadai when oil is hot add the bay leaves and star anise followed by sliced onions, slit green chilis and salt.
Saute the onion in medium flame till it shrinks and changes in color.
Now add ginger garlic paste and saute till raw smell disappears and oil oozes out.
Add the well ripened and chopped tomatoes let them cook till tomatoes mashes well.
Then add all powders like red chili, garam, turmeric and biryani masala powder (Pic 1) including homemade masala powder saute for 2-3 minutes in medium flame.
Later add the chopped mushrooms(Pic 2) and cook till it reduces in size.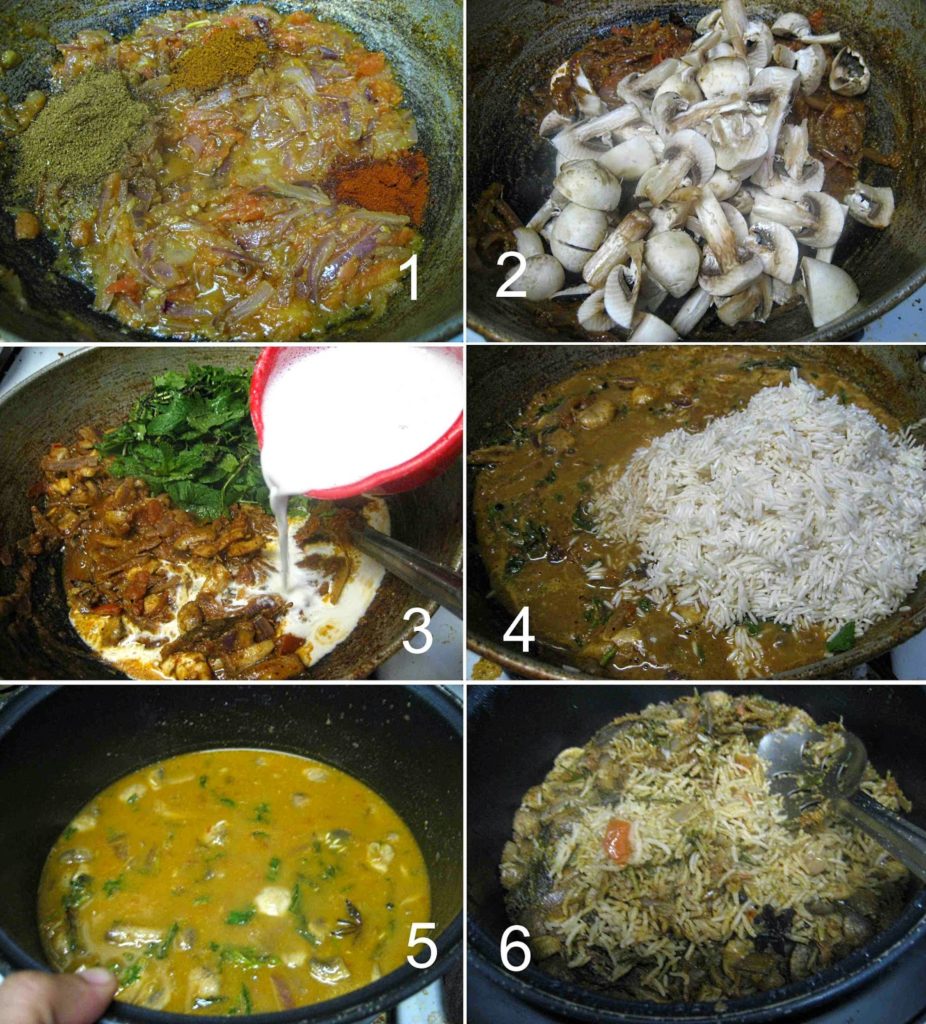 Once 3/4th cooked add coconut milk(Pic 3) and chopped coriander and mint leaves (Pic 3) cook for 3-4 mins.
Finally add soaked basmati rice (Pic 4), adjust salt and if you want more spicy then add more red chili powder right now.
In pressure cooker or electric cooker for 2 n 1/2 cups of rice make sure to keep 3 and 3/4 Cups of water including the water in the biryani gravy (Pic 5).
Cook as per instruction and once done (Pic 6) you can spread the biryani in a wide tray, pizza pan or aluminum tray works.
After a while you can mix them gently, when you mix immediately the rice turns mushy.
Serve the biryani with raita/yogurt dip.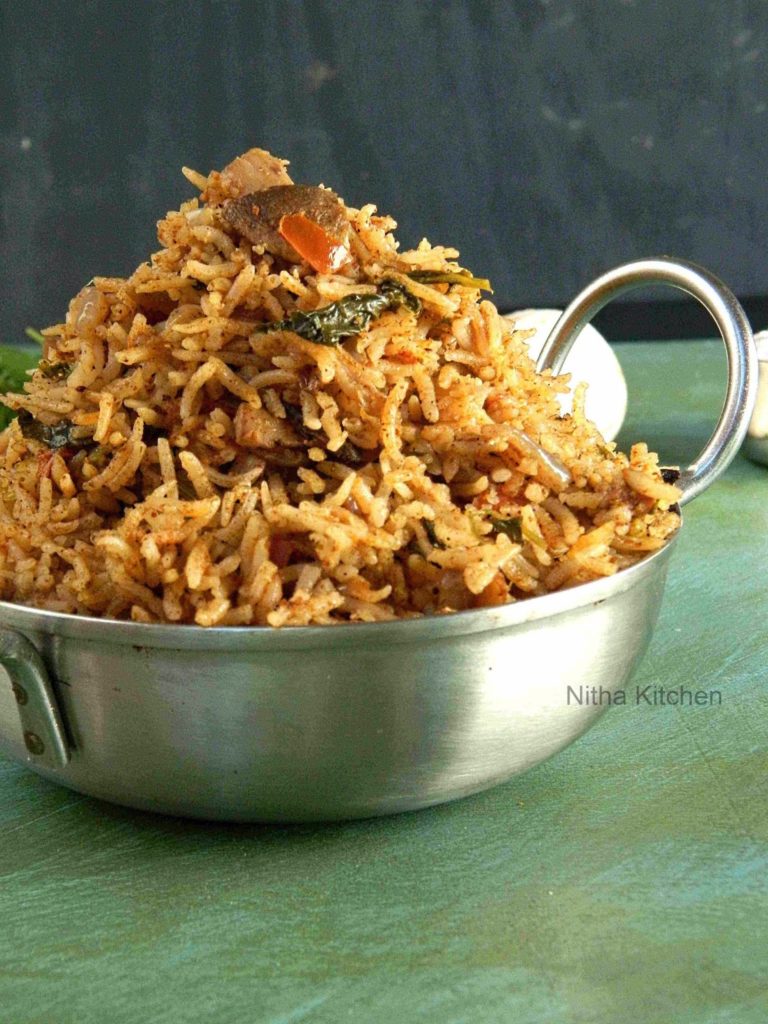 Notes
Instead of red chili powder you can soak some red chilis and grind to paste, thats enhances the biryani taste.