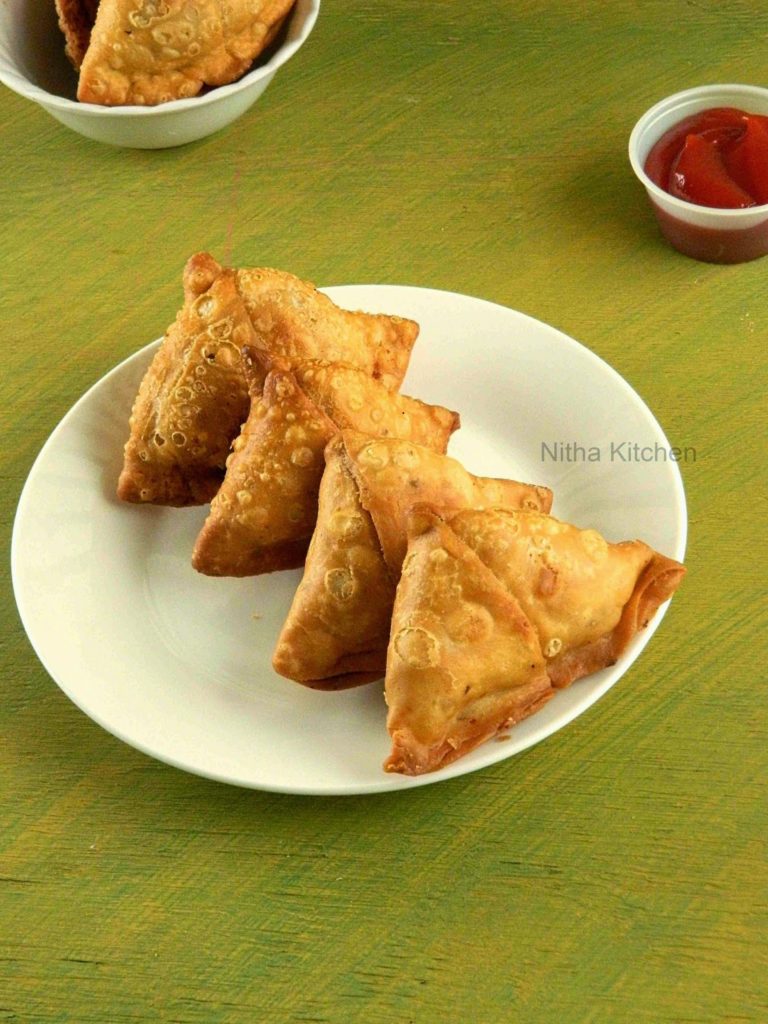 I wish dear readers a very colorful and joyous Holi…Holi is a traditional Hindu festival celebrated all over the country especially in North India during spring time, its also called festival of colors. Today's recipe is pretty much close to this festival yup Punjabi Samosa from scratch
with tips to make and store them crispy for a while. You might notice this samosa picture in the Facebook Fan page Profile picture for a quite long time. Today being a special day I am happy in sharing the samosa post in detail with some tips..Being a South Indian obviously I referred Chef Harpal's video and adapted the recipe.
Ingredients for the Punjabi Samosa Dough
For the Samosa Outer Pastry Dough
APF/Maida – 2 and1/4 Cups
Carom seeds/Ajwain- 1/2 tsp
Ghee – 4 Tbsp
Salt – As Needed (Approx 3/4 tsp)
How to make Punjabi Samosa Dough
In a mixing bowl take Flour, Ajwain and salt and mix it .
Now add melted ghee (Step wise Pic 1 below) and rub it well with your fingers.
Then sprinkle cold water and make a stiff dough as shown in picture 2.
Cover the dough with cling wrap or lid and keep aside to rest for at least 1 hour.
Meanwhile you can prepare the filling or you can make it a day ahead and refrigerate till use.
But make sure to bring the potato stuff to room temperature an hour before filling the samosas.
Ingredients For the Samosa Filling
Onion – 1 Medium Size
Potatoes- 2 – 2 and 1/2 Large (US Potatoes) or 5 Medium Size
Green Peas- 3/4 Cup (Optional)
Cumin seeds- 1tsp
Red chili powder- 1-2tsp
Dry Mango/Amchur powder- 1 and 1/2 tsp
Coriander powder- 1tsp
Turmeric Powder – 1/4tsp
Garam masala- 1/2 tsp (you can use Sambar Powder too)
Green chili Slits – 2 Numbers
Ginger – 1tsp, Finely grated
Coriander Leaves – Few, Finely Chopped
Cooking oil- 1 Tbsp
Salt – As Needed

Optional to add in potato filling
Whole Coriander Seeds/Dhaniya- 1 Tbsp
Dry Pomegranate Seeds – 1tsp -1and1/2tsp
Punjabi Samosa Filling Preparation
Pressure cook the well cleaned potatoes for 2 hisses once cooled peel the skin and mash potatoes roughly, don't make it mushy.
Heat oil in a pan when it is hot add cumin seeds, let it splutter.
Now add grated ginger, chopped onion, slit green chilies and salt, saute for 3-4 minutes or till onion turns golden brown.
Now add all powders like red chili, garam masala, coriander powder, mango powder, turmeric powder and stir well for 1 minute till raw smell disappears from all masala.
Then add green peas saute a min or two followed by mashed potatoes gently mix with the masalas and reduce the flame to low.
In another pan (optional) dry roast Coriander seeds and POM seeds and crush them coarsely.
Now add the crushed powder adjust salt and saute for couple of minutes on medium heat.
Let them cool also remove the slit green chilis before stuffing (Pic 3).
How to Roll Samosa Pastry and Fill it
After 1 hour or more knead the dough well to make it smooth.
Make equal size large lemon size balls from the dough (Pic 3) and keep them covered, take 3 balls at a time (Pic 4).
Roll a ball in circular shape like we make for poori with medium thickness (Pic 4).
Using 6 inch round cap/lid or cookie cutter press (Usually they are very big in size but this version is medium size) it over the dough and trim the excess (Pic 5).
Now divide the circle in to two pieces by cutting it from the center (Pic 5).
Take a semi circle apply water on the sides and fold it like a cone (Pic 6), refer Tips section.
Now stuff the cone with the prepared potato mixture till 3/4 (Pic 7).
Press both the sides together to seal it completely (Pic 8).
Let the sealed edges make stand (Pic 9) and lay it over parchment paper or any tray.
Make all samosas this way and keep aside (Pic 9).
Now heat enough oil in a deep pan.
Add 3-4 samosa in the pan and fry on low-medium heat till they become crisp and golden color(Pic 10).
Drain on a kitchen towel (Pic 10) and repeat with the remaining shaped samosas.
Notes
Never ever let the dough get too much dry but pastry dough should be firm to get crisp.
Seal them perfectly otherwise they can open up while frying, the stuffing comes out and spoil the oil.
Deep fry on low-medium heat ,otherwise the outer layer quickly turns golden color but the inner stuffing remains uncooked.
Also you can bake this at 350°F by spraying some oil over it for 20 – 25 minutes.
Tips to store it for later use
Once the samosas are out from oil, drain well and if you have hot packs then store it immediately to enjoy it in another few minutes of time i mean less than 1 hour.
Otherwise leave the fried samosa open for 30 minutes at least to cool completely.
The outer layer seems cooled down but inner stuffing takes long to cool out.
When you store hot samosas in a container while cooling down the humidity makes the outer layer soggy.
Once you makes sure its cooled well store it in air tight container or aluminum tray with cling wrap.
This stays fresh for 5-6 hours at least in room temperature however in summer the life time is bit short.
Before party or get together i mean before serving you just reheat it in preheated oven for 5-8 minutes.