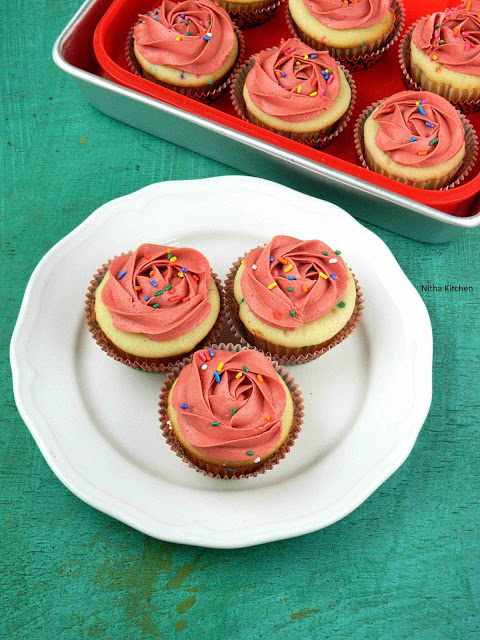 Vanilla Cupcakes with Chocolate Buttercream Frosting : My kids came with little precious gifts for the mother's day (will post the picture later) and hope the same for you all, Wishing you a very Happy Mother's Day :-). Today I am here with a special recipe
on this special Day, its Vanilla Cupcakes with White chocolate buttercream frosting (added red food color). I have reduced as much sugar I can though they are moist and perfect. These cupcakes are made with High-Ratio Mixing Method ie Two Step or Quick-Mix, it is also called the Two Stage Mixing Method in this way it has perfect tender cupcakes and I am practicing this recipe for several years without fail. Few information about the High-Ratio Mixing Method before entering in to the recipe in detail. It is an alternate mixing technique for butter cakes which involves mixing all the dry ingredients first, then beating in cold, but softened butter. Then, the eggs and liquid ingredients, such as buttermilk, milk, are slowly added. Mixing this way guarantees a smooth batter that doesn't separate, thus making for a light and delicate baked goodies. Let's move on to pictorial recipe.
Yield: 24-26 Cupcakes or use 3 – 8 or 9 inch pans for this recipe.
If you reduce the recipe to halve that will yields 2- 6 inch cakes as shown or 1- 8 inch height cake or 12 – 14 cupcakes of standard size.
So baking time varies for each different pan you use.
Ingredients for Vanilla Cupcakes with Chocolate Buttercream Frosting
Cake Flour/All Purpose Flour aka Maida-3 Cups (In 3 cups all purpose flour remove 6 Tbsp flour and add 6 Tbsp corn flour to make own cake flour)
Regular Sugar – 1and3/4 Cups (I usually add 1 and 1/4 cups which works for me)
Baking Powder – 2.25tsp
Baking Soda – 1/2tsp
Salt – 1/4tsp+ a pinch
Unsalted Butter – 3/4 Cup (16 Tbsp, 1 and 1/2 sticks)
1 Whole Egg + 3 Egg Whites
Vanilla Extract – 3tsp
Thick Buttermilk or Little Watery Yogurt – 3/4 Cup
Milk – 1/2 Cup (Reserve 2 Tbsp and use as needed to attain batter consistency)
Fun fetti or Rainbow Sprinkles – 1/2 Cup
Vanilla Cupcakes Preparation
Arrange the cupcake pan with cupcake liners or cake pans greased with butter and flour.
Preheat oven to 350 degree F or 180 C.
In the bowl of a stand mixer or in mixing bowl, add the flour, sugar, baking powder, soda and salt and mix together on low speed for 1 minute.
Or you can sift twice so the dry ingredients incorporate well.
Now with the mixer on low, add the cold butter sliced in to cubes in batches only a few cubes at a time.
Continuing until all the butter has been added and the mixture resembles coarse sand in texture.
Reduce the mixer speed to low and add the egg whites and 1 whole egg one at a time.
Scrape down the sides of the bowl after each additions.
My daughter made it few years back with the help of me for my birthday, below pictures are them.
Slowly pour in the butter milk/yogurt and vanilla and mix until combined.
Finally add the milk and increase the mixer speed to medium and beat for 2 minutes, until batter is smooth and creamy.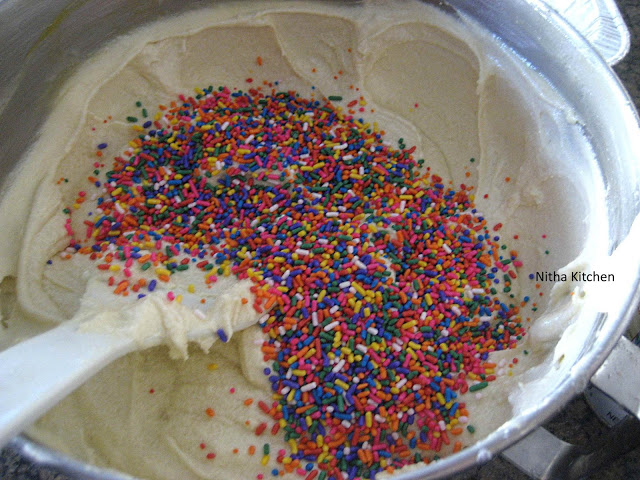 Increase the mixer speed to medium and beat for 2 minutes, until batter is smooth, scraping the sides of bowl as needed.
If needed add the reserved milk in tsp and when it attain perfect batter consistency(refer above pictures) stop adding milk.
Using a rubber spatula, gently stir in the funfetti sprinkles (below picture).
Fill the liners two-thirds full (about 1/4 cup of batter in each) and bake for 15-18 minutes, until the centers are set and a toothpick inserted into the center comes out clean.
For 8 inch cake 3 layers may need 20 minutes approx. baking time.
Cool in pan for 10 minutes, then remove individual cupcakes and arrange it on a wire rack to cool completely before frosting.
The below picture is from what I made last year , a large batch that i baked and packed for the family in India, esp for my mom who like funfetti cakes 🙂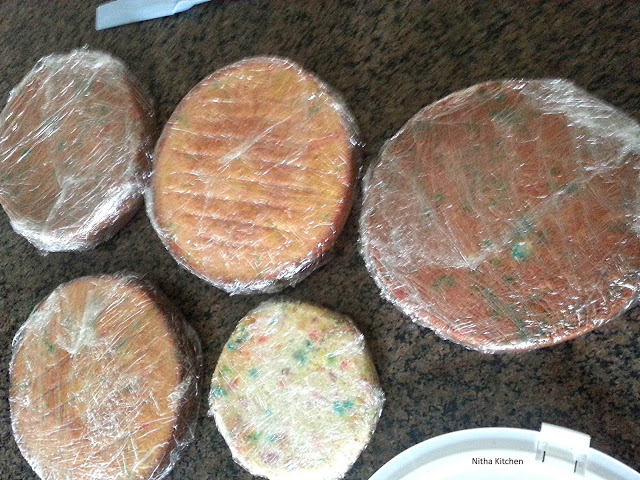 And the chocolate buttercream frosting, I made it in huge amount for a birthday party. I clicked a picture that time and I will give the recipe with minimal quantity, use food color of your choice.
Recent make and Cupcake decorating pictures below…
White Chocolate Buttercream Recipe
Unsalted Butter – 1/2 Cup (1 Stick)
Vegetable Shortening – 1/2 Cup (1 Stick)
Icing Sugar – 4 Cups (For soft and ice cream texture reduce sugar and for stiff add all the sugar mentioned plus 1 cup)
White Chocolate – 8 oz packet (melted)
Vanilla Essence – 2 tsp
Water – 3-4 Tbsp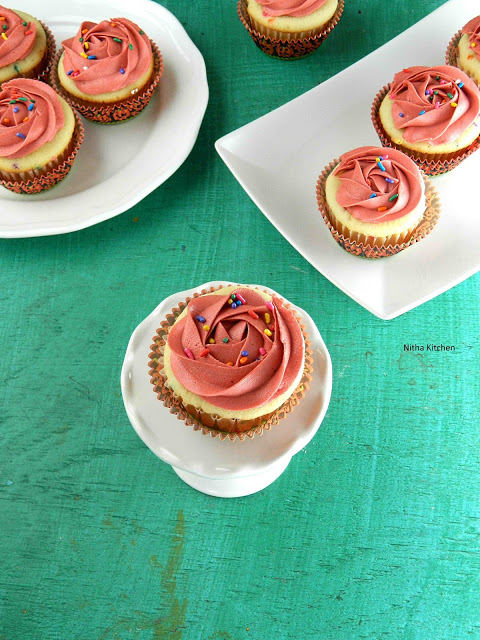 Cream butter and shortening and then add sugar in batches, after the third batch add half quantity of water and vanilla extract..If needed add remaining water for the last batch and for very stiff consistency you have to reduce water and add more icicng sugar as required. this remains in melted in hot temperature for 3-4 hours..if you make like mine. nad I used Wilton 1 M tool for decoration.
Just posted the recipe, will update when I missed anything…