Capsicum Corn Rice | Easy and Quick Lunch Box Special Recipe
Capsicum is a fruit and has lot of health benefits. Particularly it prevents cancer, reduces cholesterol and builds immune system. Compared to hot chili's you can use this mild Capsicums in day to day cooking so kids feel comfortable with the food they eat. If you have some frozen veggies and cooked rice it will take just 10 minutes to makes this yummy Capsicum Corn Rice. This is a perfect Easy and Quick Lunch Box Special Recipe that i have to mention before going in detail. Also adjust the spice level according to your family tolerance and refer note section for more information…
Ingredients for Capsicum Corn Rice | Easy and Quick Lunch Box Special Recipe
Cooked Basmati Rcie – 1and1/2 Cups
Any Color Capsicum -1 Medium Size
Frozen Green Peas – 1/4 Cup (Sometimes I use Frozen Lima Beans as shown in Pic below)
Corn – 1/4 Cup to 1/3 Cup (I use Frozen Sweet Corn)
Red Chili Powder – 1/2tsp (Optional refer note)
Garam Masala Powder – 3/4tsp
Coriander Powder -1/2tsp
Mustard and Cumin Seeds -1/2tsp each
Pepper Powder – 1/2tsp (Optional)
Salt – As Needed
Oil – 1 Tbsp
Curry Leaves – Few (Optional)
Method
In a wide pan/kadai heat 1 Tbsp oil temper with mustard and cumin seeds.
Once they splutter add chopped capsicum stir for a minute or 2 then add frozen veggies like peas/lima beans and corn along with curry leaves.
In low-medium flame saute for 2 minutes till the outer layer of frozen veggies shrinks a bit.
Then add all powders, salt and stir for another 2 minutes.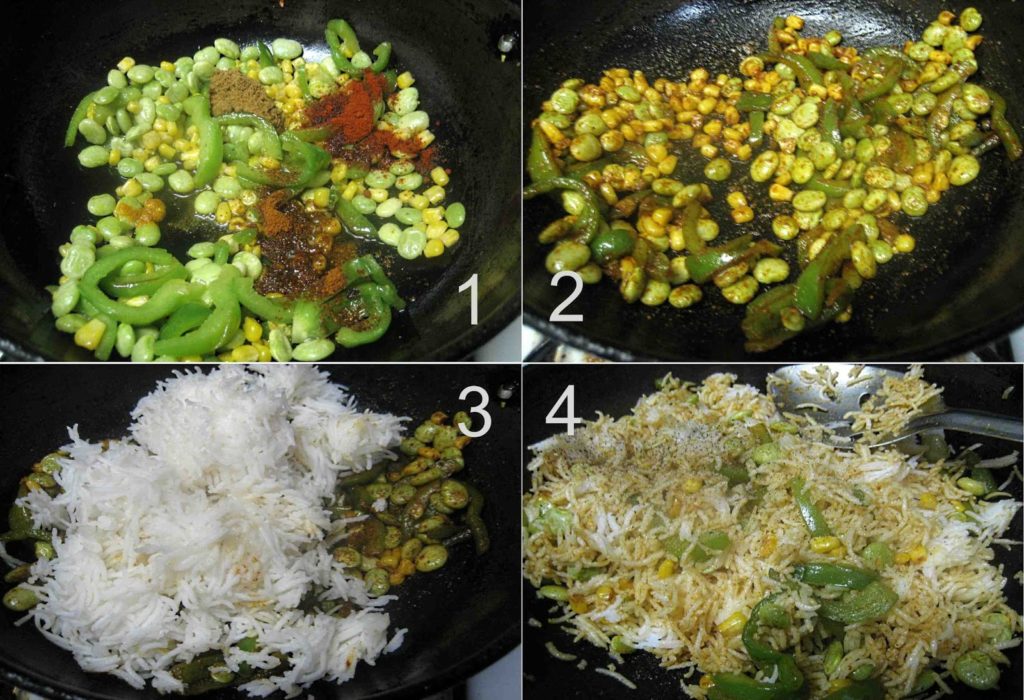 Now add cooked rice, give a gentle stir finally add optional pepper powder, adjust salt.
Now the Capsicum corn rice is ready in just few minutes.
Yan take it plain or with yogurt Raitas/Pickle or Papad.
Notes
You can reduce or skip red chili powder for kids when capsicum is spice enough.
I usually skip onion you can add 1 small sliced.
If you are using Indian variety green peas then microwave with water for few minutes and then add it.
You can add some boiled or stir fried peanuts too.